Activities Fair Promo Kit

Welcome to a new academic year, MEDLIFE!rs On this page, you will find resources to help your Chapter grow the MEDLIFE Movement on campus during your Activities Fair.
RECRUITMENT FORM
This year, all Chapters must use the official Join the Movement form to collect the details of interested students. MEDLIFE HQ will share this data with the Chapter so you can reach out to students and organize events.
You can find the form below:
Trifold Poster Printouts
In this document, we've included some printable materials to help make your Activities Fair poster stand out! We encourage you to promote your Chapter's upcoming Service Learning Trips. You can also print photos of our destinations to help build excitement for your trip!
Promotional Flyers
This year, we've created editable flyers so you can simply download them to your device, add the details of your Chapter's next meeting, and print them out directly. After selecting and printing your flyers, you can use them to expand your reach on and off-campus. Hand them out during organization fairs, outside of major sports or on-campus events, outside popular restaurants, "dormstorm", ask to leave the flyers at a local coffee shop, and more. We also encourage you to email first-year professors to allow you to come to their intro lectures with the most students to give a 5-minute presentation before class and share these flyers.
Service Learning Trip Flyers (Google Slides):
Service Learning Trips Social Media Posts (Google Slides):
Chapter Meeting Flyer (Google Slides):
BANNERS
Use a MEDLIFE banner whenever you table at an activities fair, host on-campus events, or hold meetings. It helps create consistency and instant brand recognition on-campus.
You can get these printed at a local store, an on-campus service, or at Fedex.com
LOOP VIDEO
Give potential new MEDLIFErs a glimpse into what being part of the Movement is like with this looped video created especially for activities fairs! You can play the video on repeat on a laptop at your table. It shows some of the key highlights of being part of the MEDLIFE Movement, from joining a Service Learning Trip to volunteering locally. You can download the video directly from Vimeo or stream it on Youtube.
DOWNLOAD THE VIDEO or STREAM THE VIDEO
You can also play promotional videos of the destination your Chapter plans to attend in the upcoming seasons. Here are some provided by MEDLIFE HQ.
T-Shirts
We're releasing limited edition tees to help you create buzz on campus and encourage people to approach you and ask about MEDLIFE. We recommend you wear them when handing out flyers, on meeting days, or on particularly busy days around campus.  You can purchase T-shirts directly from our Bonfire store (remember to allow time for shipping) or download the designs and have them printed locally.
SHOP ON BONFIRE or CLICK HERE TO DOWNLOAD
Don't forget to post photos of yourselves in the shirts on social media using #MEDLIFEMovement and #GrowTheMovement.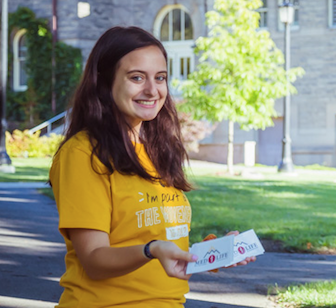 STICKERS
We have Logo Sticker and Circle Sticker designs available for you to download and have printed. Share these stickers with current or potential Chapter members and encourage them to use them on their laptops, phones, and water bottles. You could even use them as prizes at your next meeting! Share how you are using the stickers using #MEDLIFEMovement and #GrowTheMovement. 
In honor of all the hard work and dedication our Puerto Rican Chapters have put in the past few years, we have also created a "Yo Amo MEDLIFE Puerto Rico" sticker!
If you have any questions about using these materials, feel free to contact us or reach out to your Chapter Coordinator.
Thank you for helping us grow the MEDLIFE Movement on campus. We hope you have fun with these materials and enjoy a great start to the academic year!