To see photo captions, view the slideshow in fullscreen mode and then click on the "show info" option on the top right
The MEDLIFE Ecuador team recently visited the coastal community of Esmeraldas, Ecuador, for the first time to learn more about the needs of the area and how MEDLIFE could help. Communications intern Rachel Hoffman shares her impressions of the experience:
We settled into a crowded overnight bus toward the coast on Tuesday, October 16, at 8 p.m. By 4:30 a.m., Martha, Luis, Pedro and I arrived in Atacames, biding our time until sunrise in a bare bones hotel by the shore. Ceviche stands dotted the shore line, and the streets were crowded with garish signs advertising countless hotels equipped with every tourist need: television, wi-fi, a pool, and world-class-you-name-it. Ominously, dogs of all shapes and sizes trotted along the street, their rib bones poking out from beneath their fur as they followed the scents of breakfast.
From there, we caught a bus to Esmeraldas to meet with the personal assistant to the mayor's wife, Geoconda. We came only to know her by her first name and her willingness to pack our car for the day to the brim with people, making us waddle and strain up the yellow dirt roads of the hilly communities we would later explore. Before embarking on our journey, we took a brief detour into a city grade school directed by the mayor's wife, Maritza Conizores. We observed a second grade class of mainly Afro-Ecuadorian children. It was enough time to note the starched, tan uniforms and neatly trimmed hair of the children who, at the sound of a whistle, immediately arranged themselves in a giggly, single-file line to enter into their classroom. Maritza boasted that she ran this school and that the children all knew her, and a tangle of excited children ran to hug her tightly by the waist as if on cue. After exchanging many thank you's, we set out for the city's outer limits.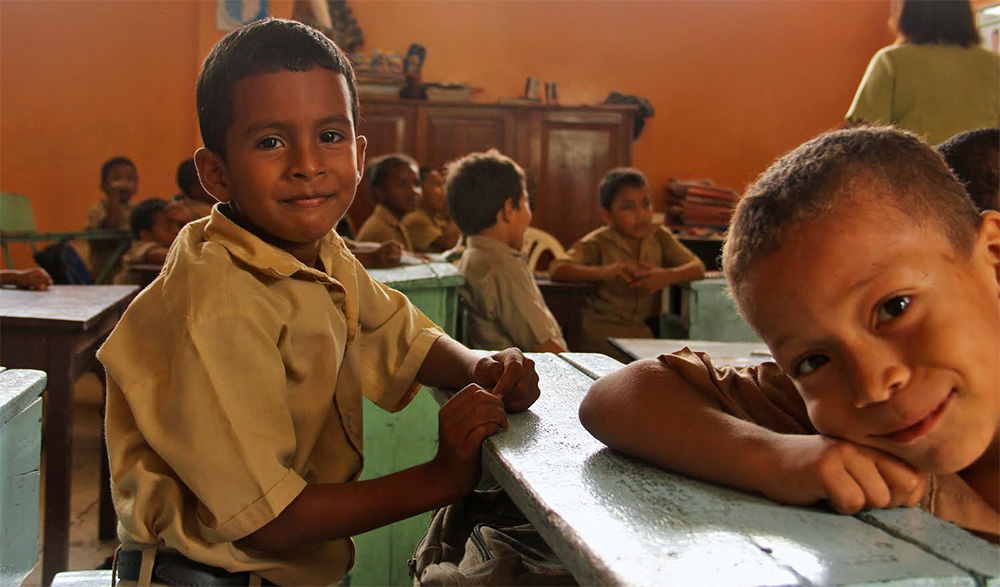 Smoke fumed in the distance and a spark of an orange flame poked out from behind the leaves of skinny trees covering the hillsides. "Is there a fire over there?" I asked. "No, a petroleum factory," answered Geoconda nonchalantly. Clouds of black smoke wafted toward the neighborhoods that we sharply turned toward from the main road. We wound our way through what looked like a war zone. Crumbling brick, rusted tin, weedy overgrowth, and shreds of domestic debris covered the landscape. Delicate strands of laundry lines were strung artfully from roof to roof. This was home, though it appeared deserted. Every once and a while, you could catch a glowing pair of eyes peering back at you from the darkness of a makeshift window.
Eventually, we came to a community built on a steep incline. To climb to the top of the settlements was to risk your life on the slippery river of dust and garbage flowing between the shacks. Martha surveyed the area and shook her head, speaking about how this would be a great area for a stair- building project. She spoke with a few young men outside of their house about the community, explaining that we were in Esmeraldas to gauge the needs of the local communities. Here, children hung off of railings and porches, sat speckled amongst the grass, and played beneath the swaying laundry. They were mostly school-aged, and dressed in ill-fitting tank tops and cotton shorts. Down by a river, a few minutes away, a group of children and teenaged women sat scrubbing laundry in a bucket and feeding bits of apple to the fish below.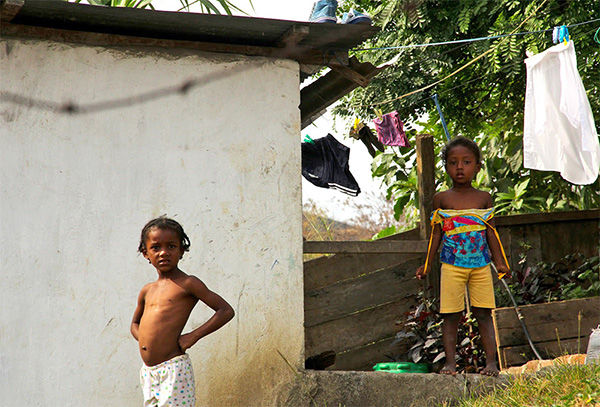 "And what do the men here do for work?" asked Martha, back in the car. "Whatever there is." Geoconda bluntly replied. No one elaborated. Our next stop was a meeting with Nubia Quinonez, the director of the Centro de Atencion Integral de la Ninez Adolescencia y la Familia, a community center that hosts family gatherings, offers mothers basic health care services, and provides psychological counseling for adolescents. Young mothers trickled into the air-conditioned, white tiled room, babies gleefully attached to their bosoms. They joined the circle of plastic chairs we had formed, entering into a discussion about the psychological and physical needs of the local community. Drug abuse, pregnancy at a young age, and lack of access to medical care all desperately need to be addressed, the mothers in the room echoing Nubia's words. Everyone seemed to solemnly shake their heads at the enormity of the problems plaguing Esmeraldas. The population estimate as of 2010 was 188,694 people, with 66 percent of them living in an "urban situation."
Do closely packed shacks near enough to the polluting plants that fuel a city but not close enough to access jobs count as an "urban situation"? How do you work from the ground up with isolated communities like the ones that we saw?
Martha, Luis, Pedro and I caught the 8 p.m. bus to Riobamba on Wednesday evening. Rather than leading to concrete answers about how to help the community of Esmeraldas, the 16 hours we spent there so far has only lead to more questions. Yet, at least we have begun to ask them.
*UPDATE: MEDLIFE Ecuador has confirmed that we will bring a Mobile Clinic to the community of Esmeraldas during the spring of 2013. The clinic will provide basic health services, and also serve as an opportunity to learn more about community needs and make plans for long-term development projects.