Oana Butnareanu is serving as a MEDLIFE summer intern in Lima, Peru. How did she end up in Latin America?  She puts it in her own words: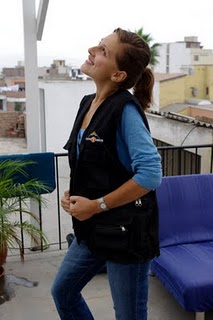 Where are you from?
I was born in Romania and I grew up in Hollywood, California, but I'm totally Latin American at heart.  I just wrapped up my junior year at Stanford, where I am double majoring in Biology and Iberian and Latin American Cultures.
Why did you decide to be a MEDLIFE intern?
I love Spanish, people, medicine and adventure! I have always wanted to work with underprivileged communities in Latin America, especially in a medical setting, and this seemed like the perfect place to start.
What was your first impression of Lima?
I dubbed Lima "the city of contrasts." It's absolutely astonishing that places of extreme poverty like Pamplona Alta and areas of relative wealth (by Peruvian standards) like Miraflores and Jockey Plaza can exist within a few kilometers of one another. The people are also pretty amazing; they're some of the most warm and welcoming indivuals I have ever met!
What do you look forward to most this summer?
Peruvian telenovelas (soap operas)! Also trying the amazing local cuisine and hanging out with all the Peruvian staff here in the office – they're awesome!
Oana's fluency in Spanish has come in handy so far – she has served as the group's translator on a number of occasions. We look forward to having Oana assist with a number of educational initiatives MEDLIFE is launching this summer. Check back here to see the results of her work!