Manitoulin Island and Indigenous Rights
Trip Details
| | |
| --- | --- |
| Minimum Registrants: | 15 |
| Donation Goal: | $1190 |
Find a Trip
Overview
Follow Ancient Footsteps Through Unceded Territory
Transverse Manitoulin Island, the world's largest freshwater island and home to Wikwemikong, Canada's only officially recognized unceded Indigenous territory. Time seems to slow down along the island's sparsely populated shores, crystal-clear lakes, and tiny towns. Digging deeper under the island's surface, you'll find complex layers of history and rich Indigenous culture. This trip offers insight into the legends and traditions of the Anishinabek people while exploring the island's beautiful natural wilderness. 
Created with input from academics and community elders, this adventure will take you deeper than simply seeing the sites. The experience will highlight the ways that MEDLIFE's work is deeply intertwined with issues present in our own backyards, including Indigenous history, food security, and land rights. You will return home from this trip with a deeper understanding of how these themes apply in MEDLIFE's partner communities and in present-day Canada.
Highlights of the Week:
Hike the famous Cup and Saucer Trail

Learn about traditional medicine and healing practices

Participate in hands-on classes in pre-colonial cooking methods

Engage with community elders and traditional knowledge keepers
Key Pillars

Service: Participate in immersive activities and engage with the local community for a deeper understanding of Indigenous rights in Canada and in international development. Your trip also directly contributes to the feeding of families across our sites.

Environment: This trip will introduce you to eco-friendly land management practices based on ancestral knowledge, from sustainable fish harvesting at the local high school to decolonizing our diets with the Indigenous Food Sovereignty program.

Education: Learn about culturally inclusive healthcare services with visits to healthcare centers that integrate traditional medicine with Western practices. Indigenous guides also share their knowledge of the flora and fauna in the habitats you are visiting.

Life-changing experiences: Listening to community elders share their lived experiences, ancestral wisdom, and cultural traditions fosters a deep level of human connection and empathy. In turn, this prompts us to reflect on our role in the processes of decolonization and reconciliation. 
Itinerary In Brief
Day 1: Lands Based Learning Class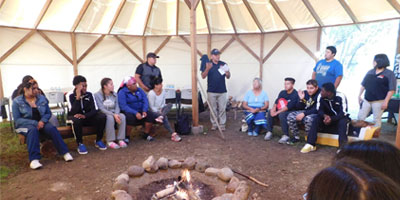 Trip Start at 12pm in Manitoulin Island
Kick-off the week with a welcome meeting where we meet the group, review our itinerary, and go through safety protocol, before heading off on our first adventure! This afternoon, you'll head to the local highschool's communal teaching space for an outdoor class in lands-based practices and seasonal culinary traditions. Your experience will depend on the time of year, but could include making maple syrup, gathering edible plants, or fish smoking!
Overnight: Gordon's Park Camping
Day 2: Dewegan Story & Making Footprints Hike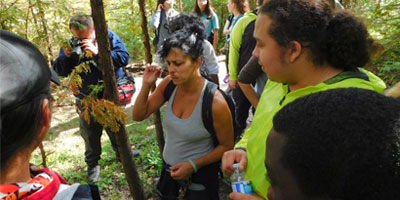 Your day will begin with a story. At Bebamikawe Trail, you will be introduced to the significance of the drum in traditional culture through a hand drum performance. You will then delve deeper into nature-based practices with a scenic hike to Naadweh lookout. Along the way, your guide will introduce you to the ways plants have been used sustainably in the community's spiritual and medicinal practices since time immemorial. In the afternoon, take a moment to reflect on the experience so far as you share a traditional meal prepared over an open fire using pre-colonial cooking methods.
Overnight: Gordon's Park Camping
Day 3: Teaching Lodge of Nimkii Bineshiihs Park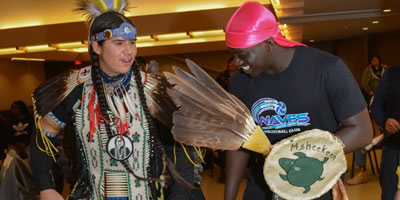 This morning you will head to the Teaching Lodge of Nimkii Bineshiihs (Thunderbird) Park. After a greeting from the Chief, you will have the opportunity to engage with community elders through an introduction to the seasonal Ceremonial Practices of the Anishnaabek. Enjoy a catered lunch before visiting the Wikwemikong Health Centre, where you will learn about holistic approaches to healing with healthcare professionals. Conclude the day with a tour of Nokamisnaang Shelter, which provides short-term housing for families in need.
Overnight: Gordon's Park Camping
Day 4: The Unceded Journey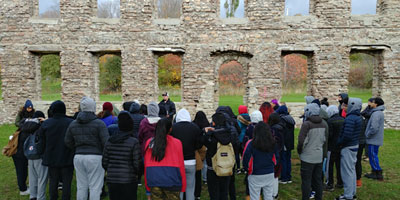 This morning will broaden your understanding of the local context with a deep dive into the history of Manitoulin Island. You will visit four historic sites, each with its own unique story: The 1836 Treaty Site, Monument Will, Holy Cross Mission and Ruins, and Wiikwemkoong Harbourfront. After lunch, you'll visit the Elders Center and learn about the impact of residential schools from those who lived it. This eye-opening experience will provide an opportunity to ask questions and engage with traditional knowledge keepers.
Overnight: Gordon's Park Camping
Day 5: Cup and Saucer Trail & Western Manitoulin Tour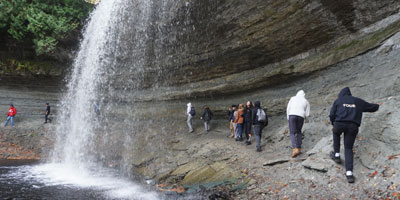 Take a guided hike through unique rock formations of the Cup and Saucer Trail, enjoying beautiful views of Manitoulin Island at Lake Huron. Along the way, your guide will share Anishnaabe teachings to broaden your understanding of the area. You will then stop by the picture-perfect Bridal Veil Falls. After a nature-filled morning, you will head to Noojmowin Teg Health Centre. This organization provides culturally tailored programs to the Anishinabek community and promotes wellbeing through both traditional and healing methods. Finish the day with a culinary sampling with the Indigenous Food Sovereignty program. You will have the chance to learn about their programs in promoting food security and the decolonization of our diets.
Overnight: Gordon's Park Camping
Day 6: Depart Manitoulin Island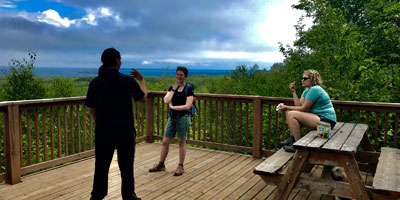 On your final day of this journey, you will depart Manitoulin Island to head back home or for onward travel. We encourage you to take some time to reflect on your experience and the lessons you'll take home with you.