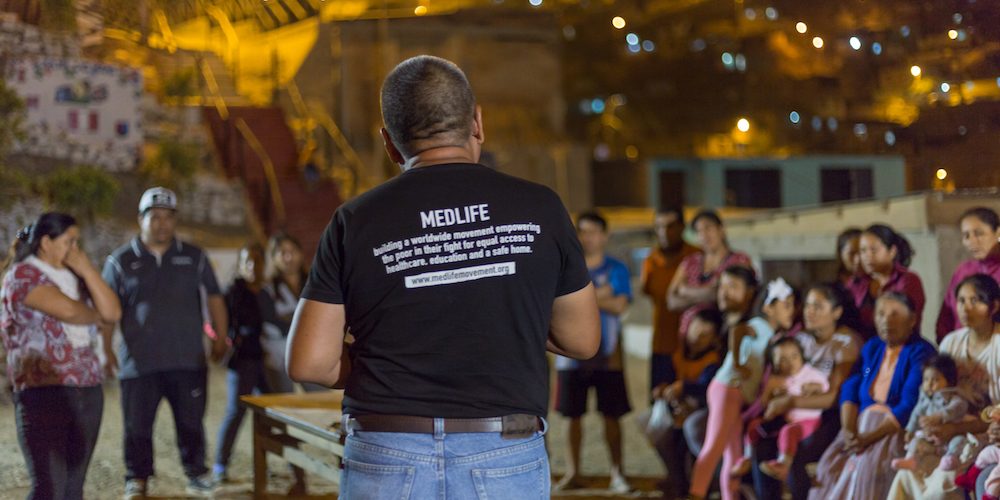 Meet Our Team
Our Staff
ALBERTO PAREDES
Director of MEDLIFE Lima
Director of Finances for Field Offices

MEDLIFE's first employee in Peru, Alberto has worked in the logistics of the Service Learning Trips in the country since day one. He is a skilled and efficient administrator, and coordinates all aspects of our Mobile Clinics in Lima and Cusco, working tirelessly to ensure that all participants have educational, meaningful, and safe experience.
AMPARO ULLOA
Lima Office Manager

Amparo is a long-time supporter of MEDLIFE and wears many hats as a full-time employee with the organization. In addition to assisting in administrative duties, Amparo brightens the office with a positive, can-do spirit and boundless energy.
CARLOS BENAVIDES
Director of MED Programs Lima

Carlos has lived most of his life in Lima, Peru where spent over 20 years working in community development. Serving first as a community leader, Carlos joined the MEDLIFE team in 2010 right when it began in Lima. Carlos oversees all projects and clinics in Lima and helps build stronger working relationships with our communities.
CARMEN UMERES
MEDLIFE Cusco Nurse

Carmen was born in Quillabamba, Cusco, and studied Nursing at the Antonio Lorena Institute. She has extensive work experience within Cusco's healthcare system and has held jobs in public and private hospitals, pharmaceutical distributors and municipal social assistance organizations. She is proud to bring with MEDLIFE medical assistance to even the most remote areas of Cusco.
CLAUDIA COSENTINO
Claudia was born and raised in Lima. After studying hospitality management, she wanted to gain more experience in group management. That's when she first started working for MEDLIFE as a trip leader for a couple of years until 2018. Later, she took a couple of years to challenge herself and moved to New Zealand – where she was introduced to the fundraising world. Claudia re-joined MEDLIFE in 2021 – this time as a Chapter Coordinator – to continue learning and growing. Last but not least, she is also a certified yoga instructor and a TEFL teacher.
CRISTINA VALDERRAMA
MED International Team Lead

Originally from Barranquilla, Colombia, Cristina received a B.A in Communication and Journalism and a M.A in Communication and Development with a focus on Gender and Sexuality Studies. For over three years she worked designing social responsibility and public relations strategies. She has also worked with rural communities in Colombia, Ecuador, and the United States implementing development projects.
DANIXA MANOSALVA
Graphic Designer

Danixa was born in Chepen, La Libertad. She studied Arts and Graphic Design for Business at the University of San Ignacio de Loyola in Lima. She is very responsible and committed to her work. Now that she is working in MEDLIFE, she plans to do everything possible to help in the MEDLIFE Mission through graphic design!
DOMENICA DELGADO
Operations Associate

Before joining MEDLIFE, Domenica studied business management at Universidad San Ignacio de Loyola. Her interests include social responsibility and sustainability, which is why she's really excited about working at MEDLIFE. She hopes to learn as much as possible, as well as contribute to the Movement. She also loves music and all forms of art.
ELLEN HAYS
Marketing and Communications Coordinator

After growing up in Tasmania, Australia, Ellen moved to Melbourne to pursue her passion for social justice by completing a double degree in Law and Politics at Monash University. After graduating, Ellen knew that she wanted to experience living abroad long-term and booked a one-way ticket to Peru. Ellen is thrilled to be contributing to the transformative work of MEDLIFE by putting her passions for storytelling and social justice into practice.
HEIDY ASPILCUETA
Director of MEDLIFE Cusco

Born in Cusco, Peru, Heidy graduated in Computer Engineering at the San Antonio Abad University and has an MBA from ESAN Business School with an emphasis on Finances. Heidy has about ten years of experience organizing travel, volunteer and other education programs for international participants in Peru and other countries in Latin America.
JENNIFER ARANGUREN
MED International Coordinator

Jennifer holds a degree in hospitality management and has 8 years of experience in tourism. She is passionate about customer experience, social responsibility, and sustainability. Jennifer enjoys working at MEDLIFE because it allows her to do what she loves while making an impact on vulnerable communities. Another passion of Jennifer's is taking care of her house plants and watching them thrive and grow!
JHON MEJIA
Chapter Coordinator

Jhon is a professional in tourism and hospitality with almost 8 years of experience working in the industry. Passionate about providing a great customer experience, Jhon enjoys traveling, discovering new cultures, and meeting people from all around the world. At MEDLIFE, he is looking forward to combining his passion for supporting people in need with his desire to empower future world-changers. Outside of work, Jhon enjoys playing with his 5 dogs, enjoying a cup of coffee, and listening to music.
JORGE VIDAL
Administration

Jorge graduated as a Dentist at the San Martin de Porres University in Lima. Jorge has been supporting the MEDLIFE mission by acting as a main dentist on our mobile clinics, where he attended thousand of patients with passion and dedication. As well as working in the field, Jorge supports MEDLIFE through working in the administration area in the office.
JULIA ALFARO
MEDLIFE Lima Housekeeper

Julia joined MEDLIFE in 2012 and is currently in charge of housekeeping at the office. A vital piece of keeping the organization running, Julia helps out an immense amount during mobile clinics when important materials need shuffling around the office. Julia never skips a beat, she is always available and willing to help out others in the organization.
MARIA CHAVEZ
MEDLIFE Ecuador Nurse

Born and raised in Cebadas, Ecuador, Maria speaks both Quechua and Spanish. She has been with MEDLIFE since 2007 and acts as a liaison between MEDLIFE and the communities we work in. María announces Mobile Clinic visits, coordinates new projects, visits patients who require follow-up care and provides assistance in operating our Mobile Clinics.
MARIA FERNANDA RODRIGUEZ
Expansion Associate

Maria Fernanda (or Mafer for short!) studied Tourism Management at Universidad San Ignacio de Loyola in Lima, Peru. Her main motivation was to develop investment projects so that low-income communities can benefit from tourism. After working many years in creating unique experiences for tourists, she felt a calling to give back to communities – and then she found MEDLIFE! On the weekends, Mafer enjoys visiting the beach (even in the wintertime!).
MARTHA CHICAIZA
Director of MEDLIFE Ecuador

Martha was born and has spent most of her life in Riobamba, Ecuador. She has been involved with MEDLIFE since 2002 and served as Director of MED Programs Ecuador since May 2008. Martha coordinates our Mobile Clinics and community development projects in Ecuador arranges patient follow-up care and assists MEDLIFE's interns.
MARTHA KENNEDY
MED International Coordinator

Martha studied Global Development at Queen's University where she obtained a BA and realized her passion for sustainable development and community organizing. She is from Toronto, Ontario, and has spent the last six years volunteering and working for various non-profit organizations in Canada, Central America, East Africa, and Southeast Asia. At MEDLIFE, she is thrilled to combine her enthusiasm for youth mentorship and community empowerment, with her drive to create positive change.
MATT KINCH
General Manager

Matt originally hailing from Ontario, Canada, has spent the last 10 years working and living in Latin America. With a background in travel and tourism, Matt has a passion for exploring and a depth of experience working with Indigenous communities in Latin America. Now in Lima with MEDLIFE, he combines both of those worlds overseeing MEDLIFE's global Service Learning programs. When he's not working, Matt and his wife Stephani have their hands full with two young boys, Thomas and Nicolas.
NEEMA LYIMO
Director of MEDLIFE Tanzania

Born in Tanzania, Neema holds a B.S. in Human Nutrition from the Sokoine University of Agriculture, and an MPH from the Catholic University of Health and Allied Sciences.
She was introduced to MEDLIFE in 2014, and since then, has become increasingly more involved in the development of the organization in Tanzania.
NICK ELLIS, MD
Emergency Medicine Physician
MEDLIFE Executive Director & Founder

Nick was inspired to create MEDLIFE when in 2001 in Panama he saw how effectively a grassroots organization could listen to the needs of people living in resource-poor settings, and subsequently enact change. He went on to work in both Peru & Ecuador which furthered his passion for understanding the root causes of poverty and exposed new complexities to the issues communities face. In 2004 he created MEDLIFE with the goal of establishing better and more sustainable access to healthcare, education, and a safe home for resource-poor families through the empowerment of communities and a student-led movement.
Nick received his Medical Doctorate from Dartmouth Medical School and completed his Emergency Medicine residency at Dartmouth as well. Dr. Ellis currently lives with his wife, son, and 3 dogs in Lima, Peru where he works out of our international headquarters, and each month he travels to the US to work his ER shifts.
RENATO EGOAVIL
Regional Manager

After living most of his life in Honduras, where he volunteered as a translator for American medical brigades, Renato came back to Peru to study at Universidad de Lima. He is now our Regional Manager, position in which he supports all the teams in the organization.
RICARDO CCASANI
MED Programs Lima Projects Associate

We met Ricardo during the construction of the staircases and the daycare at his community, Union Santa Fe. Thanks to Ricardo's extensive construction experience, we were able to optimize costs and logistics. Currently, Ricardo continues to work in the development of his community while working full-time in MEDLIFE.
ROSALI VELA
Communications Team Lead

Born in Lima, Peru, Rosali joined MEDLIFE in 2012. She holds a bachelor's degree in Communication Sciences from UIGV and a professional technical degree in Audiovisual Communication and Multimedia from the Toulouse Lautrec Institute. Rosali is currently pursuing her Master's degree in Social Marketing and Communications for Development at UNSAAC.
SANDY MILES
Expansion Associate

Sandy has a bachelor's degree in tourism management and an international diploma in sales management. She has worked in the tourism field for years. Sandy is glad to be part of sustainable community development projects that promote equal access to healthcare and education. In her free time, Sandy likes to travel, dance, and play sports.
VALERIA VALLENAS
Expansion Associate

Valeria is an experienced sales manager and teacher, with eight years of experience in the tourism industry. Through working at MEDLIFE, Valeria is excited to reconnect with the passion that motivated her to study tourism in the first place: A desire to create meaningful impact in her community. Outside of work, Valeria enjoys cooking, swimming, and DIY projects at home. 
RUTH VARONA
MEDLIFE Lima Nurse

Ruth was born in Lima, Peru where she studied to nursing. Ruth has always enjoyed working with children and serving those in need. She first began working with MEDLIFE in 2011 in our mobile clinics and later came on full-time as a field nurse. Ruth now manages our follow-up program in Lima and coordinates all medical professionals.
Our Executive Board
The mission of the Executive Board is to help families achieve greater freedom from the constraints of poverty, empowering them to live healthier lives. The Executive Board oversees MEDLIFE's operations domestically and abroad and is fiscally and operationally responsible for MEDLIFE's Service Learning Trips and MEDLIFE Project Fund projects. The Executive Board also works with student groups to organize volunteer trips, fundraise, build greater support for MEDLIFE, and foster student leadership. The most committed, hard-working, and experienced individuals are invited to sit on the Executive Board. The Executive Board currently consists of five members:
Nick Ellis, MD, MEDLIFE Founder and CEO 
Education: International Development Studies (B.A.) at McGill University
Pre-Medical post-baccalaureate, University of Maine
Medicine, Dartmouth Medical School
Juan Camilo Vanegas
Education: Microbiology (B.A.) University of Maine
Jerry Ellis
Education: Counseling (M.S.) Oregon University
MDiv Boston University
Martha Chicaiza
Director of MEDPrograms Latin America
Director of MEDPrograms Ecuador

Carlos Benavides
Director of MEDPrograms Peru