Service Learning Trips
What Are Service Learning Trips?
Classic Service Learning Trips (SLTs) are week-long educational journeys to Peru, Ecuador, Costa Rica, or Tanzania, where volunteers work hand-in-hand with a local community on development projects, mobile medical clinics, and more!
The trip allows volunteers to understand the realities of extreme poverty firsthand, personally connect them with the communities that MEDLIFE supports, and ignite action within them to join the MEDLIFE Movement in the fight for a world free from the constraints of poverty.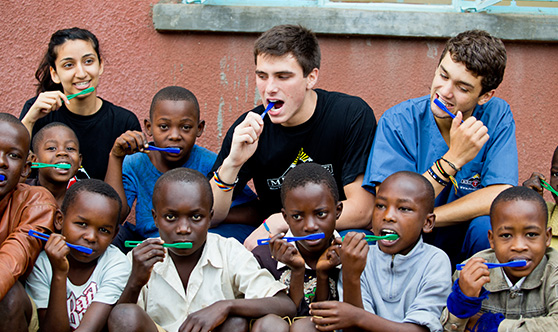 HIGHLIGHTS of the trip
Engage: Shadow local medical professionals and work alongside community members on a development project.
Educate: Connect experiences from the field to academic themes through educational discussions.
Build your CV: Gain 40 service hours!
Advocate: Become a global citizen and learn how to advocate for social issues, both locally and abroad.
Travel: Explore more of the adventure, culture, and wildlife of our destinations by adding travel extensions to a Service Learning Trip.

Download Free Brochure  All Upcoming Trips
 *Schedule might change depending on destination. Contact a MEDLIFE Advisor for more information at [email protected] 
What makes MEDLIFE Service Learning Trips Unique?
There are many organizations that offer international service trips to students and volunteers. Why should you join a MEDLIFE SLT?

We Provide Patient & Project Follow-Up
MEDLIFE employs full-time staff members in Ecuador, Peru, and Tanzania. These dedicated individuals commit to a year-round follow-up program, ensuring the return and provision of necessary care to patients and projects. They also work on maintaining and servicing long-term needs.

We Hire Local Professionals
Local medical professionals are knowledgeable about the language, culture, and possess expertise in the symptoms and treatments of common ailments in the country. Consequently, they possess a deep understanding of the local systems, infrastructure, and government processes. This understanding empowers us to provide enhanced services, fostering a higher level of care for our patients.

We Keep Volunteers Engaged Year-Round
We encourage all volunteers to continue their MEDLIFE involvement year-round by starting or joining a Chapter on their campus. Being part of the Movement and actively engaging in this cause allows you to contribute to making a lasting impact on the lives of those in need.

We Work Hand-in-Hand With Community Members
During our Service Learning Trips, MEDLIFE and our volunteers complete 50% of the work, while community members carry out the remaining 50%. To ensure the effectiveness of our efforts, we actively develop relationships with the communities we bring volunteers to months before a Service Learning Trip.
OTHER SERVICE LEARNING TRIPS
Apart from our classic SLT, we provide a wide variety of service learning trips. Our programs are tailored for college and high school students, educators, and group leaders.
Travel & safety

When you sign up for a Service Learning Trip, you are automatically registered for medical emergency insurance for the duration of your trip. Visit our travel safe page or email us at [email protected] to learn more.
Serve, Learn, Grow: Join MedLife's Service Learning Trips
Find out more and start planning your MEDLIFE Service Learning Trip with our advisors. Fill out the contact form and we will be in touch.