COVID-19 Response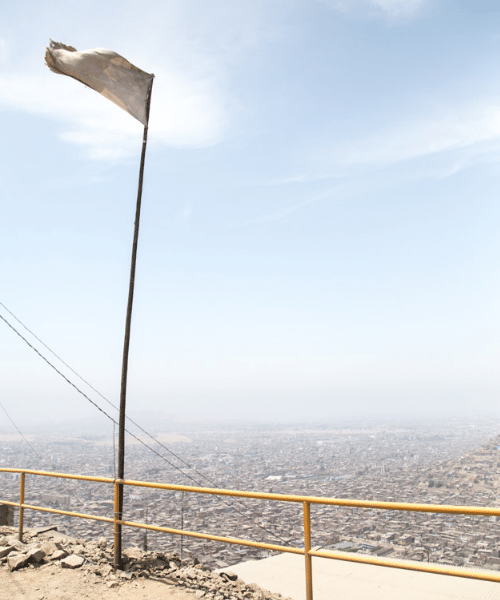 MEdlife is tackling FOOD INSECURITY IN OUR PARTNER COMMUNITIES
When we first began hearing about the COVID-19 virus, no one could have predicted the chaos it would create. Although the pandemic is still far from over, it is already clear that hunger, poverty, and food insecurity are just some of the devastating flow-on effects of COVID-19. When the governments of Peru & Ecuador announced nationwide lockdowns in March 2020, we began to witness these consequences firsthand in our partner communities.
In just a few days, many families went from living day to day on informal wages, to not knowing how they would feed their children. As the months went by and any savings they might have had ran out, families began to experience serious food insecurity. Even as government restrictions were lifted, the economy struggled to bounce back, leaving many community members facing long periods of unemployment amidst a major hunger crisis. White flags flew high above communities as an urgent plea for help. 
Today, hope is on the horizon with vaccines beginning to roll out in some parts of the globe. However, in countries like Peru, Ecuador, and Tanzania the wait could be much longer. While we know we can't solve everything, there's so much we can do to help families make it through the pandemic. Join us to make sure the most vulnerable populations aren't forgotten.
OUR RESPONSE TO COVID-19
Since COVID-19 restrictions meant that we could no longer run our usual Mobile Clinics and Patient Follow-Up Program, we shifted our approach to serve families' most pressing need: emergency hunger relief. As the pandemic continued and the situation evolved, our response was rolled out in 2 phases:
Phase 1: Emergency Food Packages
Our first phase of COVID-19 relief began with our community organizers reaching out to communities to identify families struggling with food insecurity. After our team raised enough funds to purchase food, we packaged, disinfected, and delivered a week's supply of food to the identified families. This was a difficult and complicated process that often required government-issued permits for deliveries.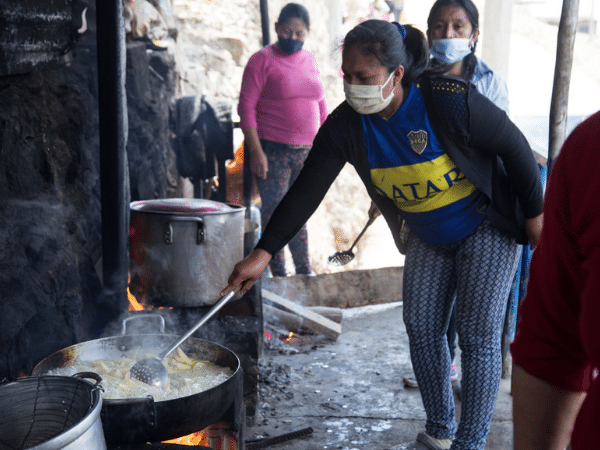 Phase 2: Community Soup Kitchens
A few months into the pandemic, the situation in many of our partner communities was seriously deteriorating. But as each individual family's resources began to run short, we saw something amazing happen. Entire neighborhoods started coming together and to share whatever food they had at home. By pooling resources, they created large pots of food that could feed entire communities. 
Around this time, community members began asking the MEDLIFE team if we could help sustain these locally-led initiatives. Thanks to the support of passionate students and dedicated donors around the world, we were able to say yes and begin our Community Soup Kitchen program. We have since expanded this project to communities in Ecuador, and we hope to continue sustaining these efforts and scaling up as the pandemic continues to affect families.
A message from our founder, Nick Ellis MD:
"MEDLIFE is all about increasing freedom for people living in extreme poverty. One of the most basic freedoms a person can enjoy is freedom from hunger. Today we are battling this issue in our communities. As we all try to decrease the transmission rate of the novel coronavirus, the lowest income communities are suffering disproportionately. Historically, MEDLIFE has focused on one-time donations to complete infrastructure projects but now we are seeing that many communities need ongoing monthly nutritional support. We need your help today to raise monthly donations for families facing food insecurity."
Our Impact (So Far!)
As a worldwide Movement, we've come together to fight the hunger pandemic and make a difference for families facing food insecurity. In the first half of 2020, we successfully delivered packages of food to thousands of families across Peru & Ecuador including the areas of Lima, Cusco, the Sacred Valley, Tena, Riobamba, and Guayaquil. In the second half of the year, we shifted our approach to support Community Soup Kitchens in over 45 communities in Peru and Ecuador. And as the year drew to a close, we reached our goal of serving half a million meals to families affected by the pandemic!
To everyone who fundraised, donated, and shared our COVID-19 relief campaign, we are deeply grateful for your support. Thank you so much for making this huge milestone possible! We will continue our work through COVID-19 and its aftermath. This approach is helping to alleviate some of the challenges families are facing, but as mentioned above, there is still so much more to be done.