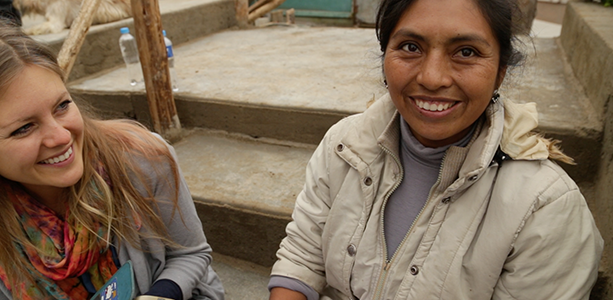 Finishing the first steps in 'Santísima Cruz' community was not an easy job, especially for Yolanda Perez. As the community leader, Yolanda never stopped chasing after MEDLIFE to build a staircase, while also motivating all the members of the community to work together. Yolanda, now 32 years old, came to 'Santísima Cruz' with just a suitcase and many dreams. There she met her husband and soon her two sons were born, but Yolanda always wanted something more.
"Santísima Cruz had already existed for more than 15 years, but the neighbors had never worked together. 15 years and there were no steps built" Yolanda tells us.
Thus, after many meetings and discussions, Yolanda took over as a leader of the community. She focused on completing the legal procedures for getting basic services such as electricity and construction projects.
It was Gladys Huahua, community leader of the community '7 de junio', who told Yolanda about MEDLIFE and how she had lead the construction of more than 10 staircases in the area.
"Gladys told me MEDLIFE would help us with the materials, but the construction had to be a joint effort with the community. There began my first problem- to try to convince the neighbors who previously would not help each other, to work together and make the staircase a reality" says Yolanda.
The mobile clinics that were held here gave MEDLIFE a good idea of the number of people living in the community, who were in desperate need of staircases for their own safety and that of their families.
"People are always afraid. There have been many institutions that have come and promised us things, and in the end the promises were never met, even those made by the mayors and the government. We were offered many gifts in exchange for our votes, they even took pictures [of the site as if they were going to help], but in the end they never came back. The mobile clinics were the best incentive for all my neighbors. I remember there were more than 3 [clinics], and everyone was treated well, the doctors and the staff even remembered who we were each time we returned" Yolanda recounted.
It took about 7 meetings for the neighbors to agree to work together. Many claimed that they had no time, that it would never happen and it was another empty promise. But Yolanda never gave up. She kept insisting until everyone agreed upon a schedule that they could fulfill.
Once she contacted and coordinated with MEDLIFE, a new problem arose. The blueprint of the staircase they had designed was wrong, and the staircase was angled slightly into the neighboring community, entering an area saved for another construction project.
"The framework had to be constructed and deconstructed twice before it could be filled with cement. The neighbors were not happy, but since the decision was made to go ahead with the project, we would not give up "
Yolanda couldn't be happier with the completed staircase, and is excited that now all of the residents who won't hesitate to work together again to build two additional staircases that they need. A little work and sweat was enough to unite this community who were previously living their own separate lives.
Though the hills of Lima are scattered with abandoned houses, Yolanda told us all the houses in her community are inhabited. She laughed when telling us that Carlos, the MEDLIFE Peru director, even went knocking on all of the surrounding homes at night to make sure! Only one house is now uninhabited, where a very elderly gentleman formerly lived but was forced to move in with his son due to not being able to climb the hill. However, now the staircases make it possible for him to return home safely.
Yolanda currently combines her role as a community leader with selling second-hand clothing and raising quail that she can then sell. She tries to spend as much time as possible with her children, but being at home also brings some problems. "Often in the afternoons when I'm with my kids, I get knocks on the door from neighbors seeking help and advice. I do my best and I do really want to continue in this role, but being the community leader has become a 24/7 job" she tells us smiling.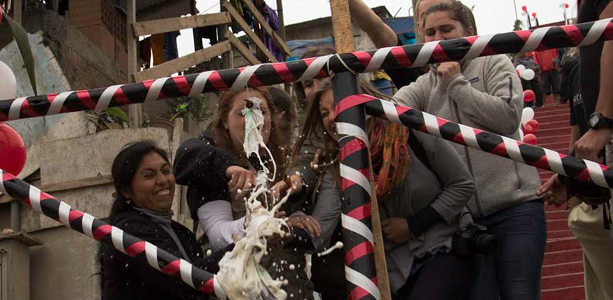 Yolanda says that there are not enough words to thank all of the volunteers and MEDLIFE. The experience has been rewarding for everyone, and her dreams do not stop here. There are still many goals Yolanda wants to accomplish.
"The first thing I think of when I think of the future is my children. I always pray to have a job and for my children to have everything I have not had." Yolanda says, "then I think of the community. I've seen how much 'Santísima Cruz' has grown. From having nothing, we have been turning this piece of land into a livable place, where we have now used our own strength to complete this project of a lifetime with MEDLIFE."
There are over 300 people in the 'Santísima Cruz' community who will benefit from the staircase. Now, we are just waiting for the next group to finish the remaining staircases. Although challenges always exist, Yolanda remains hopeful that good things will continue to happen.
'We have learned from MEDLIFE that unity is strength' says Yolanda.