A Service Learning Trip is a week-long educational journey where volunteers work hand-in-hand with the local community on development projects, mobile medical clinics, and more. The trip allows volunteers to understand the realities of extreme poverty firsthand, personally connect them with the communities that MEDLIFE supports, and ignite action within them to join the MEDLIFE Movement in the fight for a world free from the constraints of poverty.
MEDLIFE offers Service Learning Trips tailored specifically for high school students to volunteer while simultaneously getting to travel abroad, and most importantly, making a difference in the lives of the people in our partner communities.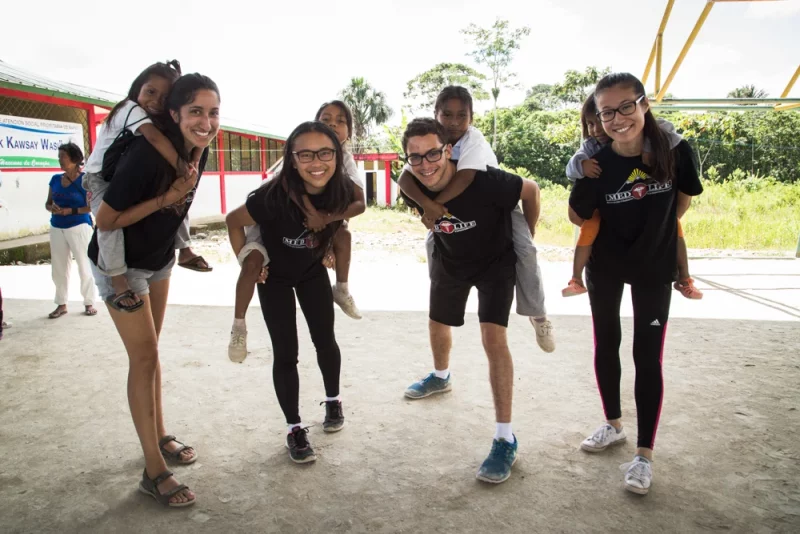 One of the locations we offer High School SLTs in is Ecuador. Ecuador is a remarkable country filled with rich history and stunning natural beauty. There are two locations in Ecuador where we host SLTs. The first is Riobamba, a small city located in the Andes mountains of Ecuador and the place where founder Dr. Nick Ellis was inspired to start the MEDLIFE movement. The second location is Tena. One of the entryways into the Amazon rainforest, Tena is the capital of the Napo province of Ecuador. Visitors come to Tena to experience the jungle's incredible biodiversity, raft or kayak down the white waters of the nearby rivers, and learn about the indigenous communities that call the area home.
Aside from getting to travel to a beautiful country, you may have never been to before, there are several other reasons to join a Service Learning Trip.
Benefits Of Joining A High School SLT:
Volunteers get to travel and see different parts of the world
Learn about medicine, poverty reduction, and education
Make connections with like-minded people & members of the community
Add volunteer experience to resume for university or future jobs
Gain experience in medical care at a rudimentary level
Parents/guardians and teachers can potentially travel for free by joining an SLT as a chaperone
Explore the city/country you are volunteering in and experience what it has to offer tourists
Make a difference in the lives of the people in our partner communities by helping to provide access to medical care, education, housing, and more!
These are just some of the potential benefits you can gain from joining a high school SLT. Everyone's experience is different, and we welcome you to join and see for yourself how awesome it can be to give back.
To see all our upcoming Service Learning Trips for high school students, visit our website today!