Another demonstration of MEDLIFE's depth of commitment to our follow up patients. A huge thanks once again to the Universidad de Puerto Rico – Rio Piedras chapter (Medlife U.P.R.R.P.), for fulfilling this dream for Jimena and Katherine's family and neighbors! Read the interview with the chapter below!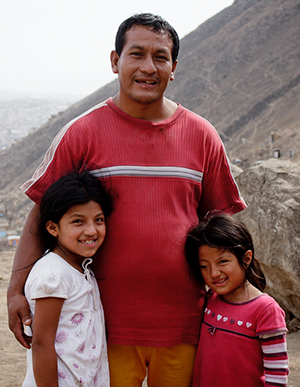 How did you come across Jimena and Katherine and why did you decide to fundraise for this project?
Cómo conocieron el caso de Jimena y Katherine why por qué decidieron recaudar fondos para ese proyecto?
Our president, Vilmarie Vázquez, saw Katherine and Jimena's case on the MEDLIFE website. We were struck as it was clear that there was a lot of need and especially with so many children, the security in the community is one of the most important factors. Having a safe area prevents accidents and, because of this we decided to sponsor the stairs.
Nuestra presidenta Vilmarie Vázquez vio el caso de Katherine y Jimena a través del website de MEDLIFE. Nos llamó mucho la atención ya que se veia que habia mucha necesidad y más cuando hay tantos niños. La seguridad en la comunidad es una de las cosas más importantes. Tener un área segura evita accidentes y por eso decidimos auspiciar las escaleras.
What was your plan for the fundraising campaign and what did you do to reach your goal?
Cuál fue el planeamiento para la campaña y qué actividades realizaron?
To raise funds we did weekly fundraisers that included pizza sales, cupcake sales, a raffle, lunch sales, amongst others. To reach our goal of $2,500 it took us around 4 months of hard work and we were able to save the money for a special project like this.
Para recaudar los fondos hicimos un fundraiser semanal el cuál incluía ventas de pizza, cupcakes, una rifa, ventas de almuerzo, entre otros. Para lograr recaudar los $2,500 tardamos alrededor de 4 meses de mucho trabajo y ahorramos el dinero para un proyecto especial como este.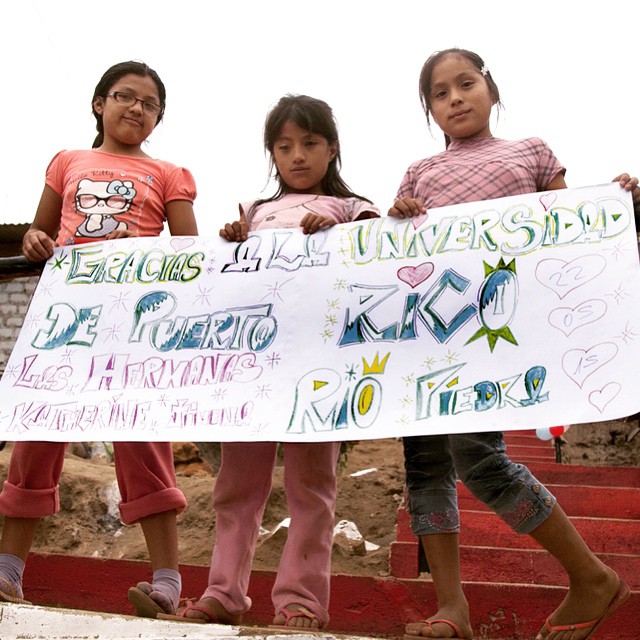 What was the most emotional moment of this project?
Cuál fue el momento más emotivo?
Undoubtedly, the most emotional moment was when the girls made us a banner and gave it as a thanks to the university. It was definitely a very beautiful detail and all of us were very emotional. We also loved the video of the inauguration, all of us were very happy to see that the effort was well worth it!!
Sin duda alguna, el momento más emotivo fue cuando las chicas nos hicieron el banner dandole las gracias a nuestra Universidad. Sin duda, fue un detalle muy bonito y a todos nos emociono muchisimo. El video de la inauguración tambien nos encantó, a todos nos dio mucha alegría ver que el esfuerzo valio la pena!!
What kind of obstacles did you face throughout the campaign and project and how did you overcome them?
Qué obstáculos encontraron en el camino y cómo los superaron?
Doing fundraisers is always hard work, the time that we were doing them there were a lot of exams and deadlines for applying to graduate schools so it was a bit difficult to do the fundraisers weekly and bring it all together. However, thanks to the support of our member we always had success in our activities.
Hacer fundraisers siempre es trabajoso. El periodo en el que hacíamos el fundraiser era de muchos exámenes y de "deadlines" para solicitar a escuelas graduadas y fue un poco cuesta arriba hacer los fundraisers semanales y que todo quedara bien, pero gracias al apoyo de nuestros miembros siempre tuvimos éxito en nuestras actividades.
What was the most important thing that you learned from this project?
Qué fue lo más importante que aprendieron de este proyecto?
The most important thing that we learned was how to work in a team with all of our chapter members. This was our first large fundraiser that then helped us do a fundraiser for cancer patients in Puerto Rico, where we raised $10,000 for cancer treatments. Also, it helped us get to know each other as a chapter and to demonstrate that when we propose something and we work for it, anything can be done.
Lo más importante que aprendimos fue a trabajar en equipo con todos los miembros, este fue nuestro primer fundraiser grande, el cual luego nos ayudó a hacer un fundraiser para pacientes con cáncer en Puerto Rico, donde recaudamos $10,000 para tratamientos. Tambien nos ayudó a conocernos más como capítulo, y a demostrar que cuando nos proponemos algo, y trabajamos por ello, cualquier cosa se puede hacer.
What reccomendations do you have for other projects who want to sponsor a project similar to this one?
Qué le recomendarían a los otros chapters que también quisieran hacer sponsor a un proyecto?
We recommend to other chapters who want to do a fundraiser to choose a project, create a work plan for the project and make the members participate in both the planning and the execution of the event. Being creative is the most important thing and trying to sell things that a lot of students like. (food never fails! haha)
Les recomendamos a otros capitulos que quieran hacer un fundraiser, que escogan el proyecto, hagan un plan de trabajo para el proyecto y hagan partícipes a sus miembros tanto en la planificación como para el evento. Ser creativos es lo más importante y tratar de vender cosas que a los estudiantes le llamen la atención (comida nunca falla jaja).
What would you like to say to Katherine and Jimena?
Qué palabras tienen para Katherine y Jimena?
To Katherine and Jimena, we want to say on behalf of the chapter of MEDLIFE UPRRP to always follow your dreams, regardless of obstacles. The important thing is to move forward, no matter what happens. Also we want to thank you so much for the "banner" – it meant alot to us and all of our members were so excited, theyloved it. Thank you so much!!
A Katherine y a Jimena le queremos decir, de parte del capitulo de MEDLIFE UPRRP, que sigan sus sueños siempre, no importa los obstáculos. Lo importante es seguir adelante, no importa lo que pase. También les queremos agradecer profundamente por ese "Banner" que para nosotros significo muchísimo y a todos nuestros miembros les emocionó y les encantó. Mil gracias!!!