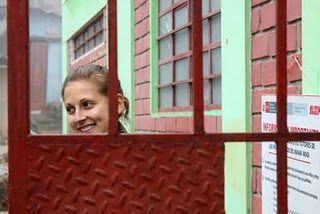 On a cold and misty Thursday afternoon, after an exhausting day of stair-building during our engineering brigade, I headed down the muddy slopes of Pamplona Alta alongside a few other MEDLIFE staff members towards a surprisingly clean green building, just a few minutes from our work site.
This was one of the nearly half-dozen Wawa Wasi centers in Pamplona Alta – low cost daycare programs where children under four years of age from low-income families can spend the day while their mothers are studying or working outside the home. Wawa wasi is a Quechua phrase meaning "home for infants." The program was founded in 1993 as a collaborative effort between the Peruvian government and UNICEF to alleviate the dire needs of the increasing number of families living in poverty. For a nominal cost, children are provided with two full meals a day and are instructed in a number of subjects such as basic hygiene and early education.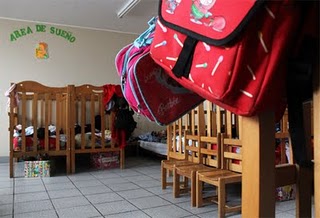 We were visiting this particular Wawa Wasi in the community of Mirador Dos to give a presentation to local mothers on basic hygiene and prevention of parasites. Stomach and intestinal parasites are rampant in Pamplona Alta due to exposure to contaminated water, food, and even the dirt in which children frequently play. Although we had expected to have somewhat of a larger audience, we were pleased with the ten or so parents who turned up. I began by asking the mothers how many of their kids had ever had diarrhea (although children worldwide frequently get diarrhea, it is a common cause of death in developing countries). Seeing an overwhelming number of hands go up, I clarified some of the common causes of diarrhea in developing countries, such as ingesting contaminated food and water. We then covered several essential points concerning hygiene, such as hand-washing and how to prevent transmission of contagious diseases.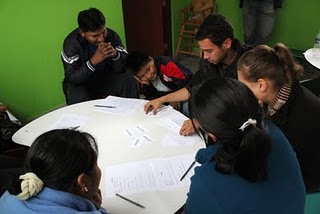 MEDLIFE staff member Joseph Tylutki also gave a short tutorial about dental hygiene, focusing primarily on the importance of tooth brushing and maintaining healthy oral hygiene habits. We then conducted an instructional seminar about parisitic infections in children and how to perform a test for pinworms.  Each mother was provided with tape and microscope slides with which to conduct a pinworm test for each of their children (transparent adhesive tape is applied to the anal region; the tape can pick up both eggs and adult worms). Later in the week, Director of MEDLIFE Fund projects Carlos Benavides returned to the community to collect the slides and bring them to a lab for analysis. When the results are ready, MEDLIFE will deliver them to each family and assist with any necessary treatment for pinworm infection.
In the coming months we will incorporate many more such presentations at different Wawa Wasis around Pamplona Alta, as part of our effort to promote greater awareness of pertinent health topics. We look forward to working closely with parents, children, and Wawa Wasi staff in the continued development of MEDLIFE's educational programs.
Post by Oana Butnareanu, MEDLIFE summer intern in Lima, Peru. Photos by Lindsay Bigda, MEDLIFE Director of Communications