This week's Mobile Clinic in Lima is one of our biggest to date, with almost 100 volunteers from schools all over the United States. That means we can serve twice as many people with double Mobile Clinics and community development projects! The project this week is two more staircases in Laderas Nueva Esperanza, and as the student volunteers learned yesterday, building a staircase in a week is not easy.

When they arrived, it was hard to believe that the treacherous hill they walked down would be a completed staircase by Friday. Community members had already laid a foundation of wooden boards and rocks, but it took the teamwork between the group of 21 students and community members to mix cement and bring it up to the top, where it would be poured in to create each step. By the second round, they were already passing the heavy cement buckets like pros.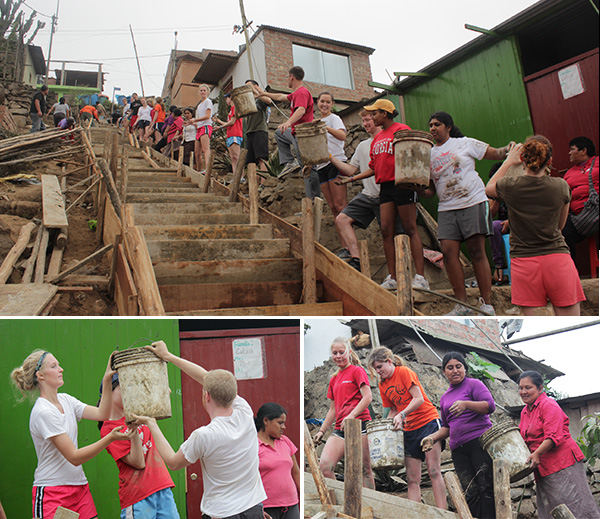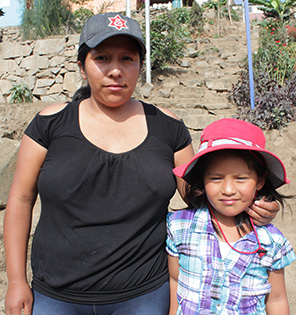 Why build a staircase here? Aside from the family homes and community meeting space located on the site of this staircase, it's also the shortcut that local children use to get to school in the morning. Though the elementary school is not far, the safest way to reach it requires a long walk around the top of the hill. So instead, children like Maricielo, 6 (pictured at right with her mother) climb up the steep rocks from their homes to go to school each day. Her mother, Corina, says she's seen many children slip and fall as they make their way up and down the hill. Corina has been active in the construction and inauguration of her neighbors' staircases, and looks forward to the completion of this one, which will provide a safer future for Maricielo and Corina's one-year old son Amado.
Thanks to all the participants for their hard work! Stay tuned for more photos from this week's clinic and the project, which will be inaugurated on Friday!