A Unique Celebration

Last week's staircase inauguration ceremony was one of our most exciting yet, as we celebrated the completion of five new staircases in the community of 8 de Diciembre with the usual speeches and champagne bottle-breaking — plus some special surprises from the community. Three of the staircase projects were sponsored by student chapters from Stanford University, University of Chicago, Ohio State University, San Francisco State University, and University of Georgia, and built by the community. The other two projects were built during last week's Mobile Clinic, with the help of student volunteers from Florida State University, University of Miami, and George Washington University.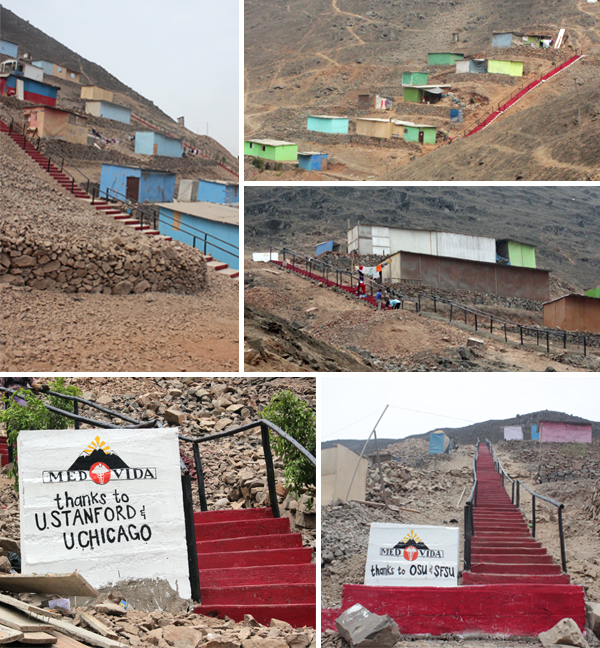 Thanks to the remarkable work ethic of community members, 8 de Diciembre now has six staircases, in just over one month. A relatively new community made up of young families, they have worked tirelessly to improve the humble, isolated settlement located near the top of a rocky hill. They are still struggling to get basics like roads, electricity and running water. Even delivering raw materials to build the staircases turned out to be tricky, as few drivers were willing to risk the steep, dusty path to 8 de Diciembre. But MEDLIFE and community members persisted, motivated by cases like 13-year old Thalia, who fell and broke her leg on her way to school a few months ago and has been afraid to walk down the hill ever since.
It was a festive atmosphere at the inauguration thanks to music provided by the municipal band of the district of Villa Maria de Triunfo. In keeping with the mischievous traditions of Carnaval time, local women dressed up our participants by smearing everyone's faces with talcum powder. But the real treat was the yunza, a unique Peruvian tradition where presents are tied to the branches of a large tree. In this celebration, usually observed during Carnaval in the highlands, everyone holds hands and dances around the tree. Eventually, the tree is cut down, bringing the gifts down with it.
Students and community members alike were in high spirits, though exhausted from the week's hard work. The day ended on an emotional note as the community expressed their thanks for the new staircases, and the students said goodbye to new friends. Group leader Marlesa was presented with a special present on behalf of the community: a handmade carving depicting the hills and houses of 8 de Diciembre.
Three Staircase Projects Complete, Thanks to Student Chapter Sponsorships
1. 8 de Diciembre II – Sponsored by UGA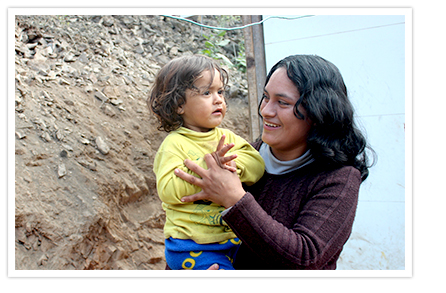 UGA sponsored a staircase project for the community of 8 de Diciembre, where Ítala lives with her young son Greco. When she moved with her family to Lima, Ítala's community lacked basic infrastructure, electricity, and running water. Yet, little by little, residents are working toward several improvements.
"I'm very thankful," said Ítala on the day of the inauguration. She asked us to communicate to the group that even though she never met the students in person, she will always carry them in her heart. She hopes that some day some of the students will be able to come visit.
2. 8 de Diciembre III – Stanford University and University of Chicago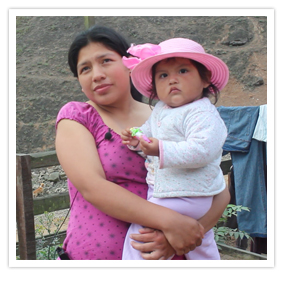 Stanford University and the University of Chicago teamed up to fund a staircase project for Soledad's family, as well as her fellow neighbors living in 8 de Diciembre.
"The stairs are a relief," says Soledad. "The truth is, I never thought they would be constructed so quickly; I always imagined it would take months or years. Maggie and I are truly grateful for this gift."
On March 18, 2013, members of the community inaugurated this staircase, breaking a bottle of champagne on behalf of volunteers from Stanford and University of Chicago.
3. 8 de Diciembre IV – Sponsored by OSU and SFSU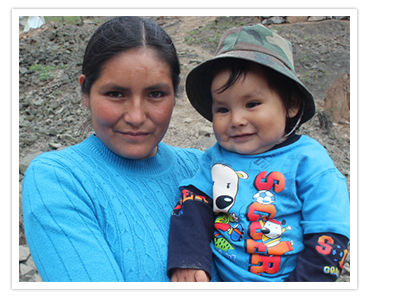 Thanks to students at OSU and SFSU, Yoni is just one of the several beneficiaries of a new staircase project in 8 de Diciembre.
Yoni's house is one of the highest on the hill, and the pathway leading to it is dangerous, especially when it rains. She has fallen several times as she carries Rodrigo on her back to retrieve water. In order to receive medical attention in case of an emergency, they have to travel to the only clinic in the area, located far from their home.
With their new stairs, Yoni and her neighbors can go down the rocky hill to get food and water without fear of falling. Thanks to the MEDLIFE chapters at OSU and SFSU for your support!