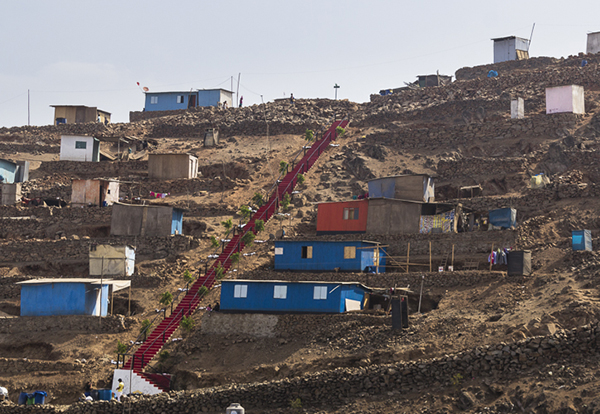 Photo by Wim BoudenFrom a distance, this MEDLIFE staircase high in the hills of Pamplona looks much like all the others. But take a closer look and you'll see this one has something special: a mural depicting the construction process, the original artwork of one of the community members who spent the week building the stairs.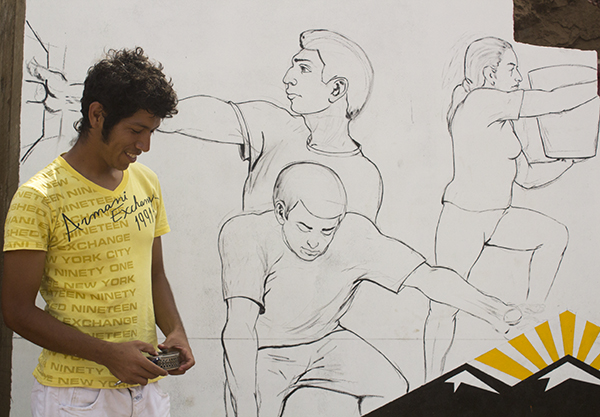 Ernesto Liendo, 25, an art student who has been living in Buena Vista for just less than a year, says he was glad to contribute to the project, which he sees as an important step in the advancement of his community. "I wanted to represent the process, the hard work and the spirit of solidarity that we experienced this week," he told us.
Indeed, the team spirit of this week's group was undeniable. Ernesto, along with many of his neighbors, worked hard in the weeks before the project to get this staircase finished in record time. During breaks in the construction process, he sketched out a design, using the student volunteers as models, and once the staircase was complete on Friday morning, he painted the life-size figures onto the retaining wall of the staircase, above the MEDLIFE logo. When the student volunteers arrived to inaugurate the staircase on Friday afternoon, they were thrilled to see the painting immortalizing their experience this week. After much cheering and prodding, they managed to convince Ernesto to say a few words, and he proved to be a natural politician, reminding everyone of the need to continue fighting to improve their living conditions.
For Ernesto, who came to Lima to follow his dream of going to art school, the drive to create art and the struggle to overcome poverty come together naturally. "Art accuses, art is an expression of the people that generates consciousness, creates a change in ideas and in structures," he says. In a single conversation, he goes from talking about Picasso's Guernica, to the contemporary art scene, to Peruvian public policy. He sometimes struggled in art school, he says, because he preferred to depict the realities of living in poverty rather than the more conceptual or abstract work favored by his professors.
Ernesto studied at the Escuela de Bellas Artes in Lima, a prestigious institute that attracts talent from all over the country, and says that his time there gave him valuable studio experience and the chance to share ideas with artists from other parts of Peru. Unfortunately, he had to leave school before he finished his degree, because he could no longer afford tuition and rent in Lima. That's why he moved to Buena Vista, where he says, the rocky land is nearly uninhabitable, but at least it's his. "What I spent there I could invest here and keep for myself, to be able to make my own studio," he says. "Right now I just have my whole life in a tiny room with no electricity. But I have this vision."
"I think one always dreams of a better world," he continues. "But you also dream by doing. Just look at this staircase." Before, it took half the day to walk up to his tiny home, and now he says, he runs up and down the stairs. "It gives me a lot of joy because it's something the people have done," he says. "And well-being is achieved little by little, with small steps." For him, the staircase represents more than a path to reach his home; it's another battle won in the people's fight for a decent standard of living. Neighbors stop by now as they pass the stairs to marvel at the change it makes in the landscape. Ernesto says it gives them hope that if they organize and unite, they too can make a difference in their communities.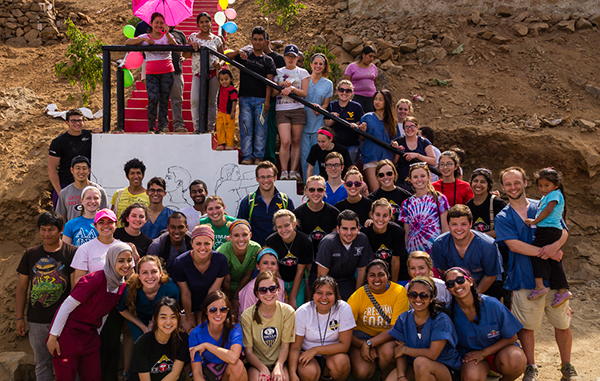 Jose, the president of the community, thanked student volunteers and told them that they were welcome to come back to Buena Vista any time. The staircase was inaugurated with festive dances and snacks from the various regions of Peru represented in Buena Vista. Community members and student volunteers alike cried when it was time to say goodbye. As for Ernesto, we haven't seen the last of him; he and his neighbors are already laying the groundwork for the next set of stairs, as well as a new community meeting space.