The Baca Ortiz Pediatric Hospital in Quito is a sprawling red and white rectangular complex. Fittingly for a children's hospital, it looks like a life-sized Lego construction. Outside, street vendors hawk salty snacks and piles of plush toys — cuddly lions and Smurfs — for impromptu gift giving.
Esther Veronica Lluilenca, 12, sits slumped in a red pleather chair in the oncology wing. Her thin frame is swallowed in sweatpants and a red fleece jacket that says "Love," with a large, floppy blue and white fleece hat covering her wispy black hair. Today she is feeling cold and tired, she says.
Since early October, Esther was diagnosed with acute lymphobastic leukemia (ALL), or the "fastest-growing cancer of the white blood cells." Her immune system has been compromised; the cancer prevents her white blood cells from properly fighting infections. Esther's sickness also makes her part of a shocking statistic. ALL accounts for about 20 to 25 percent of all childhood cancers and is the most common type of childhood leukemia. However, according to Boston Children's Hospital, "most children with acute lymphoblastic leukemia can be cured," and today, though still very weak, Esther is feeling better than before.
Her father, Don Segundo, quickly checks on Esther before leading me to a corner with six small chairs outside of oncology. He appears well-acquainted with the hospital routine. No talking near the patients, no photos in the wing. Esther has been here for two months, and Don Segundo's been here alongside her.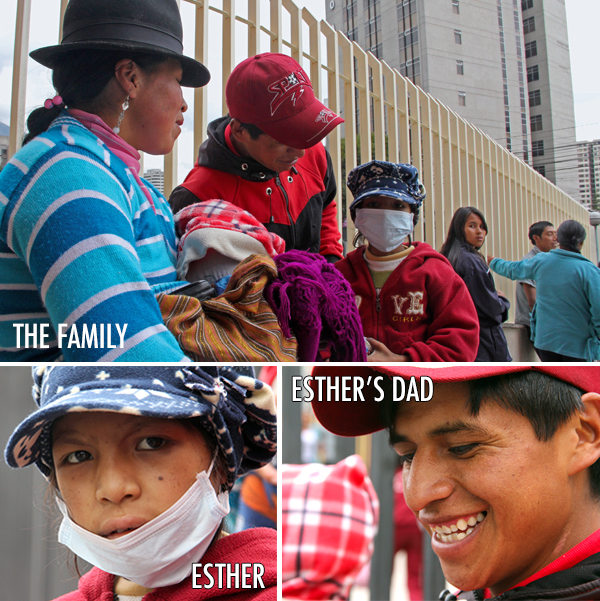 Esther's father looks his 32 years of age. He's petite, with a jaunty red baseball cap. Don Segundo speaks very softly, his words dripping with concern for his daughter, one of his five children.
Recently, Esther has been improving, Don Segundo tells me. She has undergone two rounds of chemotherapy and is preparing for her third. In past months, she was not able to eat solid food without vomiting. The family's hope for her survival was dwindling.
But then a smile spreads across Don Segundos tan face, his eyebrows raising. Esther was able to eat chicken soup and drink juice this week, he says.
"Before they [the doctors] were saying, 'I don't know, it's hard to say [if Esther will improve],' but these days, they're telling me that they have hope!" he adds.
Yet, "hope" does not come easily. Currently, Esther's doctors foresee three years of chemotherapy treatment to fight her cancer. However, typical treatment for ALL is a long-term process, often taking two or more years. The treatment is covered by the hospital for free under Ecuador's current public health care system.
Three more years in the hospital for Esther also means three more years without a stable income of the Lluilenca family. Don Segundo tells me that ever since her diagnosis, he had to leave his construction work and suspend his plans to obtain a license for operating construction machinery, which would increase the family's income.
"Right now, I am sad about these next three years," he says. "It was beautiful [at home]. I was working, earning money little by little. These days, we are dealing with economic hardship."
MEDLIFE Ecuador is currently financially aiding the family with day-to-day costs of living in the wake of Don Segundo's joblessness. His wife, Maria Mercedes Tenemaza Paca, works taking care of their four other children and farm animals at their three-room home in Cebadas, a rural community in the Chimborazo region nearly seven hours from Quito.
"The trip is very long. They [the family] can't visit," he explains, tearing up. Maria is able to visit twice a week, despite her responsibilities at home, including caring for their nine-month-old baby. Esther's other brothers and sisters are still in elementary school, except for her older sister, who helps her mother in the house.
Don Segundo passes his time at the hospital with Esther. He helps her sip liquids, keeps her company throughout the boredom of waiting to be better, adjusts her many layers of warm clothing, and meets with doctors. Since he is now primary caretaker of Esther, Don Segundo relocated to a small, one-room apartment about an hour and a half away from the hospital. It costs him $45.00 per month.
When I ask about the family's financial security, he responds honestly, "I am very worried. I have not been able to sleep or eat because of it, without a job."
Luckily, the government will be providing relief for their situation come the end of December in the form a salary for Esther's needs. The salary will include coverage for Esther's clothing, food, medicines, and transportation for family visits.
However, at first, there were obstacles. When MEDLIFE Ecuador Director Martha Chicaiza first learned of the family's financial difficulties in October, she was told by government officials that they would have to wait six months to begin receiving aid. But waiting so long was risky for Esther's condition, so she wrote a letter to the office of the Vice President stating her disappointment with their lack of immediate coverage for families facing catastrophic illnesses. Two weeks ago, Martha was invited to a meeting at the Vice President's office. The government then agreed to provide a monthly stipend for Esther's family.
Despite the stress of these changing conditions, Don Segundo dutifully cares for Esther. When a scarf is uncomfortably balled up underneath her, he rushes to reposition it. When she limply holds a juice box of Avena, a sweetened oat drink, he encourages her to drink more.
Esther speaks in nearly a whisper. Her dark brown eyes smile when her mouth does not. A cotton mask for her mouth sits crumpled beneath her chin. She has a strong brow and high cheek bones that lend a regal air to her small frame.
An old television blares colorful cartoons. A mother next to her tries to nurse a crying baby. Esther tells me that there are not a lot of children her age staying in the oncology wing. I gesture to two adolescent boys hooked up to machines across the room.
"Do you know them?"
"No," she says, blankly.
She shifts, and reveals a wad of cotton taped over the back her left hand. Blood tests have become routine. Nothing much has happened today, though, she says.
Esther quietly tells me that her favorite color is pink. She does not have a favorite sport. She wishes to be a math teacher in an elementary school, but not in the countryside where she is from, but in a city like Quito because "it is more pretty" and more populated.
We are not allowed to take photographs in the wing, so Don Segundo sweeps Esther up over his shoulders like a bag of feathers.
As he carries her through the hospital towards the front door, Esther's face erupts into a wide smile, he chin resting on his shoulder. She laughs, her freckled cheeks rising. It looks like the most fun she's had in years.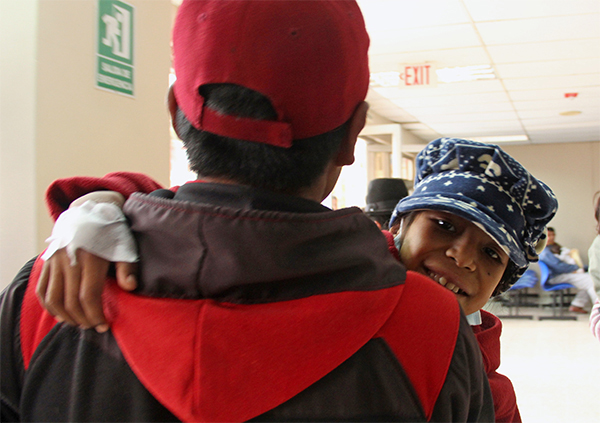 MEDLIFE continues to follow up with Esther's case, and will post updates as she progresses.
Rachel Hoffman is a MEDLIFE media intern based out of Riobamba, Ecuador