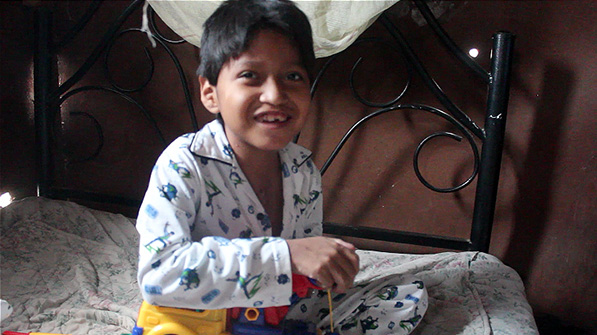 Today we have some good news to share from Lima: after finally getting heart surgery on December 14th, Eloy Britto is back home with his family and on track to a full recovery.
Eloy is a quiet eight-year old boy who was born with Tetralogy of Fallot, a congenital heart defect that causes low oxygen levels in the blood. Symptoms include blue skin color, poor development, and episodes of exhaustion and seizure. In most cases, children with Tetralogy of Fallot undergo heart surgery at a very young age and can go on to live normal lives. Without the surgery, most patients with the condition will die before they reach the age of 20.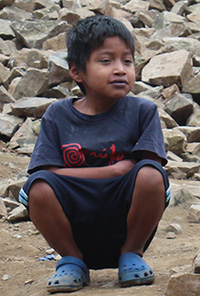 Until a year ago, Eloy's family lived in Pucallpa, in the jungle region of Peru, isolated from any sophisticated medical care. His mother, Betsy, says she knew that he had a problem from an early age and tired easily, especially in the jungle heat. She describes how Eloy, who loves to play soccer, could only take a few steps, kick the ball, and had to sit down and rest. Last year, Betsy came with Eloy and his younger siblings to stay with a relative in the community of Virgen de Cocharcas in Lima. He was doing well in school, but he stopped going in the second grade after he fainted at school one day.
MEDLIFE has been following his case since last summer, taking him to various doctors' appointments and tests to determine if he could receive the operation that would save his life. Cardiologists expressed concern that Eloy could be too old for the operation; as his heart grew, his system had become accustomed to working the wrong way. But Meri Lecaros, MEDLIFE's field nurse, was determined to find a way to help him. In the meantime, we worked to improve his living conditions, including building a staircase next to his house.
In November, Eloy went to the hospital for a checkup, and seeing his condition had worsened, the doctors checked him in for an extended stay. They would try to help him gain weight until he was healthy and strong enough for an operation. Having never been to the hospital before, he was resistant to medical intervention; Meri recalls with amazement how it took several nurses just to hold him down for an injection. But he began to improve, and when we visited him there, the MEDLIFE staff was surprised to see how well he was doing. He was in a room with other kids around his age, and happily played and shared toys with them, smiling and talking more than we had ever seen him do before.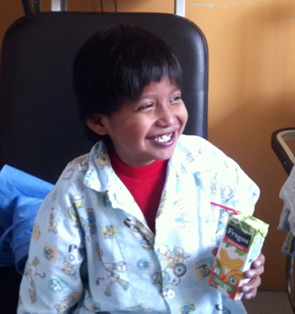 Meri found out about a program coming to the children's hospital in Lima — a group of surgeons arriving from Spain to perform specialized operations only on the most serious and difficult cases. They would be in town for just one week, and there was a long waiting list. At this hospital, the patients' family has to secure the necessary amount and type of donated blood before the child can be placed on the schedule to receive an operation. We frantically searched for O-positive blood donors; in the end, one of our own interns, Inge, donated blood. Meri managed to intercept the doctors as they made their rounds and get their assurance that Eloy would get his operation before the week was over.
When Friday came, we watched as Eloy entered pre-op around 9:00 in the morning, and waited until he came out about eight hours later. The surgeons told us from the beginning that this surgery would be a complicated and risky one; it required cutting open Eloy's heart to place patches and widen a vessel to reroute the blood. Any miscalculation could mean cutting an artery and stopping the heart.
The operation went as expected, doctors told us, but Eloy was losing a great deal of blood and would be in great danger for the next five days. Meri was in the hospital almost every day during this time. At one point, Eloy had a heart attack and his system shut down completely.
"He was dead," says Meri. "We thought that was it, and just when they were disconnecting the machines, he took a breath by himself."
In spite of these scary moments, as he continued to recuperate, the difference was clear; post-surgery, Eloy's skin no longer had the blue tint, and he could walk around the halls of the hospital without getting tired. When Betsy arrived to take him home from the hospital after his two-month stay, she says he was waiting for him in the doorway with his toys and impatiently told her, "Let's go home now!"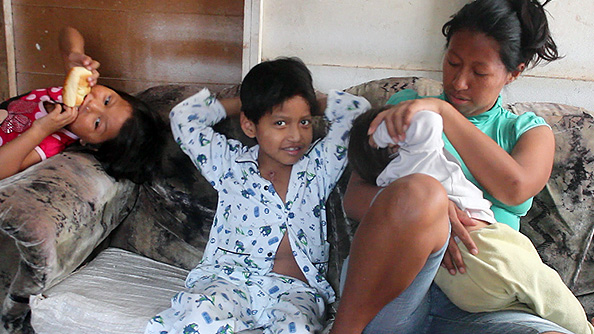 Eloy's health is still delicate, and he needs a safe environment to ensure that he can continue to improve. But he seems to have made it through the worst of the danger now — he's eating, talking and happy to be home playing with his younger sister and brother.
MEDLIFE will continue to support Eloy and his family through the recovery process.