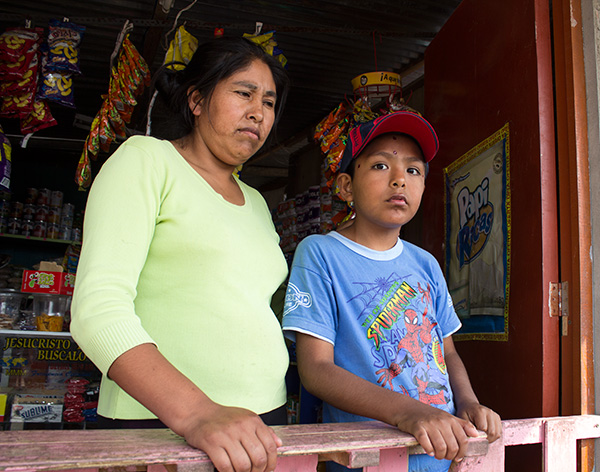 Luis Angel Tuso is an eleven-year old who enjoys art class and dreams of becoming a police officer when he grows up. When he began complaining last year of intense headaches and vomiting, his parents knew something was wrong. But with four children living in the sandy desert settlement of Oasis in Villa El Salvador, they had few economic resources for medical treatment.
They took Luis to the Hospital Maria Auxiliadora, which accepts SIS, the government health insurance program that covers families living in extreme poverty. There an MRI revealed a diagnosis of hypertensive obstructive hydrocephalus, an accumulation of fluid in the brain, caused by a tumor blocking the flow of cerebrospinal fluid through the brain.
He received surgical intervention that same day, and a shunt was placed in his brain to drain excess fluid and relieve the pressure on his brain tissue. Luis recovered smoothly from that procedure, but the underlying problem- the brain tumor- required a more complicated treatment. Because of the tumor's proximity to important brain structures, doctors said, it would require stereotactic radiosurgery, a noninvasive procedure that involves high doses of radiation targeted to precise points with the end goal of reducing the size of the tumor. But the expensive and high-tech procedure was not available in Maria Auxiliadora; in fact, just 3 hospitals in Lima are equipped to perform it. The procedure would cost 18,000 soles, or about $7,200, an amount that the family could not afford. Luis's father went to each hospital but none of them would accept his insurance. He began the process of appealing their decision, assembling the paperwork and references to prove that the family truly needed assistance. They held a pollada in their neighborhood, selling chicken in order to raise money for the medical costs, but still didn't come close to the amount they needed.
At this point, Luis's father got in touch with MEDLIFE, who he knew of from the Mobile Clinics that had recently been carried out in their community, and asked for help. Meri Lecaros, MEDLIFE's Patient Follow-up Coordinator, set her sights on the Clinica San Pablo, she says, because it's known to be the most advanced in procedures like this one. "They told me they 'almost never' want to accept people with SIS, since they are private," said Meri. "But we searched for the connections needed to give the family a boost in the process they were already working on."
Meri decided to use her contacts in the Ministry of Health, where she previously worked as a health promoter. She got in touch with the directors of the network of hospitals in southern Lima, and says "They gave me hope, making calls and coordinating to gather the necessary documents."
That speeded up the process, and last Saturday, Meri accompanied Luis and his father to the Clinica San Pablo, where they performed another MRI exam. Luis was nervous, but Meri reports, the doctors were patient with him and able to complete the exam. The doctors will now meet in order to determine the best course of treatment for Luis. The recommended treatment requires seven sessions over the course of weeks, all of which will be covered by SIS.
His parents say the unexpected turn of events has been "a blessing from God." Meri says that Luis's story is a success for not only his family, but for others who may benefit in the future from the connection made with a clinic that would ordinarily be inaccessible to low-income patients. "There are many rights available to people through the system, but they just aren't publicized," Meri says. "You have to fight for them."