Carmen Solano died of a heart attack last week at the age of 42 after a two-year battle with cancer. She is survived by her two daughters, ages 13 and 15.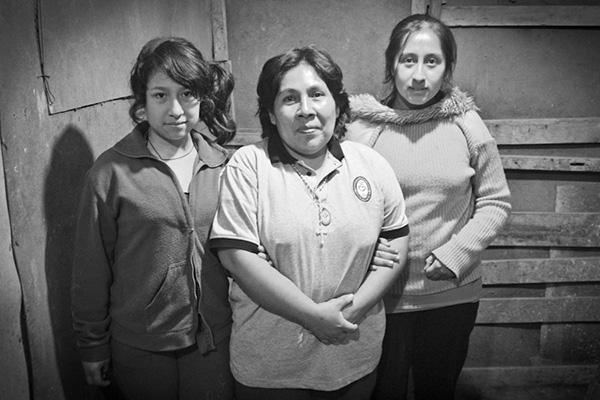 We met Carmen when she came to a Mobile Clinic in her community, Laderas de Nueva Esperanza, in 2011. She had noticed irregular lumps in her breast, but hadn't seen a doctor because she was unable to afford it. At the clinic, she was diagnosed with stage 3 breast cancer, and became a MEDLIFE follow-up patient. Despite the diagnosis, Carmen always remained positive and concerned more for the welfare of her children than her own. She lost her job when her boss found out about her illness, making it even more difficult for her to pay for treatment. MEDLIFE supported her through this time, and field nurse Meri took her to and from each chemotherapy session. When she contracted an infection from her old straw mattress, we bought new ones for her family, and we completed a staircase project next to her house. She was always surprised and grateful for any support, and conversed warmly with everyone who came to visit her. Even as the illness and treatment weakened her body, she retained an inner strength that made her a joy to be around. She became an advocate for other women in disadvantaged communities, educating herself about women's health and encouraging others to get screened early to prevent the spread of cancer.
For all of us in the MEDLIFE office, Carmen was more than a patient — she was a friend, and an inspiration. MEDLIFE staff members share their memories:
There are few people who can inspire your own life with their example. Carmen was one of them. Her strength and her fighting spirit made her an extraordinary person. Carmen was one of those superwomen who should not remain anonymous, but poverty hid her from the world. Carmen never gave up, and for me, she never lost the battle.
-Rosali Vela, Assistant Director of Communications
Carmen has always fought to beat cancer, and when we went to the hospital for her appointments she would give advice to other people in the line, telling them always to get their checkups. She was one of the symbols of the expansion of government coverage of cancer treatment in the "Esperanza" program. When I visited her house, she was always busy taking care of everything like a normal housewife, as if she wasn't sick at all. Her primary concern was her daughters.
There are many things I could say about Carmen but what she reminds me today is that she never stopped fighting. Even at the end she still thought about what would come tomorrow. Her life continues in all that we learned from her.
-Meri Lecaros, Field Nurse
Carmen was one of our first patients and I still remember with great sadness when we learned the results of the mammogram that indicated that her illness was very advanced. But at the same time I felt glad and proud to see how she faced the cancer bravely. In spite of growing up alone and without a family she decided to fight and continue to put her daughters first. Her strength and courage in facing everything, her sensitivity, solidarity and humanity, arose in the middle of poverty and need, and despite her limitations she always found a way to help others, which is why she made many good friends by being her beautiful self. Patients like Carmen become more like friends or sisters, and it is sad for me to say goodbye to Carmen, my friend. I know your example, your optimistic spirit, your love and friendship will continue in all of us who knew you.
–Dr. Jose Rodriguez, Medical Director
We continue to support Carmen's family through this difficult time.