Milagros Ponte, known to her parents as "Milly," kicks up clouds of dust as she runs up the rocky hill ahead. "Minnie!" she suddenly shouts, and scoops up a small black-and-white cat, who reluctantly puts up with the attention. Showing visitors around the small one-room house she shares with her parents, Milagros sounds much like any other 5-year old, proudly pointing out of her neatly arranged collection of Barbies and stuffed animals. An only child, she likes to play with her cat and neighboring children and help her mom water the flowers in their small garden plot.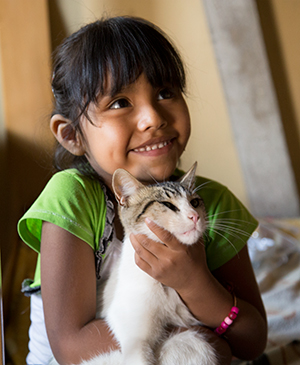 But Milagros, who lives in a high extension of the Virgen de Cocharcas community, was born with congenital auricular atresia — a birth defect that left her with only a partially developed ear on one side, and a small vestigial structure on her cheek. Though her inner ear was healthy, her hearing could be affected as she developed because the sound would not be able to travel into the ear canal.
Despite their humble circumstances, her parents have done their best to give her everything she needed for a happy childhood, sometimes going without themselves. "Life can be really sad here at the top of the hill," says her mom Glorinda. "But at least now we have our own home, our own little plot of land. Sometimes we worry, but never in front of her. We just want a better future for our daughter, like any other parents."
But when they tried to get Milagros's ear corrected, they were stuck. They couldn't afford to pay for the operation, and SIS, the state insurance for the poor, wouldn't cover the procedure because it is largely cosmetic.
We already knew Milagros as the high-energy, happy-go-lucky little girl who always came running up to meet us when we visit her community. So when her parents asked us for help, the MEDLIFE follow-up team made a plan. 50% of the cost of Milagros's surgery, as well as necessary medications, were covered by the MEDLIFE fund in order to make the operation a reality. She finally received the operation just two weeks ago, and is now back at school after staying home for a week to recover.
Even right after the surgery, she never lost her high spirits. "It hurt at first, but now I'm fine," she says, smiling widely as she turns her attention back to playing with her toys. "She's very brave," says Glorinda. "She was so happy that she was going to get the operation, she didn't even cry or complain." In the operation, the extra tissue on her face was removed, and the fold covering her ear canal was opened. In a few years, she will have an additional surgery in which doctors will take cartilage from another part of her body and use it to form the outer structure of the ear.
For now, Milagros is looking forward to going back to school to play with her friends. "She's very excited," Glorinda told us. "She can't wait to be able to use earrings."