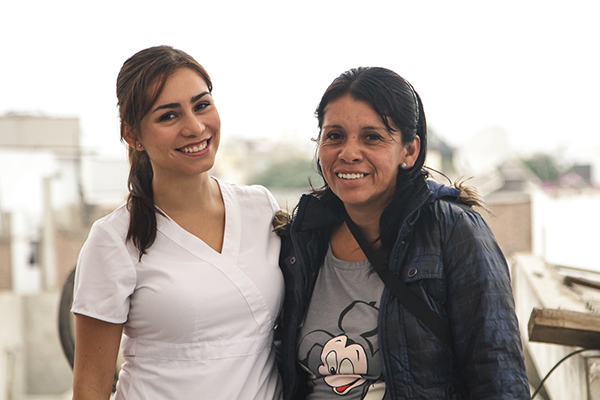 Dr. Angie Vidal (left) and Yovana Taipe
When we first met Yovana Taipe at a Mobile Clinic in Villa El Salvador, she seemed shy and serious, reluctant to smile. And when she reached the dentist chair, we found out why; all of her front teeth had rotten and fallen out.
This level of damage would require more than the dentist could provide in one day at the clinic, so Yovana entered our patient follow-up program, with MEDLIFE dentist Angie Vidal overseeing her care. Angie performed multiple cleanings, extractions, fillings, crowns, root canals and created prostheses. Over the course of several visits, she developed a close relationship with Yovana, and ended up treating her children as well. "She's a person who has suffered a lot in her life," says Angie. "As I got to know her better, I was always impressed by how many obstacles she had overcome."
Yovana says she can't thank Angie enough. "She gave me my smile back," she says. "She gave me my life back." Her dental problems had left a severe dent in her self-esteem, making it more difficult to do normal activities and get a job.
Yovana lives with her two younger children, 7-year old Maricielo and 16-year old Julio, in a cramped quarter of her mother's house in Villa El Salvador. After leaving an abusive marriage, she lacked the financial resources to provide the basic necessities for her family. She works cleaning houses when she can, and hopes to support her children through school in the hopes that they can become professionals someday. Between taking care of her kids and working, it was hard to find the time to stand in line at the public hospitals and get medical attention. After seeing the positive impact that the Mobile Clinic has had in her life, she's taken an active role to coordinate future work with MEDLIFE in her community. The patient follow-up team will continue to support her and her family.
She still worries about her childrens' future, but now, she says, "I know that [MEDLIFE] will help me through this, and I am forever grateful for that."