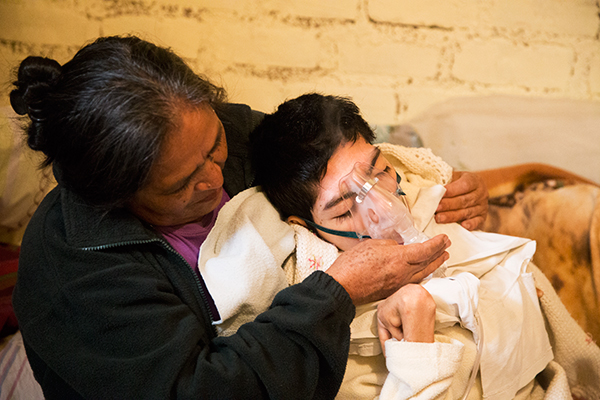 A few months ago, MEDLIFE intern Nandini Razdan wrote here about her experience visiting a follow-up patient in Villa El Salvador named Eduardo Espinoza. Due to brain damage caused by choking on candy as a baby, Eduardo, now 24, has lived almost his entire life in a near-vegetative state, unable to move or speak.
Though there is no cure for Eduardo's condition, the MEDLIFE follow-up team has been helping him and his mother for the last two years, providing supplies like diapers, medication, and even a bed, and taking him to doctors' visits. Medical Director Dr. Jose says it's a "miracle" that Eduardo has survived this long, and mostly thanks to the constant dedication of his mother, Leonarda. "Medically, it's inexplicable," he says. "But we've seen that he sometimes laughs or cries, and he's responsive to us and to his mother." After the recent death of her husband, Leonarda is doing double duty as both breadwinner and caretaker for her son.
In April, Nandini went with MEDLIFE field nurse Ruth to visit Eduardo and his mother in their home, and accompanied them to the emergency room because Eduardo was having trouble breathing. The humid winter air put him in danger of having his lungs fill with fluid, and one had already collapsed. About once or twice a month, they helped transport Eduardo to the hospital for a simple nebulizer treatment that would save him from choking to death.
When Nandini went that day with Ruth, she says it was a struggle to transport him to the hospital in his rickety wheelchair. "Eduardo left a huge impression on me, and I didn't want to forget about him after my internship. He still needed help," she says. So after she returned to the US, she told Dr. Jose she wanted to help him get a wheelchair. "He told me that what Eduardo really needed was a breathing machine," she says. So she created a campaign on the MEDLIFE website, contacted friends and family and posted on Facebook to ask for donations to buy the equipment.
In less than 24 hours, Nandini raised $325, surpassing her original fundraising goal of $300 and enough to buy the machine, an extra oxygen tank, and a dehumidifier for Eduardo.
Today, we went to visit Eduardo and his mother again, this time with the brand new gifts in tow. Dr. Jose and Ruth helped Leonarda set up the machine to use for the first time; from now on, if Eduardo has trouble breathing, his mother can hook up the machine to his oxygen mask for just ten minutes. The dehumidifier in his room should help Eduardo breathe better in the future.
Leonarda was delighted and grateful to hear that the new equipment was from Nandini and her friends in the US. "Thank you so much, from me and from Eduardo," she said. "People may think he doesn't understand, but I know he does."
To create a fundraising campaign and help patients like Eduardo, click here. Or donate to the MEDLIFE fund.