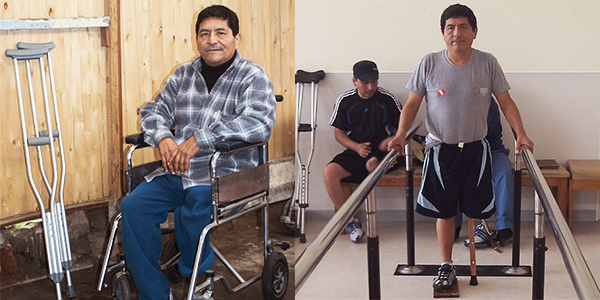 We met 52-year old Julio Pineda during a mobile clinic in March 2013 when Julio did not have anyone to turn to.
Julio lived in Comas, one of the biggest districts in Lima, working as a bus driver. His meager income had to support both his family and his grown children.

He knew he had diabetes, but never thought to pay attention to it. To him, his work took precedence over his doctor appointments.

When Julio had to have his leg amputated in Hospital Collique, he felt as if his world was ending. He was unable to find a way to earn a living after leaving his job as a bus driver, so he had no choice but to leave home and rely on his children. His children welcomed him with open arms with the little they had.
Unfortunately, the new home was in one of the highest areas of Villa María del Triunfo, and it was exhausting to move from one side of the house to the other on crutches. On top of it all, Julio did not have the financial means to cover the cost of rehabilitation.
It was at this point that MEDLIFE met Julio, who did not hesitate to approach us.
As MEDLIFE got to know more about Julio's case, we knew we could do much more to improve his quality of life. Finally, after much searching, Julio was very grateful when MEDLIFE found someone to donate a wheelchair.
But what else could we do for Julio?
Ruth Varona, a MEDLIFE field nurse, was assigned to Julio's case and has since been conducting his rehabilitation treatment every week. Once his treatment began, we discovered what he really needed: a prosthetic leg.

A prosthetic leg is extremely costly and requires a series of medical exams that Julio could not cover on his own. No day goes by that Julio does not hope for a prosthetic so that he can go back to work and provide for his family.

Recently, Julio received an orthopedic pylon, which helps create the necessary balance for the actual prosthetic. At this moment, Julio is waiting for the necessary funds to by the prosthetic leg he needs, which costs $1700. This will help him restore his life. To donate to this campaign, click here.
Like Julio, all of MEDLIFE's follow-up patients are given the necessary medical attention and support to move forward and improve their quality of life.

To learn more about the follow-up program, click here.