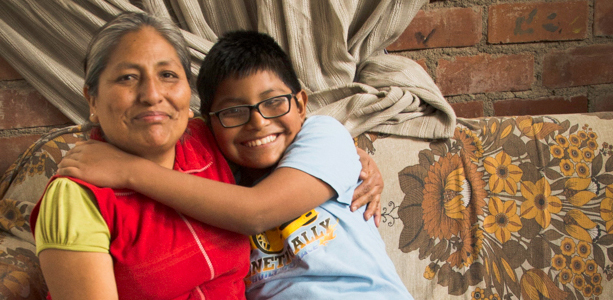 Before arriving at Gino's home, Janet, one of the MEDLIFE field nurses, told us a little about him, "he has the biggest, most lovely smile," she promised. On meeting Gino his smile is certainly the first thing you notice; it could brighten anyone's day.
Gino and his mom welcomed us into their home situated in Villa Maria, an area in the outskirts of Lima. The home is shared with Gino's Dad, brother, sister, and nephew. They've lived in their home for a number of years, which is just over the road from where Gino went to Primary school. However in 2011 when Gino was nine, their lives took a turn after his parents noticed their son wasn't feeling well.
Gino's illness started with a cough, and his family thought that it was asthma or allergies. Their assumptions proved wrong when Gino's symptoms only seemed to worsen over the course of three months. Along with the cough, Gino had a growth on the side of his neck, his parents didn't think anything of it at first, as it wasn't causing Gino obvious harm, but still, they kept an eye on it.
Then, one evening, Gino's face turned purple and his family rushed him to the hospital. Once in the hospital, Gino fell into a coma in which he stayed for a week. "We thought he was dead, we lost all hope," his mother admitted.
Then, miraculously, he started moving his hands and soon regained consciousness. Once Gino woke, the hospital ran a number of tests on him to find the cause of the problems. They discovered that Gino had ganglion cancer—cancer of his glands.
On finding out this news, Gino was registered to get chemotherapy. He was in and out of the hospital to receive treatment for next two years of this young life. The chemotherapy was eventually a success; Gino was cancer free.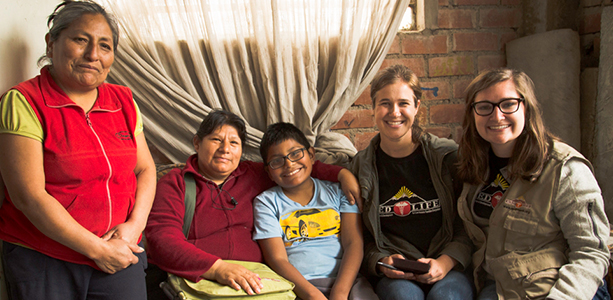 The beginning of his cancer-free life unfortunately bore bad news: the chemotherapy caused an infection in his intestines, one that requires an operation to cure. This is only possible once there has been some regrowth of the intestinal wall, otherwise it could lead to further complications and infections.
Gino's intestinal infection causes him to need a colostomy bag to pass bowel movements. Despite these hardships, the damaged areas of Gino's intestines have started to show signs of regrowth, which has enabled the doctors to estimate that the operation on his intestines can happen in January 2015. The operation will mean Gino will no longer need to use the colostomy bag, which means he will be one step closer to returning to a normal life—he will finally be able to return to school again.
Unlike most kids his age, Gino told us he loves school, and especially learning English. Since first going into the hospital he hasn't been able to attend school due to his pain and discomfort. His mom told us proudly he was a very bright boy and often got the top grades in his year, making the fact he's missed so much schooling even harder to bear. Knowing Gino will be able to return to school again is a great relief for the family, who for a long time thought that this would never be the case. His mom explained that the hardest part of the entire process for her and Gino's father was the beginning: the not knowing what was wrong and not being able to believe that their son had cancer, every parent's worst nightmare.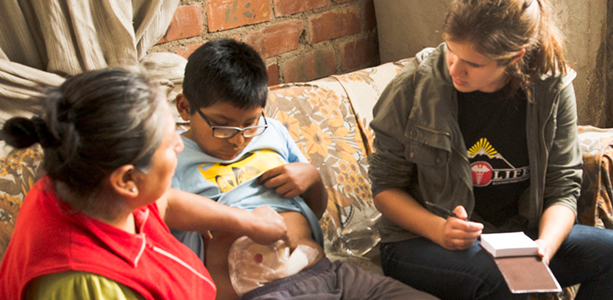 Though it's been a rough three years for the family and things are starting to look up, Gino's family is still in need of some MEDLIFE support. Despite Gino's improving condition, the regular hospital visits and the need for Gino to have constant care has prevented his mom from continuing her job as a food vendor. This has put even more financial strain on the family, which lives in one of the poorest parts of Lima.
The costs of Gino's unexpected illnesses have become unsustainable for his family. The family's biggest burden will not be Gino's patiently awaited surgery in January, as it will be covered by insurance. Gino's medical supplies until then stand as his family's greatest financial obstacle. The cost of Gino's colostomy bags alone – of which he needs three per day – will amount to $1,250 before his procedure in January.
Since meeting Gino, MEDLIFE has supported him by providing the critical medical supplies he needs; but we're reaching out for assistance to alleviate some of the crucial costs until January. If you are interested in being a part of Gino's story, click here to find out how you can help.