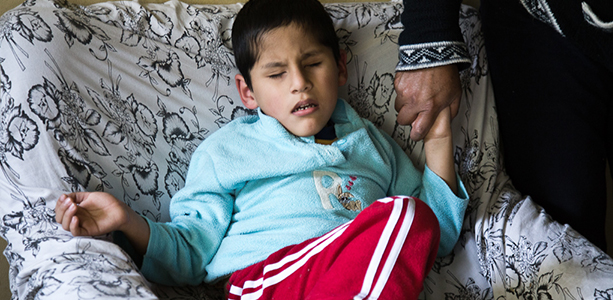 A few interns and MEDLIFE nurses ascended a steep, slippery hill on the outskirts of Lima to pay one of our follow-up patients a visit. The journey to six-year-old Luis Poma's house required several transfers, from packed buses to zippy moto taxis, ending in a tiring trek up muddy hills into the clouds. Despite the complicated route, Luis' mother makes this climb every day with her dependent son cradled in her arms.
Luis' first encounter with MEDLIFE was in 2011 at MEDLIFE's first mobile clinic hosted in their neighborhood. Luis' sister carried him to the clinic to be seen by a doctor, but her visit was cut short and she left before Luis received any medical attention. His family waited until there was another clinic in their area to approach the organization—several years later in 2014.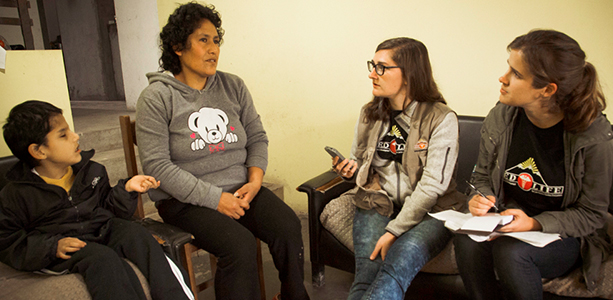 After finally connecting with Luis' family and learning about their significant obstacles, MEDLIFE determined Luis would be enrolled in our follow-up patient program considering his medical condition and financial constraints.
Luis was born prematurely at five-and-a-half months and spent the first weeks of his life in the Intensive Care Unit at a local hospital. Even after being released from intensive care, his health complications persisted. Within his first year, Luis was rushed back to the hospital when he suffered from a hemorrhagic stroke. For this emergency journey, Luis' mother had no choice but to take a crowded city bus with her son in her arms. To this day there is very little access to ambulances in their area. This is the reality for people residing high up in Lima's practically inaccessible hills.
At the hospital, an MRI revealed that Luis' body was not recuperating well from the stroke. Luis' family could not afford the expensive medication and treatment he needed. As a result, Luis did not properly recover from the stroke, which left him blind and mostly immobile with several physical obstacles, including hip dysplasia. Consequently, Luis has not sustained appropriate developmental progress for his age and he is essentially mute.
Luis' condition causes his small family immense hardship, and their level of poverty inhibits them from affording him proper care. They do not have savings or the finances to support Luis' condition and he has endured years without receiving appropriate medical attention.
Luis' mother used to make a living by selling food at a market, which was just enough to help provide for the family. After Luis fell ill, however, she was forced to stop working so she could care for him. Luis' health is her first priority and she dedicates her time to taking care of her son and carrying him to therapy, such a time consuming event that he had to stop attending school. To make matters worse, Luis' father abandoned the family when Luis' condition worsened and proved difficult to provide for. The rest of his family, except his two older sisters whom both have families of their own, provides no support—Luis' mother is on her own to care for her son.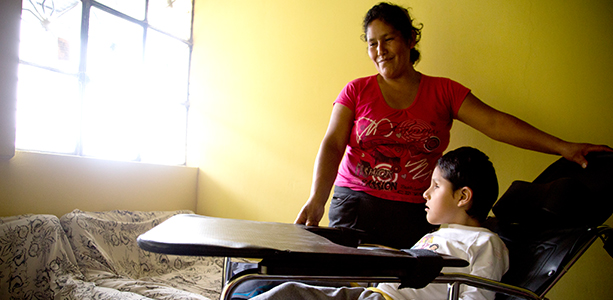 As a MEDLIFE follow-up patient, Luis receives support with physical therapy and necessary medical supplies such as diapers, sleep and pain medication, and shoes. We have been fortunate enough to provide Luis with a wheelchair personalized to his physical handicap as well as fund his therapy sessions to improve his muscular dysplasia.
The wheelchair gives Luis the ability to sit upright and therapy has helped his arms and legs achieve more range of motion— things that were incredibly difficult to manage before. We are overjoyed to see this young boy's progress over the last few months, though his journey to this point has not been easy.
Although our efforts have helped a great deal, Luis still requires significant medical attention in his current condition. We want to do more.
MEDLIFE brainstorms ways we can be most effective within our resources. In addition to medical support, there are often alternative, more sustainable ways we can make a difference in our patients' lives.
The most important thing for Luis' family right now, in addition to continued therapy, is some form of sustainable income to survive on. Luis and his mother are both bound to their home as a result of his condition; she is his full-time caretaker. Due to this limitation, Luis' mother struggles to make ends meet, let alone afford Luis' medical needs. MEDLIFE's goal is to help Luis' mother set up a little shop to be run from their home so she can support her family while continuing to care for Luis. If you are interested in being a part of Luis' story, click here to find out how you can help.