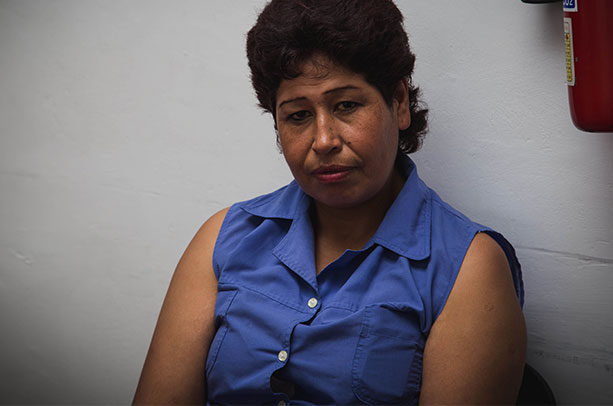 Graciela Montes Leiva is 45 years old and lives in the community of Ciudad de Dios at San Juan de Miraflores. She was born in Arequipa, lived in La Selva in her first years of life and moved to Lima with her father at the age of 7.
When she turned 12, her father died. She has lived by herself since then. She had nowhere to go, she didn't have money to eat or a place to sleep. During this hard time living in the streets, people beat her with weapons and physically abused her.
Graciela found a job working at the house of a woman who mistreated her. She went back to La Selva and found another job, and to make her luck worst, she got abused again in that place.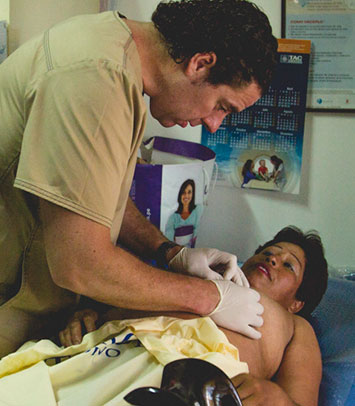 While in La Selva, Graciela met the father of her sons. This man was very aggressive and always kept Graciela trapped in the room they rented . Every time she tried to escape, she was beaten by him. He was extremely jealous and had no hesitation to beat her in front of her neighbors just for talking to other men.
When her son was 11, she decided to leave her husband. Graciela had nowhere to go and until she could afford a place to live, she worked as a prostitute. Time went by, and after getting her feet to the ground, she found a new man to share their lives together, and got married again. The family of her second husband couldn't handle that she had children from a previous marriage, so Graciela decided to end her second relationship.
Graciela has two older sons and a daughter. Her sons never recognized all the things their mother did for them. They don't talk to her and are never around to help. She now works as a live-in maid. Although she never gets to see her youngest child, she is willing to work hard to give her a better life. It took Graciela three years to make 1000 soles so she could buy a property that she will to give to her daughter.
Graciela encountered MEDLIFE in august 2014 at a mobile clinic. She went there knowing she had a tumor in her breast and that she needed an operation but didn't have the money to finance the surgery. All her salary was spent in her daughter's education.
MEDLIFE made an appointment so she could get a mammogram and a breast ultrasound but Graciela didn't attended because she thought she didn't have the lump anymore. MEDLIFE nurses insisted her to take the exams and later, doctors confirmed the tumor got bigger and deeper.
Since the beginning of February 2015, MEDLIFE has been providing medication and vitamins to Graciela so she can treat her illness. The mass of substance in her breast has shrunk and now the tumor is benign. She will be having another appointment in three months and the doctors predicted she will be fine by that time. 'There should be more organizations like MEDLIFE helping other people," said Graciela. "Most of people don't know where to go and the governmental insurance doesn't give correct guidance. My insurance sent me to a hospital with a bad reputation." She is a woman who is traumatized from her childhood, and despite her inability to trust others, she found in MEDLIFE people that she can rely upon and will be by her side all the time.