We'd like to introduce you to Carol, one of MEDLIFE's follow-up patients in Lima, Peru. Her story is intense and complex, especially for being only 18 years old, but we would like to share it with you in hopes that it may inspire you to take action to support her situation.
At 15, Carol gave birth to her first child with a partner who was physically and emotionally abusive, secluded her from family and friends, and refused to get her medical attention. She remained out of touch with her family until about a year and a half later, when she showed up on her parent's porch 5 months pregnant with another child. Her partner had not allowed her to go to any prenatal checkups. After much insisting, her mother Estela was able to take Carol to her first check-up at 7-8 months pregnant.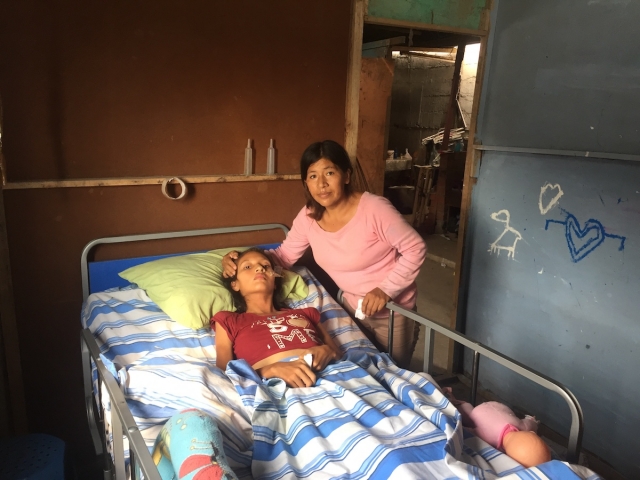 Carol and her partner then moved into her parents' home. Carol's partner was constantly coughing but refused to seek medical treatment. Carol then began to suffer from headaches and a decline in her general health. With her condition worsening, her partner ran away with their oldest child, who was 3 years old at the time. The family had no way to track them down. They have filed a police report but there have been no updates.
Around this same time, Carol and her newborn were diagnosed with syphilis. Estela is worried that the 3-year-old might have it too, but doubt that Carol's partner would seek medical attention for the child in any case.
Carol has since been diagnosed with tuberculosis and is now bedridden. Her primary caretaker is her mother. Estela and her husband Guzman, Carol's step-father, do everything they can to support Carol: buy her the supplies she needs, and make all the necessary doctor appointments, but the reality of their situation is grave and they need support.
MEDLIFE's History with Carol
Carol came to a MEDLIFE Mobile Clinic in 2017 with gynecological concerns. After the clinic, we were able to deliver the medicine she needed based on her diagnosis, but two months later we went to check on Carol as a part of our patient follow-up protocol, and she had moved. None of the neighbors knew where she had gone, nor how to get in contact with her.
In December 2018, Carol's mother came to another MEDLIFE Mobile Clinic. She asked for a doctor to visit her sick daughter in their home. Without knowing who the patient was, MEDLIFE staff, a doctor, and a few volunteers headed to the family's home to visit the patient, and from this chance encounter, we became reconnected with Carol.
MEDLIFE immediately enrolled Carol into our patient follow-up program once again and has since learned the details of her story and medical condition. At this point, the tuberculosis has spread to her brain and caused permanent damage. Carol is currently bedridden, has almost no motor skills, and is barely verbal, but she is conscious and aware – improving ever so slightly.
When we first came to Carol's home in late December 2018, she was nonverbal. When we visited again in early March 2019, she was able to hold her own feeding tube and nod her head. She can stick her tongue a little bit out of her mouth and sits up for short periods of time if properly supported. Estela tells us that a few weeks ago Carol was able to say "Mama" for the first time since becoming so ill. This gives Estela and their family hope, as it contrasts from the prognosis they were given in July when the doctor who evaluated Carol was told she had a week to live.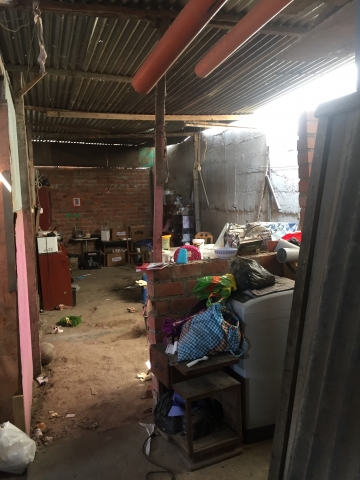 Guzman works and has access to insurance, but since Carol became ill after she turned 18 she is ineligible to use that insurance. Carol is on Peru's national safety-net health insurance network, Seguro Integral de Salud (SIS), and is getting treatment from Maria Auxiladora Hospital where they often have to wait up to two hours past their appointment time to be seen. This insurance also does not cover the cost of the other supplies needed for the treatment.
Though the family has received support from a local TV show, a local church, and Partners in Health (Socios en Salud), they still lack basic necessities to properly care for Carol in their home.
---
For now, we hope to support Carol by improving her and her family's quality of life in any small scale way we can. You can contribute by donating to the MEDLIFE General Fund or signing up for a Service Learning Trip. Any donations fundraised for Carol will go toward purchasing items that will support her treatment and care.