We first met Gisela Neyra several months ago in her community of Sagrado Corazon de Jesus in Pamplona.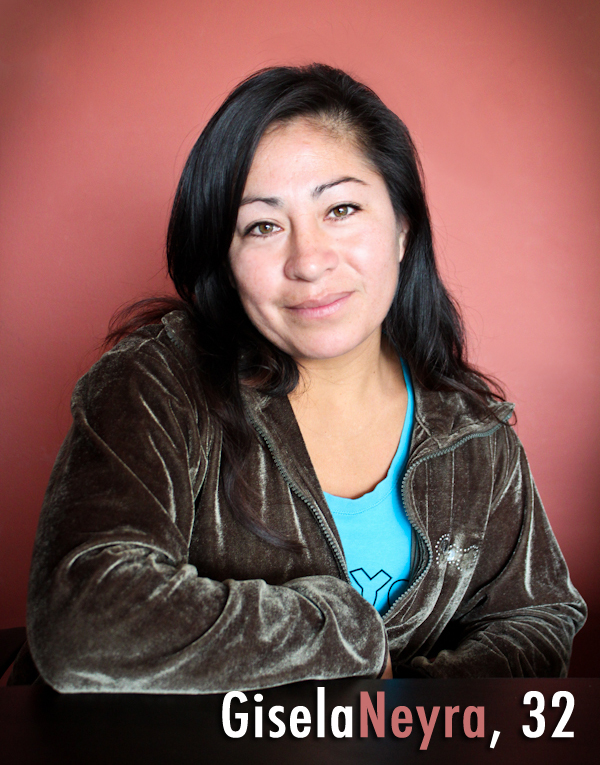 She had found out about MEDLIFE when she met our Director of Peru, Carlos Benavides, who was planning a staircase construction project in her area. Learning that MEDLIFE was also involved in health care in the region, Gisela approached Carlos to make an unusual request. "I knew that MEDLIFE might not be able to help me," says Gisela, "but I thought I would try just in case." It turned out that she had lost her hearing.
Although Gisela developed normally as a child and had few health problems, four years ago she began to notice that her hearing was deteriorating. She was 28 and believed that the problem was temporary. Her condition gradually worsened until she sought advice from a local doctor, who diagnosed her with hypoacusis — diminished auditory sensitivity — and told her that eventually she would lose her hearing completely. Concerned, she visited two more doctors who gave her the same unsettling news. They also informed her that the only way to save her hearing would be to invest in a pair of hearing aids at a cost of up to $7,000. Without health insurance and with the little income she earned to support her two daughters, buying the hearing aids was out of the question.
After an initial appointment with MEDLIFE Medical Director Jose Rodriguez, Gisela entered our patient follow-up process. We reached out to our supporters regarding Gisela's case, but were unable to raise all of the necessary funds to purchase her hearing aids. During this time Gisela's hearing impairment increasingly affected her. She lost her job as a doctor's assistant and receptionist, and worried about providing for her family as a single mother. She went back to school to study pharmacy, but had to constantly ask her classmates and teachers for help. She struggled in school and debated dropping out.
Then, several months later, one of our interns working in Lima mentioned that she had brought a pair of hearing aids. Noemie Baudry had just joined our team from France and had brought hearing aids she no longer needed with the intention of donating them to someone in Peru. When she mentioned this to Carlos, he said he knew just the person in need.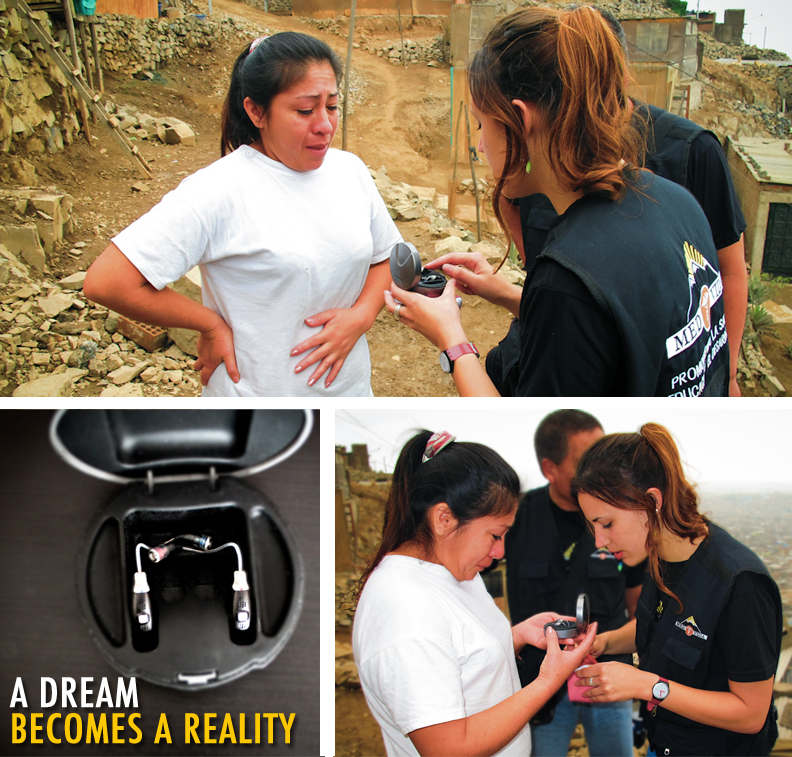 After just one week in Peru, Carlos took Noemie to visit Gisela's house. "Carlos knocked on the door and a young, pretty woman came out looking surprised to see us," Noemie remembers. "Carlos introduced us, and when I took the hearing aids out of my pocket, Gisela's eyes grew wide. She started crying and shaking; it was a very emotional moment."
"I was cooking when they came to visit me, and the news was such a shock that I just stood there crying while my food burned!" Gisela says, her eyes becoming teary as she recounts the moment. "I had told God that it was in his hands, whether I would be cured or not. I had given up hope, I thought I was forgotten, but then Noemie came into our lives." Gisela was so moved by the connection she felt with Noemie that she asked her to become the godmother of her seven-year-old daughter, Rouss Sharon. Noemie happily accepted. "I also later found out that I had given a pink book to a cute girl on the street of Pamplona, and this little girl turned our to be Gisela's daughter! It was an amazing and funny coincidence."
Later, MEDLIFE staff members accompanied Gisela to a hearing aid specialist to have the device adapted to her specific needs. The specialist told us that Gisela had lost so much hearing in one ear that one of the hearing aids was not strong enough, and would need a $220 modification. In addition, the device would need to be adapted to Gisela's ear — a long process that requires high technology, several medical appointments, and regular check-ups. Gisela was very worried about the costs of these processes, but MEDLIFE agreed to cover the $700 cost for the hearing aid modification. An appointment was scheduled for later that week, where the initial modifications were made. There are four appointments to go, and in a few months, Gisela should hear properly.

At times, the emotion of Gisela's recovered sense of hearing overwhelms her. "More than anything," she says through tears, "I'm grateful that I will be able to go back to school and to work, to provide for my family. Tomorrow I will go to church to say thank you, not just to God, but to everyone – because I know that there were many hands involved in this miracle."
Gisela's case is a clear manifestation of the power that one person has to change the life of another. If you or someone you know is able to donate an item or provide a monetary donation for a specific item to one of our patients, please email us at [email protected]. Our current patients' needs are: crutches, a wheelchair, a mattress, a portable nebulizer, and Neupogen (Filigrastim), a medication used during chemotherapy for breast cancer.
Click below to view the slideshow of photos from Gisela's story: