This week's Mobile Clinic, made up of students from Florida International University, got off to an early start Sunday with a special holiday event in Unión Santa Fe. As you may know, Unión Santa Fe is an asentamiento humano (settlement) in Pamplona where MEDLIFE has been working for the past few years. MEDLIFE has aided Unión Santa Fe by bringing Mobile Clinics and completing staircase projects; we're also currently in the process of constructing a new day care center and water system. Over the course of many visits, we've gotten to know the kids of Unión Santa Fe and the surrounding communities. We wanted to do something to make their Christmas special, and what better time than with the arrival of 25 MEDLIFE student volunteers?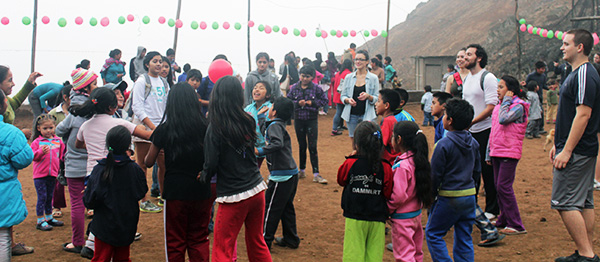 Chocolatadas are a holiday tradition in Peru where families get together, often with hot chocolate and panetón (fruitcake), and the children receive gifts. For poor communities, these events take on a special significance, since they often provide one of the few or only occasions all year where children receive toys. This week, we teamed up with the local Rotary club, who held a toy drive, and distributed presents to about 300 children in the region.
The students arrived to the muddy soccer field in Unión Santa Fe on a morning covered in typical Lima fog. Despite the gloomy weather, the kids there were thrilled to see them and immediately started playing both American and Peruvian games together. The bus carrying all the presents broke down on the way, but luckily the students managed to distract the children while they waited.
Even with the unexpected setbacks, the chocolatada was a successful start as our student volunteers prepare to jump in to a week of nonstop Mobile Clinics. And the kids' smiles as they opened their presents were the ultimate reward.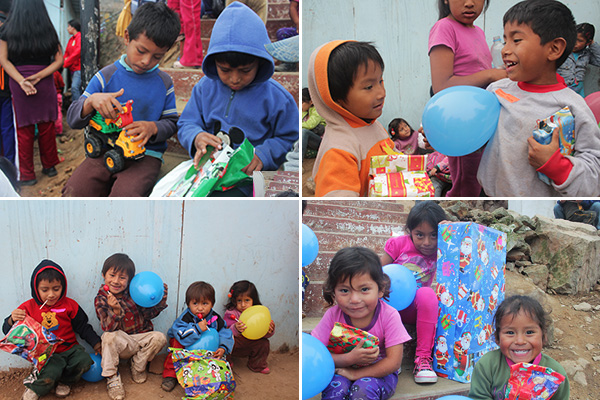 This holiday season, you can help us help communities like this one by donating to the MEDLIFE Fund!