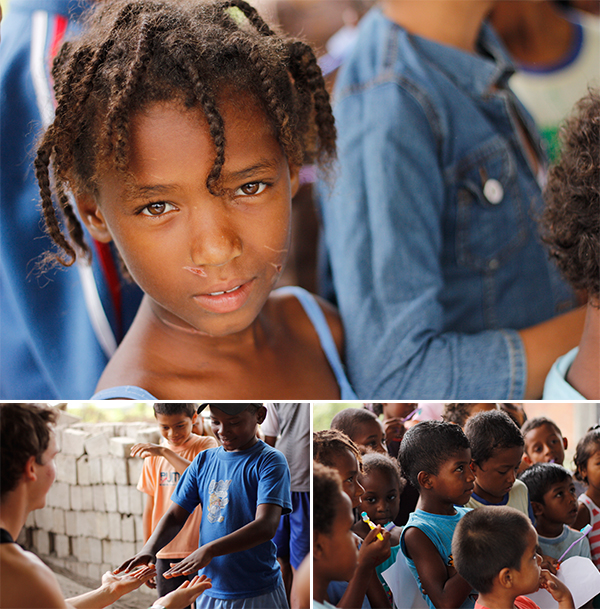 The MEDLIFE team in Ecuador is off to a great start with our first-ever Mobile Clinic in Esmeraldas, Ecuador. Although we are just starting to build a presence in Esmeraldas, staff members on the ground noted that attendance at the clinic has been very high so far, with some patients walking an hour or more to arrive at the clinic sites. According to MEDLIFE Director Martha Chicaiza, the clinic on Tuesday was one of the busiest that she's ever seen in all of Ecuador.
Students are also completing a staircase construction project at a site a bit outside of the city center. As we see in Lima, many of the communities surrounding Esmeraldas have also been built on steep inclines. Navigating the terrain is further complicated by the weather in Esmeraldas; the region experiences year-round tropical showers and flooding. In some cases, residents' entire feet sink deep into the mud as they attempt the climb up to their homes.
Esmeraldas was considerably affected by the El Ni̱o events of the late 1990s, when mudslides caused explosions, fatalities, and environment damage due to ruptured pipe lines. Communities rebuilt slowly, and the tourism industry Рonce an important part of the economy Рis still recovering.
MEDLIFE's first staircase in this area is large, yet work began with a slow start on Monday due to heavy rains. On Tuesday, with ample sunshine, students and community members were able to make much greater progress mixing and setting the cement. We hope that the weather will allow us to continue to move forward, and complete the project by the end of the week.
About Esmeraldas
Esmeraldas is a port city located on the northwest coast of Ecuador. The city is home to the majority of the Afro-Ecuadorian population; the province is the most ethnically-diverse in the nation. The main exports are wood and agricultural resources, yet the establishment of Esmeraldas as Ecuador's largest oil refinery has also turned it into an important commercial center. In a meeting with MEDLIFE staff members in November of 2012, residents of Esmeraldas reported drug abuse, pregnancy at a young age, and lack of access to medical care as issues that desperately need to be addressed.
For more information on the community of Esmeraldas, please read the blog from our first visit here.
The MEDLIFE McGill student group will be instagramming their experiences during the week here.