Written by student volunteers from this week's clinic in Lima, Peru, and reposted from the MEDLIFE McGill blog.
Today was our first day of clinic. After a quick breakfast and wishing good luck to those of us that were headed to the grueling stairs construction project, we packed our materials and headed to a district near Pamplona Alta for the day.
My first station was general medicine with Cesar, a physician who'd specialized in geriatric care. Before the patients began rolling in, Cesar took those of us assigned to his station aside and began teaching. With humour and patience, he showed us how to distinguish abnormal heart and lung sounds from those of normal beats and breaths. He also introduced us to some ailments specific to the living conditions of the villagers; he directed our attention to the signs of anemia and vitamin A deficiency (discoloured gums and mucosa and white spots on the skin, respectively). As well, we got to see first-hand many cases of tonsilitis and parasite infections, as well as an older woman afflicted with ptosis, thus causing her to have a droopping eylid on one side only.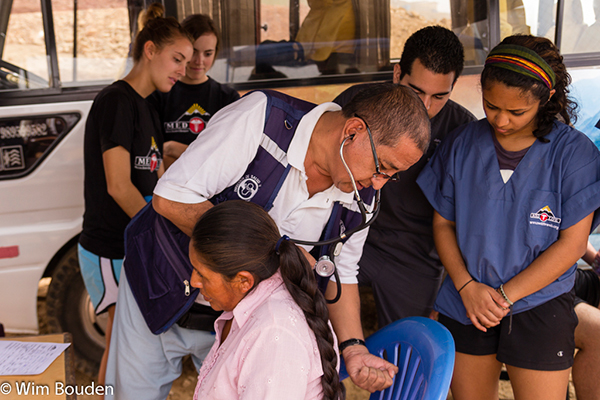 By noon, I was getting hungry – my breakfast of bread, banana and egg was now long gone – but I didn't want to leave Cesar's side. There were always more patients to ascultate, more heart sounds to hear.
Eventually (and somewhat reluctantly), I did head for lunch and to my next station, but not before taking the time to pass over the knowledge I had gathered to the friends that were coming to replace me.
In the afternoon, triage proved equally interesting, albeit a bit more challenging since we were directly interacting with patients. My Spanish is far from perfect, but I was relieved to realize that I spoke well enough to be understood clearly by the villagers, even on my first try. Keeping a big smile on my face and using even larger gestures helped, too.