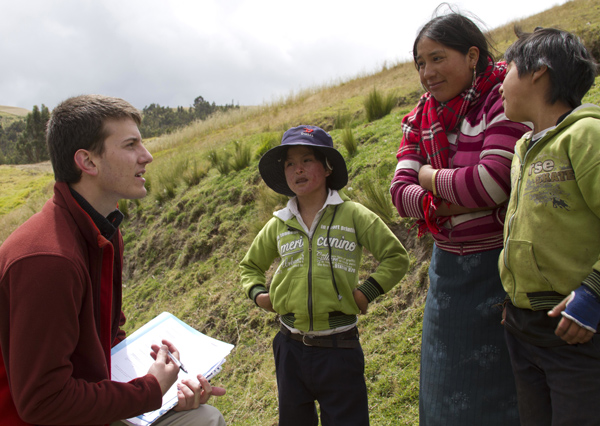 Ever since returning from our first MEDLIFE Mobile Clinic in Cebadas, Ecuador three years ago, fellow intern JP Gorham and I have been trying to figure out a way to give back even more to the communities we visited on that trip. After researching the major health issues facing Ecuador, we decided to focus our work this summer on malnutrition prevention. According to a 2004 report by the World Health Organization, 23% of Ecuadorian children under the age of five suffer from chronic malnutrition. This number jumps to 40% in the Chimborazo region, where MEDLIFE Ecuador is based. This health problem has the potential to exact an especially large impact on Ecuador's development, as one of the effects of chronic malnutrition is cognitive damage. Chronic malnutrition is more likely to develop in children living in poverty, and may prevent these children from realizing their full potential. In this way, it continues to feed the cycle of poverty.
As MEDLIFE interns this summer, we finally got the chance to turn our ideas into action. Ecuador recently announced Desnutrición Cero, which is a new malnutrition intervention program that provides financial incentives to mothers who take their children to health centers every two months. Women are eligible to receive incentives from the time that they are pregnant until their child reaches one year of age. After meeting with health officials in Colta, a community high in the Andes mountain range that the government is using as a pilot region for Desnutrición Cero, we agreed it would be our role to analyze the pilot program and create a set of recommendations to help maximize the program's impact nationwide.
Our objective was to ensure that Desnutrición Cero is accessible and easy to engage in. We hoped to analyze mothers' understanding of the program, and identify any problems they may have with it. With this information, our goal was to recommend minor changes in both program structure and implementation. Between the dates of July 22 and August 9, 2011, we visited six health centers in Colta, Ecuador. We interviewed 42 women and various healthcare providers about general health topics and their opinions about Desnutrición Cero. After finishing our interviews, we wrote a report in which we described our research findings and outlined our recommendations for maximizing Desnutrición Cero's ability to reduce malnutrition rates. On Friday, August 11, we will present the report to the health officials in charge of the implementation of Desnutrición Cero's pilot program and discuss the feasibility of our recommendations. Hopefully, this meeting will prompt a more prolonged conversation and officials will ultimately incorporate our recommendations before implementing the Desnutrición Cero program throughout the country.
Although up to 40% of children under the age of five are chronically malnourished in the Chimborazo region, only one in three women in the communities we visited believed malnutrition to be a problem. We believe that Desnutrición Cero will not work unless these women receive further education regarding the causes and consequences of chronic malnutrition. If mothers do not believe that they should prioritize their child's diet, they are unlikely to spend the monetary stipend they receive from the Desnutrición Cero program on healthier food.
We also found that most mothers did not seem to recognize their own ability to detect and treat malnutrition. Many mothers cited their local health centers as resources, but did not volunteer any methods they personally could use to counteract malnutrition. For example, only one in three women displayed awareness that increasing their child's food intake would help treat malnutrition. This evidence of the mothers' inability to detect malnutrition in their children, coupled with their belief that only doctors can improve their child's nutritional status, suggests to us that these attitudes may lead to untreated cases of malnutrition.
Here are some more of our recommendations to increase participation and community buy-in:
Instead of requiring mothers to complete their program requirements and assessments in the health center technically closest to where they live, we recommended that mothers complete their assessments at the health center of their choosing. We believe that an online registry system would facilitate this change.
We recommended that the program be clearly publicized, in both Spanish and Quechua, in every government health center.
We believe that healthcare providers must place a greater emphasis on education in order to convey to mothers that malnutrition is a problem. We believe that greater local government participation would be helpful in shifting attitudes regarding malnutrition. In addition, Quechua-speaking healthcare providers would ensure that all community members are able to fully understand health promotion discussions.
Great work, JP and Rachel – working to improve existing government programs is a great way to use the MEDLIFE summer internship as a means to contribute to sustainable, long-term improvements. We're proud of your work this summer and we hope to receive updates soon regarding the official response to your proposal!