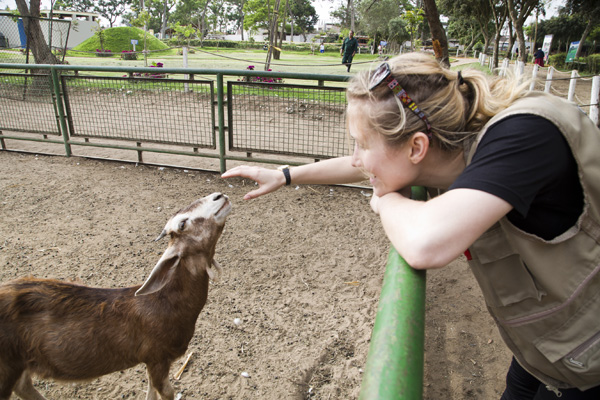 A couple of days ago I had the opportunity to visit Villa El Salvador on the outskirts of Lima; myself and Nicole as yearlong interns, along with Luis from Communications and Carlos the Director of MEDLIFE. We met with community leaders to discuss the prospect of future support in the form of mobile clinics.
This is an incredibly organised community compared to some of those around it; they have a flourishing furniture making business, and more impressively have created and maintained a green oasis amongst the dusty hills.
Parque Zonal Huáscar is one of the craziest parks I have ever seen, pass by a roundabout topped with giant doves and you'll find it: a lake filled with green water that you can row boats on, a grove of trees stalked by T-Rex replica skeletons, a library stuffed with books, chess sets waiting outside. And my favourite part — a full-blown petting zoo populated with several goats, an alpaca, a lot of horses, around 50 tortoises and a proud albino peacock. With the animals spaced out under leafy-green trees and alfalfa on sale to bribe shy creatures closer, it was outrageously idyllic.
More importantly the community of Villa El Salvador hasn't had an easy ride; there's a mural on the library building of María Elena Moyano, an activist during the 1980s who worked tirelessly to improve the living conditions of women and children in the community; organising soup kitchens, health committees and a milk program for children. She was assassinated by the Shining Path movement in 1992, but as Carlos pointed out, her memory lives on in the minds of the community and in their park which they continue to sustain.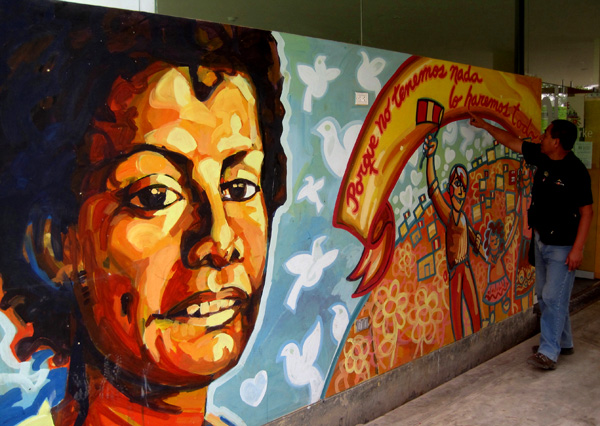 The cost of entry is a mere s/3, the equivalent of 30cents, which means almost everyone in Villa El Salvador can access it. From families picnicking on the weekends, to the youth wanting to gather away from their parents, here there is space for all.