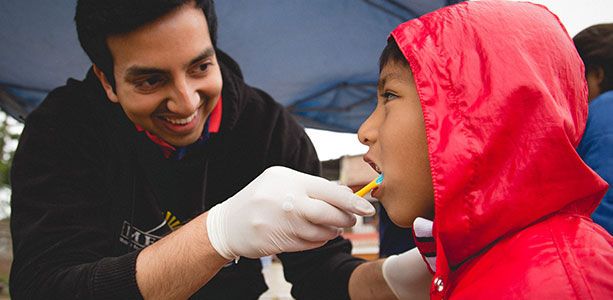 One of the reasons why I elected to pursue this internship can be credited to the communities MEDLIFE reaches out to aid. Working in these communities 2-3 years ago taught me about the value of opportunities that I have back at home. I learned that what we take for granted, someone somewhere else is yearning for it. Through this internship, I hoped to further discover about myself and what kind of individual I wish to become in couple of years down the road.
Through this internship, I discovered that despite our best intentions and efforts, we cannot help everyone that are struggling. My first field visit was to a small shelter, which housed around 20 elderly people. I recall there was an article about this on MEDLIFE's Facebook page few weeks ago. It had "old people's home" as part of its description, and I clearly remember one of the commenters asking for clarification on the description: "Is it a nursing home or assisted living?" We were not sure how to answer this, because it is neither. I learned that it was a house for the elderly, who have families and relatives yet were abandoned because of their mere age and illness. I also learned that there is a long wait-list, extending to nearly 50-60 (homeless) elderly people, for this shelter.
When I inquired if there is any form of government support for the elderly home, I learned that there is little to none. I was afraid to hear that answer, but I was not surprised. From my journey in Lima, I discovered parks and recreation that attract tourists are further developed while the slums are further ignored in this city. This is precisely why I find MEDLIFE's work to be crucial. MEDLIFE is not just present in Lima to hand out "free" medical, educational, and developmental care; they are present to bring awareness to the concerning issues of severely underserved areas in Lima to its government. This is their goal in Peru as well in Ecuador and in Tanzania, where there is potential for development but lacks resources and efforts.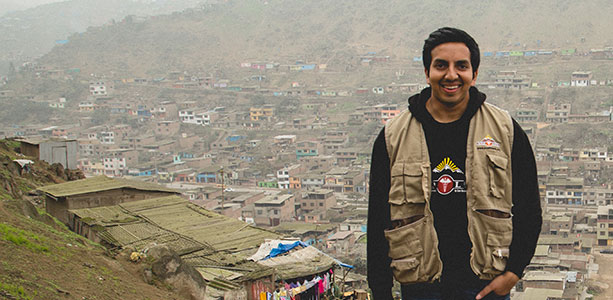 Nonetheless, not every one receives help from MEDLIFE. What sets MEDLIFE apart from other organizations with "similar" goals is that MEDLIFE focuses on helping community individuals that seek out and work for their assistance. As I followed Carlos Benavides, the Director of MEDLIFE Peru, on field, I noticed that some community individuals initially wanted student volunteers and local medical practitioners to just provide their aid and leave. But MEDLIFE's goal is to provide and continue their sustainable assistance in the underserved communities, and Carlos assured the individuals in these communities that their conditions will only improve and will only be sustained if they too take part in MEDLIFE's efforts.
As a result of engaging community individuals in MEDLIFE projects, I also learned that both the community individuals and the student volunteers benefit from their interactions. The community individuals are indeed appalled by how our volunteers travel hundreds of miles just to help a random community of strangers. As a result, they are awed and inspired by the great efforts and help of those from abroad. Likewise, our student volunteers are awed and inspired by the perseverance of the community individuals to continue to support themselves and their families even during poorest conditions.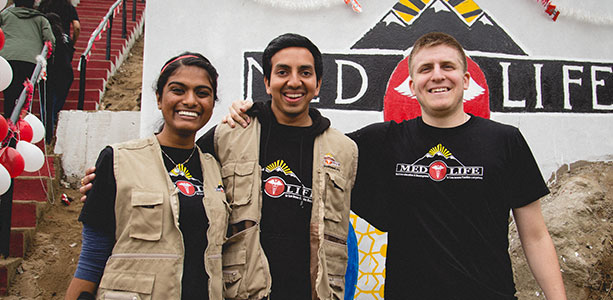 As a MEDLIFE student volunteer and intern, I have had the opportunity to help with nearly 5 mobile clinics. Although mobile clinics were unique in their own respective ways, they all shared few commonalities. They all were life-changing to most students. I encountered students on mobile clinics and my members at The Ohio State University chapter who changed their professional track, because they recognized the value of opportunities at home and strived to use these opportunities to better the lives of those struggling to put food on table; I personally know individuals who would eventually go onto attending well renowned medical schools, dental schools, and graduate schools for Public Health because of their experiences on mobile clinics. Then, at the inauguration of MEDLIFE Projects, I realized the type of impact our student volunteers were making on these communities. Just past week, MEDLIFE inaugurated its 107th staircase in Lima, and for this specific inauguration, there were 5 MEDLIFE community leaders present from surrounding areas to share their their heartfelt gratitude for MEDLIFE and its volunteers. Each community leader shared how our student volunteers dramatically changed their lives by providing their communities with medical and educational resources, and infrastructure. Our student volunteers not only made a difference in their lives but their children's future as well.
Even outside of MEDLIFE Summer Internship, I thoroughly enjoyed my experience in Peru. Despite being 4000 miles away from home and no fluency in spanish, I felt very comfortable living in Peru for these past 2 months and will definitely miss this place. As a foreigner, I encountered some of the friendliest individuals, welcoming me into their homes with open arms. Even as a college student with a budget, I was able to enjoy the excursions Peru had to offer. This past week alone was extremely adventurous. I traveled to Islas Ballestas, saw penguins in very unlikely places of earth, gazed at the mesmerizing Paracas Candelabra, and snapped pictures of sea lions and dolphins in their natural habitats. I then traveled to Huacachina village, the "Oasis of America", where dune bugging and sand boarding was more exhilarating than the amusement parks in United States. Finally, I ended the weekend with some of the world's delicious cuisine, including Astrid y Gaston, ranked as the 18th best restaurant in the world, where 2 sets of delicious bread and olives, 2 main meals, and a dessert dish only totaled up to $60 with the tip (inexpensive compared to the same quality of food in United States). Overall, this summer has been the best one yet in my life, and I would relive it again if I could.