Florida State graduate, Mauricio Parra-Ferro, is currently interning in Lima for his summer break. Find out more about him in his interview below:
How did you get involved with MEDLIFE?
After returning home from my first mission trip in Haiti with a different organization and realizing the huge impact it had on me, I began to develop a great interest in global health and volunteering abroad. Fortunately, I received an e-mail from my advisor explaining MEDLIFE's interest in starting a chapter at FSU. After doing a bit of research, I discovered the organization's focus on Latin American countries. Being a native Spanish speaker, I felt this was an important aspect since the language barrier I experienced with the Haitians in my previous trip slightly prevented me from fully connecting with them. With serious dedication and the support of a few other students, we started the Florida State MEDLIFE chapter in August, 2011. While our organization is still relatively new, we have made a name for ourselves by sending over 25 students, myself included, to Ecuador. We are also bringing 10 more students to our second clinic here in Lima this August.
Where are you from?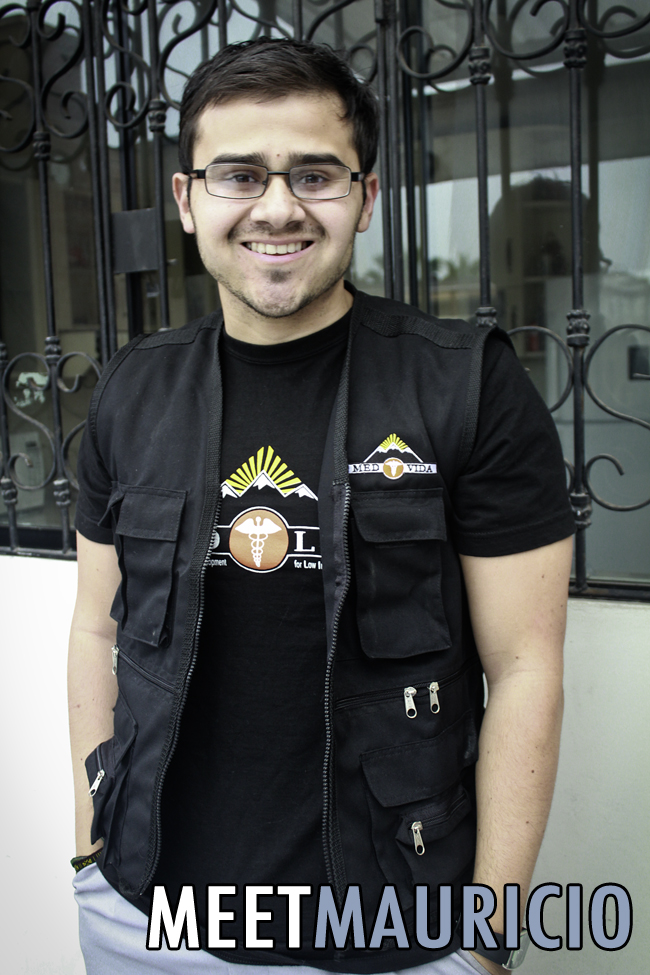 I was originally born in Florida but immediately moved to Bogotá, Colombia. I lived there up until I was nine when my family moved back to the United States due to political and social reasons. I lived in south Florida for a while but eventually moved to Tallahassee where I ended up going to Florida State University.
Why did you decide to become an intern? What do you like about being an intern?
I decided to become a MEDLIFE intern specifically so that I could have both a greater understanding of and a larger impact on how the organization operates. Serving as president of the Florida State chapter was a great opportunity since it allowed me to develop leadership skills as well as to grow my newfound interest in social service into a full-scale initiative. Additionally, it has served as a perfect stepping stone to get even more involved with the organization in hopes of being chosen for the position I have today.
As an intern, I have thoroughly enjoyed getting to know all of the MEDLIFE staff, giving valuable input towards the current expansion projects, and getting the chance to constantly travel to the fast-growing community of Pamplona. I have been most appreciative, however, for the opportunity to really live and work in another country, as opposed to feeling like I am only visiting.
What was your first impression of Lima? What has surprised you about Lima?
Coming in only 10 days before Peru's Independence Day weekend, Fiestas Patrias, it has been almost impossible not to notice how proud the Peruvians are of their country. With flags literally on every corner and constant parades on the street, I have found Peru to be full of patriotic and fun-spirited people. One of my biggest challenges living here has been to get a solid grasp on how the bus system works. Having never really used public transportation in the past, this wasn't made any easier with the abundance of different color-coded buses zooming up and down the streets. However, I have found that simply asking around for help has always led to kind and beneficial responses.
Tell us an anecdote from your experience with MEDLIFE thus far:
While I have had a few eye opening experiences out in Pamplona, there is one light-hearted situation that I am constantly reminded of that occurred right outside of our apartment. After being given time to get settled in and acquainted on with the city on my first day on the job, I was excited to go on my first Peruvian adventure. Grocery shopping! It was no Machu Picchu, but I was hungry and still in need of a few things. After completely misinterpreting directions given to me, and going 30 minutes in the opposite direction, I eventually found the market and got my things. I generally have a good sense of direction after reaching my destination, so I felt relatively confident on how to get back to the apartment. Since I had arrived late the previous night, however, I never got a good look at our apartment from the outside. All I knew was the apt. number, and that it had three different floors, our offices being on the third floor. But, as I walked up and down the street I noticed that 232 was nowhere to be found. Instead, the closest one was 233 with 240 right across. After convincing myself that top floor of 240 just HAD to be the right spot, I proceeded to try and get in the outside door. I used all of the different keys given to me at least four times each, and of course, none worked. With an old lady staring me down from her window across the street, I began to feel the pressure. Finally, a very disgruntled looking lady came up to me to ask what I was doing outside of her home. Assuming she was part of the MEDLIFE staff I hadn't met yet, I assured her that I wasn't a stranger, and I was in fact the new intern that moved in last night. After giving me the most confused look ever and telling me she had no idea what I was talking about, the lady quickly closed and locked the door in front of me. It was then that I realized that I was on the wrong street! I used to be shamefully reminded of this every time I walked down Calle de las Galaxias, but now I just laugh it off.
What do you look forward to most this summer?
In essence, I am really looking forward to taking in as many experiences as I can, both good and even bad (assuming I can learn something valuable out of them!). Basically anything that will help broaden my horizon on things that I may not be too comfortable with or aware of. I am looking forward to embracing the vast diversity of Peru and becoming more culturally competent, which I am sure will be achieved naturally through the constant patient encounters, workshops, and developmental projects in the local communities. Lastly, I am looking forward to bringing back these experiences to FSU in efforts to help our club expand into an even more promising chapter.