Recent UVA graduate, Rachel Goldberg, is our newest intern here at the Lima offices of MEDLIFE Peru. Read about what motivated her to join the team and what drew her to Peru:
Why did you decide to become an intern?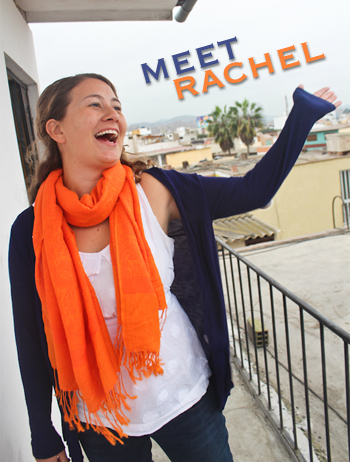 I spent last summer studying in Lima and loved it, so this was the perfect chance for me to come back and see my old friends and explore more of Peru. I also studied media studies and was hoping to get a job in film or television production, so this internship is a great way for me to use those skills for a good cause. I just started, but so far MEDLIFE seems like a great place to work, because everyone is so passionate about what they do.
Where are you from?

I'm from Silver Spring, Maryland, and I studied media studies and Spanish at the University of Virginia.
How did you get involved with MEDLIFE?
I saw the job posting for a communications intern and emailed MEDLIFE to say I was interested, and now a few months later I'm here in Lima starting my year-long internship!
What was your first impression of Peru?
When I was here a year ago, I lived in a very different part of Lima, so when I got here everything was strangely familiar but new and different at the same time. I have been really surprised by how huge Lima is and the contrast between different regions of Peru. Trying to find my way around Lima can be pretty overwhelming, but I've been lucky to find that Peruvians are really friendly and welcoming, and happy to help out.
Tell us an anecdote from your experience in Peru thus far:
Last year when I was here for just less than three months, I stayed with a Peruvian host family, which was a great way to experience Lima. I got to know my host mom, Estrella, as well as her children and grandchildren, and they always treated me like family. I stayed in touch with them even after I left, though I didn't know if I would ever see them again. Now that I'm back in Lima, I'm living in an apartment with other MEDLIFE interns, but I went to see my "familia peruana" soon after I arrived, and they welcomed me back as if I never left. I spent the day eating delicious homemade Peruvian food and playing with the kids. It's nice to know that I'll always have a second home and family here in Lima even though I'm so far from home.
What do you look forward to most this year?
I'm really looking forward to going out in the field and meeting the people who benefit from MEDLIFE's work and sharing their stories. I'm also excited to get to know everyone here in the office, and explore more of Lima and the rest of Peru.