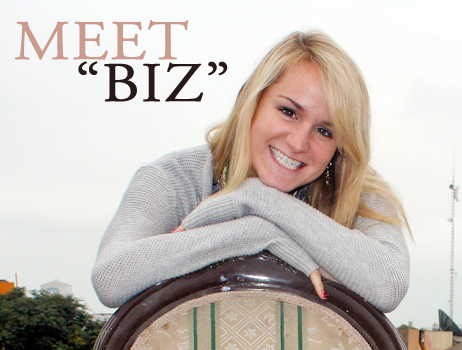 Elizabeth Shenk, AKA "Biz", came all the way from New Jersey to take on a year-long internship for MEDLIFE in Lima, Peru. Now she's back in the United States for the next month touring the Mid-Atlantic region for our One Billion+ Campaign Tour. Find out what motivates her to work day in and day out for our cause:
Where are you from?
I am from Chatham, New Jersey and I studied Psychology and Latin American & Latino studies at College of the Holy Cross in Worcester, MA.
How did you get involved with MEDLIFE?
I actually had no experience with MEDLIFE prior to the internship because Holy Cross does not currently have a chapter. I came across a posting for the year-long internship as I was searching for opportunities to work hands-on in Latin America, and after looking through the website and reading some of the incredible patient stories, I applied.
Why did you decide to become an intern?
After graduation, I wanted to jump right into working in an exciting field that would allow me to coordinate directly with community members and gain cultural insight into the problems they face. For me, it was an opportunity to investigate how certain regions of Peru have become impoverished and how the social, political and physical aspects deter these populations from thriving.
What was your first impression of Peru? / What has surprised you about Peru?
My first impression of Peru was back when I studied abroad in Lima my junior year of college. I was astounded by the diversity among the regions and the kindness of the people, who have made living in a foreign country much easier than I expected.
What do you look forward to most this year?
I am looking forward to developing lasting relationships with patients and community members as we follow-up with them throughout the year. I was fortunate enough to accompany Carlos Benavides to a community meeting in Pamplona Alta in the outskirts of Lima, during which members from various parts of the area met to discuss current issues and upcoming projects. Listening to their discussions and hearing how much they appreciate MEDLIFE's work, I am especially looking forward to assisting with the implementation of these projects and being a part of the gradual growth of these communities.
Tell us an anecdote from your experience with MEDLIFE thus far:
We recently returned from a Mobile Clinic in Cusco, which began less than a week after my arrival to Lima. I was immediately thrown into everything and loved learning on the fly. At the end of one of the clinics, I asked the MEDLIFE doctor if he could look at my infected thumbnail that I had slammed in a car door a month earlier. He told me that the new nail was not growing in properly and that the old nail had to be ripped off. So there I sat as he removed it, tearing up and clutching a wad of tissues. Then I realized- I was in a small schoolhouse in the middle of the Andes, where members of the community had come to seek treatment for serious infections, parasites or other illnesses, because many of them had never received formal medical treatment before. How could I complain? Experiences like this have put things in perspective for me, as I have come to recognize the quality medical attention I have always received at home in the United States.