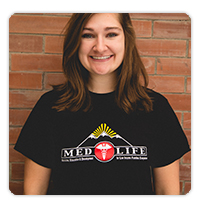 Name: Clare Lilek
Hometown:
Rochester Hills, MI
School:
University of Michigan
Major: W

omen's Studies and Spanish
How I got involved with MEDLIFE:My beginning involvement with MEDLIFE was a whirlwind. My senior year of college I randomly heard about an upcoming Mobile Clinic trip to Riobamba, Ecuador and on a whim I signed up with only two months until
the
start date. After that initial commitment, I was in. I was in
the
MEDLIFE boat.
Tell us a little bit about yourself: I love to travel and explore, yet one of my favorite things to do is curl up on the couch with a good book and a hot cup of tea.
Why did you decide to become an
intern
?
:
I've known for a while that
the
"real world" isn't quite ready for me as much as I'm not ready for it. I didn't want to immediately go into more schooling or a career right after graduation because I still needed to explore
the
world. I craved travel and different experiences in
the
hopes of better informing my future path and goals. After experiencing a MEDLIFE mobile clinic trip first hand in Riobamba, I knew that this type of work is what I would want to do during my year off. Be in a different country, speak a foreign language,
meet
some inspirational people, and work for something that is larger and greater than myself.
---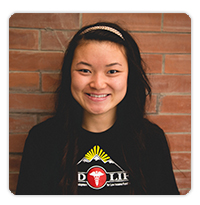 Name: Julie Ma
School:
Emporia State University
Major:
Biochemistry and Spanish
How I got involved with MEDLIFE:
Prior to receiving this
internship
, I had no experience with MEDLIFE. I wanted to serve somewhere in Latin America and after researching online and coming across MEDLIFE, I knew I wanted to be a part of their mission and contribute as an
intern
.
Why did you decide to become an intern?:
It's a great opportunity to help those truly in need, gain practical skills doing something I love, and travel!
Tell us a little bit about yourself:
I am currently a senior and am interested in pursuing a career related to health. Wanting to get out of my comfort zone and Kansas, I studied abroad in South America last summer and realized how much travelling changed me for
the
better. Since then, I try to take every opportunity possible to help communities in need, specifically in health. In my free time, I love trying new foods, travel every chance I get, and
the
beach!
---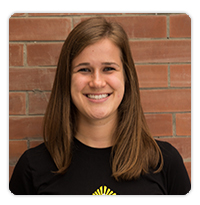 Name: Laura McClung
School:
University of Southern California
Major:
Biological Sciences, Minor in Spanish
How I got involved with MEDLIFE: I got involved with Medlife the summer after my freshman year when two friends asked if I wanted to go on a trip to Tena, Ecuador to see what Medlife was about. We were inspired by the work that Medlife does and thought that other USC students would be as well, so we went back to school that fall and started USC's Medlife chapter.
Why did you decide to become an intern?: After I went on my first clinic to Tena in 2011, I wound up attending two more mobile clinics to Lima, and I knew that I wanted to return someday to devote a more extended period of my time to Medlife's cause. The internship seemed a perfect way for me to learn more about how global medical non-profits function, while living abroad for a year, and helping to provide Medicine, Education, and Development to communities in need in the slums of Lima.
Tell us a little bit about yourself: While I spent most of my time in college participating in pre-med-related activities, my two favorite things are food and music. I grew up playing the cello, and I love trying any and all kinds of food, so living in Lima will provide an exciting opportunity to discover all sorts of new food and music!