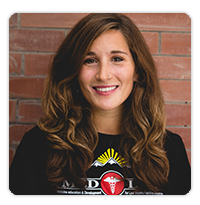 Name: Molly Trerotola
School:
University of Wisconsin – Madison
Major:
Strategic Communication, Certificate in Global Cultures
How I got involved with MEDLIFE: I learned about MEDLIFE my senior year through a campus-wide email. Though I was never involved in the chapter at my university, I admired the organization for its work and impact in the global community. I jumped at the opportunity when I heard about the internship and was overjoyed to learn I was accepted!
Tell us a little bit about yourself: I'm an east-coaster turned midwesterner when I fell in love with Madison, Wisconsin. Though my love for UW-Madison runs deep, my love for travel and discovering other cultures is even deeper. I was heavily involved in an international not-for-profit at my university and hope to continue working in the international field in the future. I'm a lover of Sudoku puzzles, my dog Lola, and the occasional yoga class. I eat pretty much anything—though I give preference to chocolate.
Why did you decide to become an intern?:
I was looking for a professional experience that would challenge me, and one I would learn an immense amount from. I've always been interested in pursuing non-profit work, especially in a Spanish speaking country. I saw working for MEDLIFE as an opportunity to experience a new part of the world while making a difference and gaining more experience in communication for non-profits.

This internship checked off all the boxes—it was a no-brainer.
What was your first impression of Lima?: LIMA!! The city pretty much shouts at you from the moment you arrive. It is vibrant, loud, vast, and always packed with a multitude of things to do. The city buzzes with energy, and I can't wait to soak it in!
---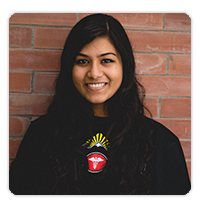 Name:
Nikita Gupta
Hometown: West Windsor, NJ
School: Johns Hopkins University
Major: Neuroscience
How I got involved with MEDLIFE: When I was a freshman, I was looking to volunteer in South America on a mobile clinic for a couple weeks. At that time, the MEDLIFE chapter at Hopkins was just getting started. The officers were so enthusiastic, I knew right away I wanted to get more involved with the organization. I applied for a board position, and went on a 2-week clinic to Lima, Peru that summer. Over the years I became the Fundraising Chair, Community Service Coordinator, and finally President of the Hopkins' Chapter of MEDLIFE.
Why did you decide to become an intern?: After returning from my service trip in Lima, I could never forget the people I had met and those whose work our efforts supported. I wanted to come back to Lima and continue supporting MEDLIFE's mission. I had already decided to take a bridge year between college and medical school, and I wanted to volunteer abroad with a global health non-profit organization. The MEDLIFE year-long internship was the perfect fit.
Tell us a little bit about yourself:
I was born and raised in New Jersey to parents of Indian origin.
Last year, I spent a transformative semester studying abroad in Brazil, Vietnam and South Africa with the International Honors Program
.
After returning to America, I craved more… more travel, more cultural immersion, more personal growth
.
I now take every opportunity I get to explore new cultures. In my free time, I love to dance, and I have gone on tour with
singers like Jay Sean and Sukhwinder Singh (the singer of Jai Ho). I am also very interested in women's health and empowerment and hope to become an OB/GYN one day.
What was your first impression of Lima?: I love South American culture in general, but I have a special connection to Lima. When I first came here three years ago, I was blown away by the vast amount of love and warmth that I received from every single person I met. Everyone was so willing to share their music, food and dance with me; it made my time here so enjoyable. I remember listening to Joey Montana and Chino y Nacho for weeks after I came back, and I can't wait to see what this year has in store for me!
---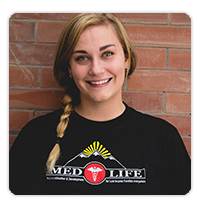 Name: Julie MacKinnon
Hometown: Montreal, Canada
School: McGill University
Major: Geography
How I got involved with MEDLIFE: I became involved with McGill's MEDLIFE Chapter this past year at school. After going on a mobile clinic trip with MEDLIFE to Riobamba, Ecuador this past December, I knew I wanted to learn more about MEDLIFE as an organization and what they are working towards.
Why did you decide to become an intern?: Being given such a wonderful opportunity to learn a new language and travel, all while helping people, seemed like a pretty perfect combination to me. I'm looking forward to learning even more about MEDLIFE and how an organization like this works.
Tell us a little bit about yourself: I'm originally from Canada, but have also lived in England, France, Singapore and the U.S. I am currently a senior at McGill University, and I'm hoping to learn more about pursuing a path in public health after living in Lima. I'm very excited to be living here, and I'm sure it will be a great new experience!
What was your first impression of Lima?: I'm so excited to be in Lima and to really get to know the city and appreciate all it has to offer. So far I've been blown away by how friendly everyone is, and how good the food is, and I'm sure I will love even more parts of the city as I get to know it better.
---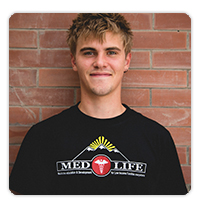 Name:
Bill Attwell
Hometown: Portsmouth, England
School: Leeds College of Art
Major: Creative Advertising
How I got involved with MEDLIFE: After I finished university I decided that I wanted to travel, and see more of the world. It became clear to me that the best way to do this is to travel with a purpose. MEDLIFE has given me this ideal opportunity, as I can combine this internship and my passion for creative work and design with my passion for traveling, as well as being able to do good in South America.
Tell us a little bit about yourself: I am an aspiring Art Director, with the dream of working in an advertising agency. I'm very open minded, a deep thinker, and I love creative ideas that solve problems. No matter where I go on this planet I often find myself in woodland areas, with a fascination for the nature which surrounds me. I love to Skate, Surf, and Go fast!
Why did you decide to become an intern?: I wanted to use my skills to make a change, and MEDLIFE gave me that opportunity.
What was your first impression of Lima:
My first impression of Lima was 'It is HUGE'. Like any large city it is extremely diverse and varied. The city has different districts which all seem like different cities to me, especially when I compare it to my tiny home town. One thing it has which I cannot compare to any other city I have seen before, is an area surrounding the city, packed tightly with poverty stricken areas. It is hard to have fun in the city, then look up at the hills and wonder how these areas might be able to have the same sort of fun?
---
Name: Charlie Hartley
Hometown: Bethesda, MD
School: University of Wisconsin – Madison
Major: History and Pre-medicine
How I got involved with MEDLIFE: I heard about MEDLIFE through the chapter at UW, which had just returned from a trip to Lima. I went to their spring semester meeting and was struck by the images they showed and decided to delve into the organization a bit deeper. As I was reading through the MEDLIFE website I noticed they had a year-long internship. I applied and lo and behold here I am!
Why did you decide to become an intern?: I guess the cliché message from super hero shows never really wore off. We may not be able to be Superman but we can do our part. Working for MEDLIFE is a great opportunity to be a part of an organization that is actively seeking to better as many people's lives as possible. I feel honored and fortunate to have been brought into this organization and I look forward to the challenges that lie ahead this coming year.
Tell us a little bit about yourself: I enjoy exploring cultures and places I've never experienced before. I believe the best way to experience the world is through its food. I am a younger brother and have always enjoyed giving my sister a hard time – only because I look up to her. My family means the world to me and the world is my family.
What was your first impression of Lima?: It is exhilarating and chaotic. I've never experienced a place with such contrasting frantic and leisurely tempos. You're racing to catch a combi one second and spending a few hours talking over a plate of ceviche the next. I can tell every day is going to have a new experience.