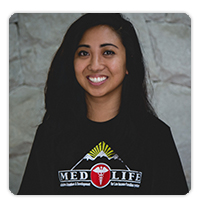 Name:
Kristine Paiste
Hometown: Lodi, CA
School: University of California, San Diego
Major: Pharmacological Chemistry
How I got involved with MEDLIFE: In December of 2013 I decided to join a MEDLIFE mobile clinic to experience a new culture and to gain an understanding of healthcare in a developing country. However my expectations were far exceeded, and in that short amount of time I was completely immersed in all that MEDLIFE encompasses. From its inspiring efforts to help each community thrive, to the incredible stories and moments shared with the locals and volunteers, I came home with a new perspective and appreciation for life. Now two years later, I find myself again in this beautiful country ready to continue the movement and take on what's next!
Tell us a little bit about yourself: I graduated from UC San Diego in 2014 and am currently taking some time off before continuing my education in the medical field. I love to travel, hike, and experience new cultures, especially the food! When adventures aren't calling my name, you can usually find me reading, writing in my journal or watching YouTube/Netflix (who doesn't?). I also love to do arts and crafts, play board/video games, and go indoor rock-climbing!
Why did you decide to become an intern?:
As an undergrad I was
heavily involved in Alternative Breaks @ UCSD, a student-run organization that sends individuals on service-learning trips
both nationally and internationally to address a diverse range of social justice issues. Through those years my eyes were opened to new ideas, perspectives and endless possibilities of creating real positive changes to our world.
I had found my passion for life-long service and becoming an advocate for change and with MEDLIFE I found middle ground. T
hrough medicine, education, and community development it drives all my passions in one amazing organization, taking the time to really understand the communities we work with and their needs to help build a foundation to thrive. So when
the opportunity came and how could I not take it?
What was your first impression of Lima?: The first time I was in Lima was in 2013, and although I am currently here for Lima's winter instead of summer, both seasons have not failed to show the liveliness of this great city. Full of culture, food, history and life, Lima has a lot to offer. Though it is Peru's capital, there are areas that are still developing and it is hard not to notice some of the effects of poverty, but I hope throughout my time here I continue to fully immerse myself in all the good and the bad, and to take every opportunity to make the most out of it.
What are your goals for this internship?:
Throughout my time here I hope to broaden my perspective on global health and the culture of Peru, all while strengthening my leadership roles on a larger scale. I also hope to gain a better understanding of how a non-profit works and attain hands-on experience from healthcare professionals to create a substantial positive impact on the communities we will be working with.

By engaging in MEDLIFE's unique experience, I hope to continue my passion of serving others while traveling the world, taking on new challenges and immersing myself in a place far from home.
---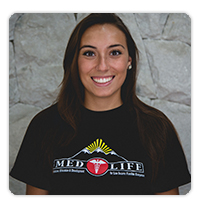 Name: April Gulotti
Hometown: Oceanside New York
School: University of Delaware
Major: Exercise Science
How I got involved with MEDLIFE: I went on my first trip sophomore year of college and when I cam back I ran for the position of President. I was elected and held that position for two years planning and coordinating more trips for University of Delaware students.
Tell us a little bit about yourself: I am an active person who likes to make a difference. I find my greatest fulfillment by making others smile especially those suffering. Although we live in a massive world it doesn't mean each and every act of kindness goes dismissed because that one act of kindness can give a single individual the hope that they so desperately needed. Spreading kindness, helping others, and changing the world little by little is contagious. I am a diligent, hard working, and perseverant individual that likes to see the good in everyone. One of my best friends passed away this past October who I came on my first medlife trip with. His name was Enoch and he was the brightest soul I knew in every way imaginable. Although I thought he had taught me a lot about morals and life and the world we live in while he was here with me physically; his lessons, spirit, and glow became even more profound since he has passed. I owe much of who I am to the person he has helped me become.
Why did you decide to become an intern?: I wanted to become a MEDLIFE intern after going on previous trips and getting to know the past year long interns. I saw myself in many of them when I got to know the type of people they were. I felt instantly connected and I wanted to do something big. Something big to contribute to the world while still learning a lot about the foundation and logistics of what makes a successful and influential non- profit organization.
What was your first impression of Lima?: My first impression of Lima was how beautiful and modern it was. But, when i saw the reality of Lima I was disappointed and sad. I saw the wall that was being built to divide the wealthy communities from the poor and it made me feel as if I was living in a past life where I read in my textbook growing up as a student of all the cast systems and inequality and injustice in the world. It was at that moment when I learned about the wall and witnessed it myself that I knew I had to get involved in a bigger way and that way manifested its way into the medlife internship.
What are your goals for this internship?: My goals for this internship is to grow relationships with patients who have stories to tell. I want to learn Spanish so I can communicate with poor families and children so I can tell them all the things I have wanted to and have felt for so long. I want to tell them that they are important to us and that they matter in the world and that life is a beautiful gift and although there is bad in the world there is also a lot of good with a lot of wonderful people and to never give up hope as hard as it may be.
---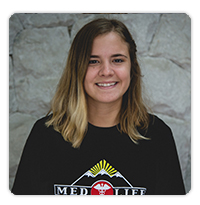 Name:
Cristina Negrón Busquets
Hometown:
San Juan, Puerto Rico
Major:
Biological Sciences/Pre-Med
How I got involved with MEDLIFE:
There wasn't a MEDLIFE chapter at my school so I recently found out about the organization through one of my close friends from home. She absolutely loved her mobile clinic trips and when I heard what MEDLIFE was about I applied for the internship.
Tell us a little bit about yourself:
I am an adventurous eater who takes naps on a daily basis. I love my family and friends, as well as my dog Kaya. This is probably the hardest part about being here, but they are also my inspiration to do it.
Why did you decide to become an intern?:
I decided to become an intern at MEDLIFE because my goal is to pursue a medical career and to hopefully be able to help people that don't have medical resources and services readily available. I have worked with people in the United States that have intellectual or developmental disabilities (IDD) in the past and although the United States has great resources sometimes these still can not be easily accessed. I aspire to help this demographic as well as improving global health.
What was your first impression of Lima?:
My first impression of Lima was that it was HUGE. I'm from a tiny island so every place is huge to me. Hopefully, I get to experience everything that this big city has to offer by the end of the internship.
W

hat are your goals for this internship?:
My main goal for this internship is to learn as much as I can from MEDLIFE and about how this great non-profit helps the people most in need. My goal in life is to join an organization like Doctors without Borders so having an internship in MEDLIFE will definitely teach me about improving global health and how to best do my part in giving back to the world.
---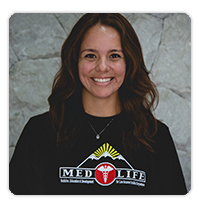 Name:
Roxanne-A. Garibay
School:
University of California, Los Angeles
Major:
Biology & Spanish Minor
How I got involved with MEDLIFE:
I
applied for our school's leadership board my junior year of college as our chapter was started. Senior year I wished to become more involved and joined the executive team. While I never went on a clinic trip during college, I enjoyed being on the team that expanded our club's knowledge of global health and sent volunteers on trips.
Tell us a little bit about yourself:
I love food, pastries are my favorite.
I also love traveling (naturally with moving to Peru) and being in new places; Cassis, France and Granada, Spain are my favorite cities.
Why did you decide to become an intern?:
As I mentioned above, I was part of my school's executive board and was never able to go on a clinic trip. I applied for the internship for two reasons, the first to continue my involvement in MEDLIFE and my perspective to see the functioning of the organization as a while. Secondly, I also am planning to attend PA school and I felt that this internship would solidify my interest in healthcare.
What was your first impression of Lima?:
It is enormous! It is also full of culture and different people, and slowly I am learning the different niches that are in the city. The ocean is also so beautiful with the extremely long and peaceful waves that crash on the cliff shores.
Lastly, it is always cloudy, always.
What are your goals for this internship?:
I hope to be able to expand my understanding of community health, culture and myself. I believe that this MEDLIFE internship will be a great highway to complete this, as well as learning the functions of an NGO. But overall, I hope to be able to help the communities here in a way that positively impacts them, whether this results in expanding on an individual project or with making connections with the patients. I also wish to both bring back the knowledge of community health abroad with me and allow the volunteers to have a sliver of the same experience.
---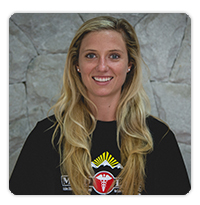 Name: Chelsea Barth
Hometown:
Newport Beach, CA
School:
Boston University
Major: Health Science
How I got involved with MEDLIFE:
I wanted to take a year off after college to get more experience in the field of global public health. I wasn't involved with MEDLIFE prior to my internship, but I found out about MEDLIFE after looking at different global health organizations online. I have always wanted to travel to South America and after reading about the work they have done, I knew I wanted to get involved right way.
Tell us a little bit about yourself: I love to travel and explore new places as well as meet new people. My favorite thing to do in a new city is go for a run to help me learn my way around. I also really enjoy just chilling at the beach or hanging out watching movies with friends.
Why did you decide to become an intern?: I want to continue pursuing a public health career and felt I needed to get some hands on experience before I did so. I think that this internship gives me the opportunity to look at the multiple sides of public health and will hopefully help me figure out my next steps. I also loved that I will be able to gain some hands on experience by being out in the fields or helping out in the clinics
What was your first impression of Lima?: Lima is such a big and lively city. There is so much to see and do just in this one city. I am excited to be able to spend more time here and really experience all that it has to offer.
What are your goals for this internship?: I hope to be able learn more about how a global health non-profit runs. I also want to be able to learn more about the different aspects of global health so that I can figure out what I want to do next with my public health career. Another goal of mine is to be able to contribute to the MEDLIFE team and help make a difference in the communities we help.