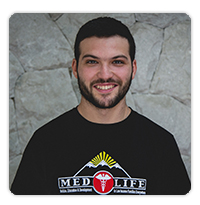 Name:
Nick Bettencourt
Hometown: Topsfield, MA
School: Boston College
Major: Psychology
How I got involved with: I found MEDLIFE pretty much by complete luck. I was scrolling through Facebook and saw a video about MEDLIFE that one of my friends had put up. After watching it I was immediately interested and decided to look into how I could get involved.
Tell us a little bit about yourself: I am a 2015 graduate of Boston College, where I spent most of my time either consumed in pre-med coursework or surrounding myself with my friends. While there, I was lucky enough to get to travel to Madrid, Spain and Morelos, Mexico, where I developed a love for global travel and service. I am pursuing a career in healthcare, and am passionate about working to help others.
Why did you decide to become an intern?: I have always been interested in healthcare and medicine, but have never explored the field of global or public health. I thought this would be a good way to get an introduction to the field and see if it is something I am interested in.
What was your first impression of Lima?: Although I experienced Lima for the first time during an hour long cab ride with a driver who had no idea where he was going, I still thought Lima was a very interesting and beautiful, but sometimes confusing, city.
What are your goals for this internship?: My goal is to explore the field of global health, as well as witness and be a part of the good that MEDLIFE is doing for people in need.
---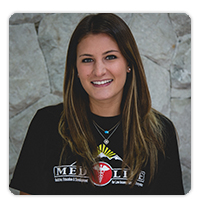 Name: Leigh Ann Cohen
Hometown: Oceanside, New York
School: University of Michigan
Major: Anthropology and Medical Anthropology
How I got involved with MEDLIFE:
 During my sophomore year at Michigan, a close friend introduced me to MEDLIFE.  Right off the bat, I truly valued everything MEDLIFE stands for, and so, I attended MEDLIFE's first ever mobile clinic to Moshi, Tanzania.  The work being done and the friendships I formed, not only with my co-volunteers but also with the people of Moshi, left me with an immense love and respect for the MEDLIFE family.
Tell us a little about yourself:
 Though I have a seemingly untreatable case of wanderlust, one of my favorite things is returning home after a long trip away.  Some of my most cherished memories are of being picked up at the airport by loved ones holding a sign with my name on it.
Why did you decide to become an intern?: 
Throughout college, I attended two mobile clinic trips and served as my university's mobile clinic chair.  These experiences solidified my interest in pursuing a career in Public Health and a year-long internship with MEDLIFE seemed like the best way to be a part of something greater than I could have ever imagined.  I was right!
What was your first impression of Lima?:
 Lima is a large and busy city.  Though there are many areas that are mind-blowingly beautiful, there are also many areas that are heartbreakingly impoverished.  The reality of disparities in health and socioeconomic status are ubiquitous throughout the city's districts, which makes my time in Lima even more motivating and worthwhile. 
What are your goals for this internship?:
 I hope to take full advantage of everything Lima and MEDLIFE have to offer.  I want to be fully immersed in Peruvian culture, to learn more about sustainable development, and to be inspired and challenged by new people and experiences.
---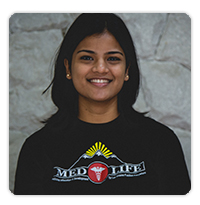 Name:
 Sneha Kolla
Major: 

Biology with a Spanish and Chemistry Minor
How I got involved with MEDLIFE: I started the MEDLIFE chapter at my university.
Tell us a little bit about yourself: Besides being a huge Steelers fan, I enjoy traveling and everything Latin American, especially the music. I am also a very service-oriented individual with a keen interest in healthcare and social work.
Why did you decide to become an intern?: I decided to be an intern because I strongly agree with MEDLIFE's mission. It is an great opportunity to serve those in need and gain a better understanding about the issues of healthcare at a more social and communal level.
What was your first impression of Lima?: I found Lima's warm and cozy climate ideal as compared to the freezing winters back home. I can smell the food every time I step out and it is always mouthwatering. For someone who has lived in the suburbs all their life, living in a city environment has always been a dream and Lima most definitely fulfills it.
What are your goals for this internship?: I hope to gain a better understanding about healthcare's role in improving the life of an individual as well as the community. Mainly I hope to do something positive for the low-income communities that MEDLIFE serves and help spread their mission to more places abroad as well as here in Lima.
---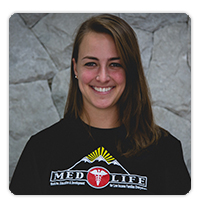 Name: Jessica Danker
School:
 The Ohio State University
Major: Nutrition and Community Health
How I got involved with MEDLIFE: I became involved with MEDLIFE through Ohio State's chapter. Shortly after learning about MEDLIFE I attended a mobile clinic in Riobamba, Ecuador. The mobile clinic experience was what really made me want to become more involved in the program.  
Tell us a little bit about yourself: I grew up in Cincinnati, Ohio but have always loved to travel. I spent last year in Spain teaching English where I found out that I really enjoy living abroad and everything that comes with it.  I love trying all of the new foods, exploring new cities and especially making new friends from all over the world.  When I'm not traveling you can most likely find me binge watching Netflix and/or eating chocolate chip cookie dough ice cream. 
Why did you decide to become an intern?: I decided to become an intern because this internship combined both of my interests into one! I love traveling to new places with different cultures and I also studied community health.  I really enjoy and have seen first hand what the MEDLIFE program does for the community. I couldn't turn down such an amazing opportunity to make such an impact on the community!
What was your first impression of Lima?: SO MUCH TRAFFIC. In Limas defense, my flight landed just before the peak of rush hour so this only made getting to the apartment that much more difficult. Living in a city this large has taken some getting used to, however, from what I have seen Lima has a ton of exciting things to offer. At first glance Lima seems too large to ever get to know but each neighborhood has something different to offer. 
What are your goals for this internship?: This internship has endless opportunities to learn about all aspects of Public Health. Working specifically with MEDprograms, I hope to gain a lot experience creating and implementing projects into the community.  While working with the community I hope to better my Spanish speaking skills as well!