Melanie Askari started a MEDLIFE chapter at the University of Michigan just last year, and so far they've already completed successful fundraisers last semester, and their first Mobile Clinic in Lima last week! We spoke to chapter president Melanie about her experience with MEDLIFE and the secrets to her chapter's success: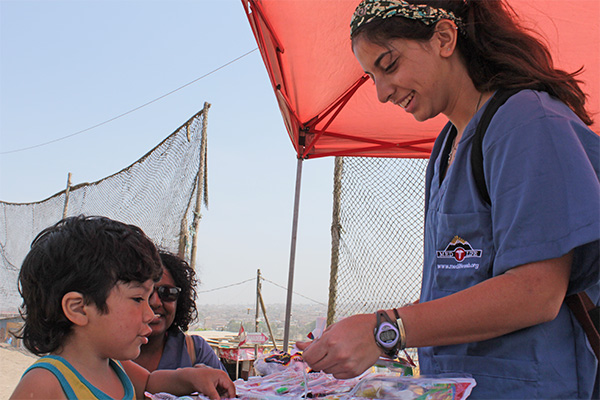 Why did you decide to start a MEDLIFE chapter at your school?
I was in MEDLIFE at the University of Vermont before I transferred, and I had a great experience with it there and went on a Mobile Clinic to Ecuador. I really wanted to spread the MEDLIFE mission to U of M because we didn't have a chapter.
How did you go about starting the chapter?
First I picked an exec board, and pulled from people that I knew from different areas, different majors and different backgrounds. That was at the end of second semester last year, and we actually got going September of this year, when we became an official club through the university. We held mass meetings, trying to pull in as many people as we can, tell them about MEDLIFE, and get everyone involved.
What kind of events and activities has your chapter done so far?
We've been trying to do a lot of coordinated events with other groups on campus, so last semester we did a 5k run with a community service fraternity, and we've partnered with them on some other events this semester, just to bring in other people that want to volunteer and help out. This semester, we had a bowling fundraiser where part of the proceeds went to MEDLIFE, and it was good bonding for the group. Some people went that are on the trip now, so they got to meet each other before coming to Peru. We also had a silent auction at the bowling alley, and we do bake sales and tabling and stuff like that. This semester we're focusing more on awareness and education, and getting as many people on trips as possible. We're also planning to go on a trip to Ecuador in May.
What challenges did you face in getting the chapter off the ground?
Distinguishing ourselves from other global health groups was a little difficult at first, just because there's a ton of different groups and people think they do the same thing. But we've tried to market it to people of all majors, not just science backgrounds, people interested in community service, and getting that hands-on healthcare experience.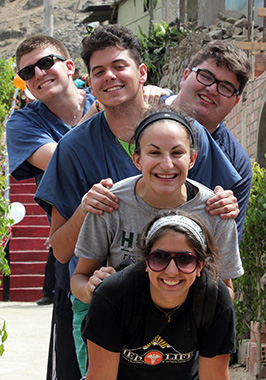 What advice would you give to other people trying to start chapters at their schools?
Basically, if you're excited about it, it spreads like a domino effect, and other people will be excited about it. Just being enthusiastic. If you've been on a trip it really helps because you can talk about that and people are always excited to go on trips, and then you come back from the trips and people want to get more involved on campus.
I would say reach out to as many different networks as possible, don't try to pull from all just one major, but get people from different backgrounds. And coordinate with other groups on campus, get the name out there, use their resources, and you will both benefit.
What are your impressions so far of Lima and the Mobile Clinic here?
Everything has been going great so far, people seem really excited. I know everyone was looking forward to this trip for a while. It's a very different experience for some people, maybe a third of our group doesn't speak any Spanish, so learning how to communicate in a city where you don't know the native language is always difficult. It's a beautiful place, it's different from anywhere I've ever been, and we're having a great trip so far.
What are you hoping to get out of the trip?
I'm hoping that with our group as a whole, everyone will come back and be really excited for fundraising more for the MEDLIFE fund, and doing all that we can to help out on campus.
For me, getting more experience talking to the patients and communicating about things in a real way, even with the language barrier, is a great experience. Just getting to know the local people.