Written by Rosali Vela and translated by Swathi Varanasi & Rachel Goldberg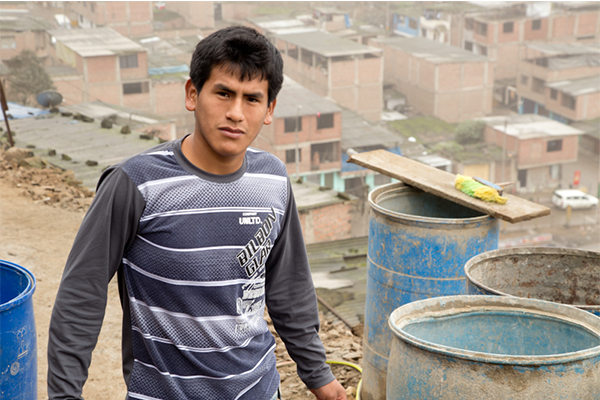 When Amal came on a Mobile Clinic in Lima, Peru earlier this summer, she met Jose Luis, a young man who was helping out on the staircase project for his community, Buena Vista.
Despite the language barrier, they managed to communicate and understand each other. "I am not the best at Spanish so I talked to him a little bit through the intern, Galen, and a little bit in my broken Spanish," Amal says. "He seemed like a very nice kid."
Jose Luis told them how lucky all the volunteers were for being able to study for a professional career at a university. "I wondered why he didn't go to school when he seemed so driven and intelligent," said Amal. What she learned affected her deeply.
A few years ago, Jose Luis's father walked out on the family, leaving them without the economic means to survive. Jose Luis quit school and went to work to support his family. With one year of college under his belt, he had two more years to go to become an engineer. But he had to give up his own education in order to help his family.
"My parents have sacrificed a lot to put me in a position where I can get an education and hopefully make something of myself," said Amal. "I realized Jose Luis was very passionate about education and changing his family's situation and decided something had to be done to help him."
As soon as Amal returned to the US, she talked with Cristina, one of our summer interns, and worked to make it happen. MEDLIFE evaluated Jose Luis's situation and determined that he would need approximately $2,000 in order to finish his education and help his family while he studies.
Amal has set up a MEDLIFE campaign here to raise the funds. "Once he completes his schooling in engineering he can get a good job and support his family. He can make something of himself and be educated like he's always dreamed of being," Amal says.
Like Amal, there are many volunteers who look beyond their weeklong trip, and try to make a lasting change by providing help where it's most needed. If you want to help Jose Luis to achieve his dream of become an aerospace engineer, you can donate to this campaign here.
To see more campaigns like this one and learn how you can help, visit the campaigns page.