One of our newest chapters, the MEDLIFE Inter Aguadilla chapter, is already making waves in the MEDLIFE community. Within their first year, this group of motivated students hosted their first annual MEDtalk event, which was attended by MEDLIFE students from all over Puerto Rico. Let's see what the Inter Aguadilla group has planned for this next academic year.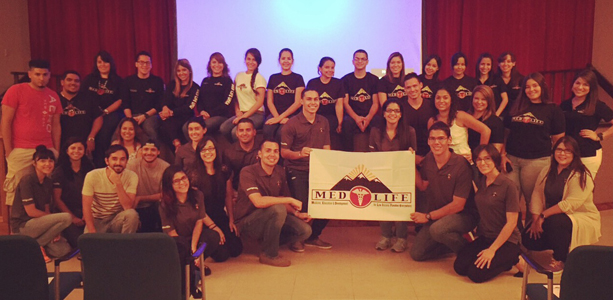 When and how did your chapter begin? What strategies did you use to promote MEDLIFE on campus?
MEDLIFE Inter Aguadilla started around one year ago when two friends got together and started talking about their passion for travel and helping people in need. These two people immediately began communicating with their circle of close friends and discussed the possibility of opening an organization on campus. They mentioned MEDLIFE and everything the organization accomplishes in the global community. Once all of the involved people were informed about the organization, they decided to take the plunge and begin the process for accreditation with the university; the MEDLIFE Inter Aguadilla has existed ever since then.
Once the chapter was made official, we began recruiting people to join through meetings in which we presented about MEDLIFE with videos, photos and information. We also promoted on bulletin boards. Similarly, we incorporated social media promotion, creating groups of conversations so they could carry the message more directly. We made all of our application forms electronic to create an easier process. Another way we promoted was by utilizing the digital bulletin boards that publish information on activities and events. We are currently working to develop new ways to communicate and attract students to be part of the best organization out there.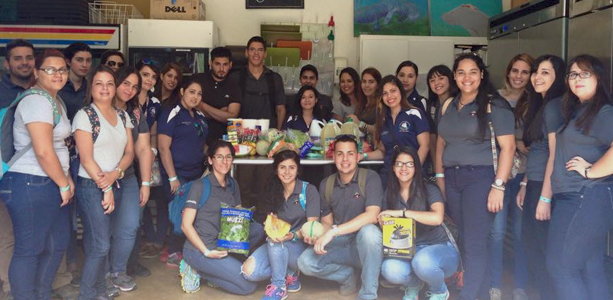 What process does a new member go through once part of the chapter?
All students interested in being part of the MEDLIFE Inter Aguadilla chapter must fill out our online registration. Once the application is received, the students are contacted so they can be provided with more information, and have any doubts or questions they may have clarified before eventually joining the chapter.
To make the membership official, we hold an initiation ceremony at the end of the academic year where members are recognized in front of their families and guests they have worked with while serving the chapter. During this activity, we acknowledge everyone's' hard work, and at the end of the ceremony, there is a reception where everyone celebrates their accomplishments.
What activities do you organize to keep your members interested throughout the year?
MEDLIFE Inter Aguadilla focuses on community service work. Each academic semester we organize a minimum of one event or activity in which we help a community we elected to serve. We have participated in many activities and impacted various groups of people in need, such as the homeless or people with few food and clothing resources.
We also hold social chapter-wide activities. Just recently we had the opportunity to visit the Center for the Conservation of Manatees in Puerto Rico. During this event, we donated food and basic necessities that the center does not have access to, as all of their employees are volunteer workers. The event was a very successful outing! We enjoyed the opportunity to bond with other member and develop the qualities and values that each MEDLIFE member possesses.
Additionally, on April 16, 2015, MEDLIFE Inter Aguadilla hosted our first annual MED Talk conference which was attended by the majority of MEDLIFE chapters and Puerto Rico. The goal of this event was, in addition to speaking on common themes, be able to share and meeting other people who work for the same purpose as us.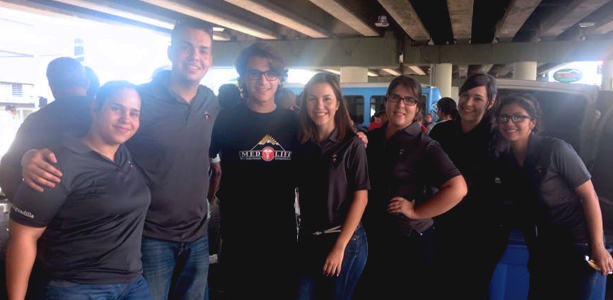 What are your goals as a chapter for this academic year (2015-2016)?
–

One of our goals for the 2015-2016 academic year is to travel on our first mobile clinic.

–

Expand the member base and implement programs with high schools to prepare students who will be coming to college to learn about and eventually join MEDLIFE.

–

Increase our membership.

–

Continue working on community service events and impacting more people.

–

Assist in the opening of more MEDLIFE chapters.

–

Develop an assembly in which all chapters in the region or area attend and work together on a specific project that benefits the local and international community.
MEDLIFE Inter Aguadilla undoubtedly has an array of leaders who are passionate about medicine, education, and development, and even though we are still in the development stage, we continue to position ourselves as a strong and efficient chapter that helps those in need.