In a fast-paced Mobile Clinic setting on a Service Learning Trip, effective communication is vital for providing timely and accurate medical care. When you are working in a Mobile Clinic, you will be assigned to one of the several stations set up. If you are assigned to the general medicine station, you will be observing the doctors as they work, and guiding patients to the education station and pharmacy station as need be. To aid in the processing of each patient in a timely manner, knowing some common phrases in Spanish that may come up during your work can be very helpful. Here are some useful Spanish phrases for the general medicine station of a Mobile Clinic:
Hello: Hola
Good morning: Buenos días
How are you?: ¿Cómo está?
Good: Bien
Chair: Silla
Tongue depressor: Baja lengua
Flashlight: Linterna
Stethoscope: Estetoscopio
Pharmacy receipt: Recetario
Medicines: Medicinas
Please follow me: Por favor sígame
Please sit here: Por favor sientase aquí
Blood pressure: Presión arterial
Diagnosis: Diagnóstico
Medical record for Adult / Child/ Dental / OBGYN: Ficha Médica de Adulto/Niño/Dental/OB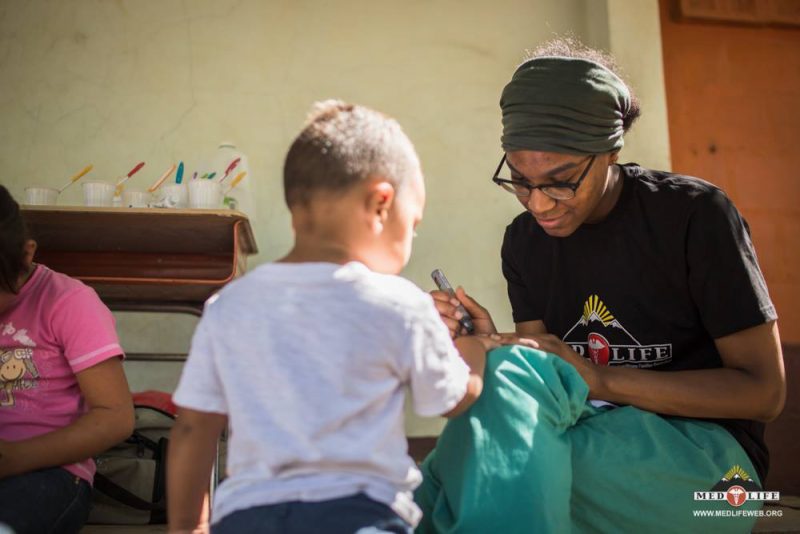 In a mobile clinic, language barriers can be challenging, but with a few essential Spanish phrases, healthcare professionals can bridge the gap and ensure effective triage and care. Building rapport with patients through clear communication and compassion fosters trust and facilitates the delivery of quality medical assistance. To work on your Spanish, resources such as Duolingo can help you to become more comfortable with the language before you embark on your Service Learning Trip. Remember, being able to communicate in a patient's native language can make a world of difference in their healthcare experience. By incorporating these Spanish phrases into your triage process, you can make a significant impact on the well-being of the communities you serve. ¡Buena suerte! (Good luck!)
If you are interested in joining an upcoming SLT in Peru, Ecuador, or Costa Rica, visit our website to learn more!