The Mi Vida Panadería is a bakery social enterprise that brings baked goods to families in Lima's human settlements. It is located in our Mini MED Center in the community of Union Santa Fe. We have been working hand in hand with locals on community development projects in this neighborhood for years. 
Entra aquí para leer esta publicación en español.

Why a bakery?
During the COVID-19 pandemic in Peru, the prices of many basic food items suddenly increased. This was caused by the rising cost of transportation and disruptions in supply chains, among other economic factors. In the low-income communities we work with, this unforeseen increase in the cost of groceries created major challenges. 
In addition to rising food prices, many locals lost their income at this time. Before the pandemic, most community members relied on informal jobs. They lived day-to-day on wages from their work as domestic workers, manual laborers, or street vendors. This meant that when the government announced the first lockdown, many families lost their incomes overnight. Facing sudden unemployment and unexpectedly high food prices, parents were left with no way to feed their children.
To make matters worse, lockdowns and restrictions on movement created further barriers to accessing food. In Lima, there are many human settlements located in the city's rocky hillsides. These areas are difficult to reach and they have very limited fresh produce available. Residents have to travel large distances to other parts of the city to purchase basic food items. Normally, they would be able to take public transport to these areas. However, lockdown measures, increased transportation costs, and the risk of exposure to COVID-19 made this option difficult and potentially dangerous. 
All of these challenges left entire neighborhoods facing a severe food crisis. Our team knew that we had to take immediate action.


Launching the bakery
In response to the food insecurity faced by our partner communities, we introduced a variety of nutritional aid programs. This initiative began with emergency food packages and eventually evolved into a pandemic relief hub. Located at the Mini MED Center in the community of Union Santa Fe, the hub included a Community Soup Kitchen, bodega, computer lab, and bakery. 
We collaborated closely with residents of the area to develop the bakery social enterprise business plan and bring the project to life. In the weeks leading up to the launch, we worked hand in hand with the community to make renovations and install ovens in the Mini MED Center. We also recruited local bakers and drivers to help us prepare and deliver the bread. Finally, in early 2021 we officially opened the bakery and began providing 800 bread rolls a day to low-income families!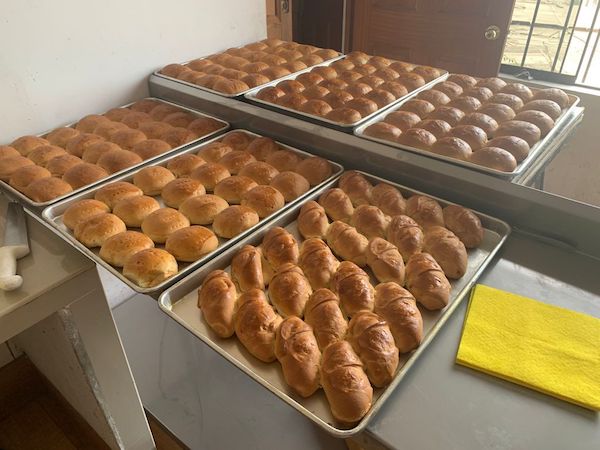 The Mi Vida Bakery today 
Today, the bakery continues to provide delicious baked goods at accessible prices to areas with limited access to basic food items. Thanks to the support of our generous donors, we were recently able to purchase additional ovens to scale up the business. We're now producing 1400 bread rolls per day, which we distribute in Union Santa Fe and five surrounding communities. These neighborhoods do not have bakeries of their own, and so they sell our bread in small local bodegas. We also distribute our bread to local Community Soup Kitchens, so that they can bring a healthy breakfast to young children and the elderly. 
We're proud that this project not only helps reduce hunger, but also supports small businesses, invigorates local economic activity, and creates jobs. We envision that the bakery social enterprise will continue to grow so that we can reach even more families in marginalized areas. We hope to spread the word about this exciting project and bring the bakery's delicious goods to Lima's world-famous restaurant scene!
To learn more about how you or your organization can support our bakery social enterprise, contact us today!