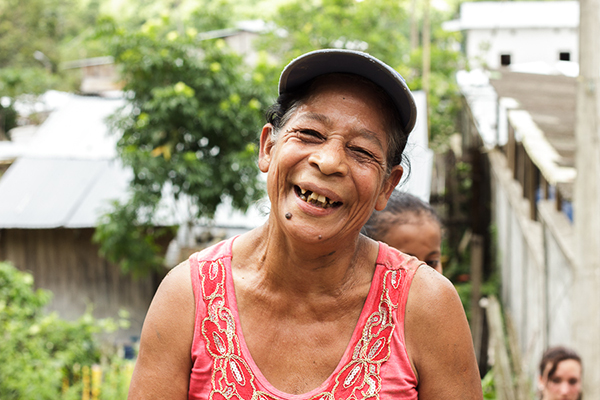 Holanda poses at the project site
"I'm 37," Holanda Marquez tells me, without any intention of lying about her age. She easily lifts a bucket full of rocks that even the strongest and most agile members of the group have trouble carrying all the way to the top of the project site. Holanda told us that she struggles with lapses in her memory; just moments later her daughter, Martha, assured us that her mother is no younger than 60. Yet, with her 60 years, 10 children, and various grandchildren, Holanda still has the strength of the 37-year-old she claims to be. I thought for a moment that this must be a product of years working in the field, but I was wrong. "I work as a homemaker," Holanda explained, making me wonder if hard work runs in the blood of the people here in Esmeraldas.
Holanda's husband leaves every morning to head to his job in the heat and rain, without a car, without air conditioning, and without any options of speeding up his travel. "If he walks quickly, he can get to work in 45 minutes," Martha tells me. Martha is the youngest of the couples' children; she dreams of moving to Guayaquil to study to become a flight attendant.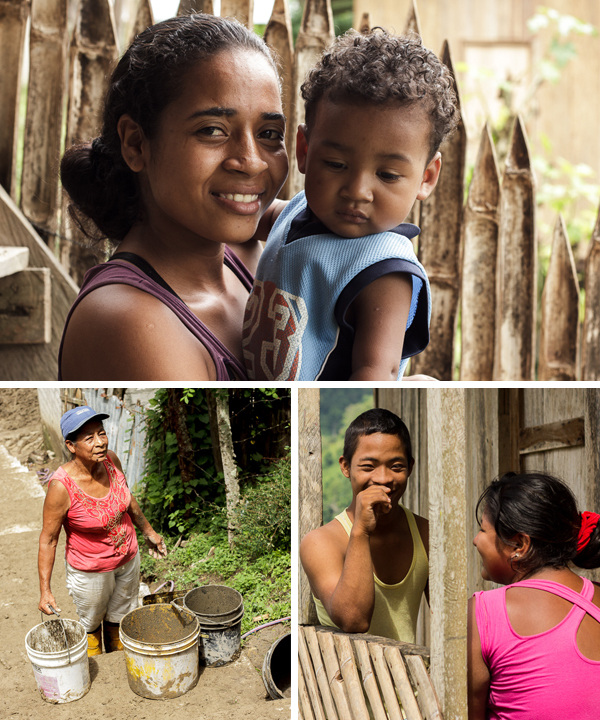 Holanda and her family at the staircase construction site in their community
"We have 20 hectares," the family tells me, as if it's no great thing. The work together to grow corn and cocoa, saving one part for the home and sending the rest to a small store located below their fields. Unable to depend on any fixed income, they sells what they can, depending on the weather, land, and market to determine their small income.
In a good season we can harvest 600 pounds, and in a bad one, 300," says Martha. With an average of 500 pounds of cocoa, the family can earn about $160 dollars per month selling their crops. "My father works to get other odd jobs, because it's not enough. We need to raise our monthly income to $300," explains Martha. This is barely enough to feed the six mouths that still live in Holanda's home, amongst them, one with the characteristic traits of a child with Down Syndrome.
All of the children get up early to walk to school, covering their shoes with plastic bags so they don't dirty their school uniforms. While the majority of the children travel to a local school nearby school, 14-year-old Juan attends a school for students with special needs located in the city center. The community in which Holanda's family lives is connected to the city by one bus, which makes two trips per day – one in the morning and one in the afternoon. If the bus passes by without stopping, or if Juan misses the bus due to the difficult path down from his home, he simply does not attend school that day.
Alongside Holanda's community in Esmeraldas, MEDLIFE developed its first staircase project in all of Ecuador. The project was completed with the hard work of the community, support of our student volunteers, and the unconditional help from the local government. During the inauguration, the community thanked us in their own, special way – with traditional music, food, and dancing to the rhythms of bombo and marimba.
"Before, tragedies occurred," Holanda says, as she looks – her eyes filled with happiness – at the almost-finished staircase. The family believes that the new staircase will help them avoid injuries, and to be able to more safely navigate their daily journeys.
Written by Luis Herrera, translated into English by Lindsay Bigda. Photos by Luis Herrera