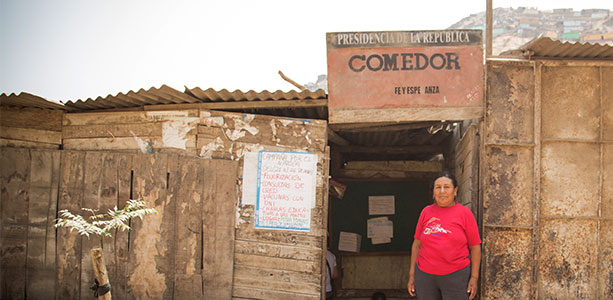 Pamplona Alta is one of the newest "slums" in Lima, and is home to many working mothers; they are striving to secure the welfare of their children in general and above all to provide adequate food. This is a high priority because nutritious food is the key to good development, good health, and thus a life full of opportunities. Given this priority, and in spite of their economic constraints, the women of Pamplona Alta come together to organize food for all: harnessing people power to enurse that each family has enough nutritious food. Mrs. Martha Robles is one of the amazing women who makes this happen.
For many years Martha has worked in what is locally called the comedores populares or "Soup Kitchens". This cafeteria is run by women, mostly mothers, coordinate shifts and responsibilities to prepare lunch at low and affordable prices thanks to government subsidies. Food delivered through the government program, called PRONAA (National Food Assistance Program), includes staples such as flour, rice, sugar, and beans.
Sixteen years have passed since Martha, together with other 70 mothers, founded the 'Faith and Hope' cafeteria, located in the settlement ¨Cumbre¨, where Martha has lived since its foundation. In daily shifts, four or five women voluntarily prepare food purchased with the help from PRONAA, this subsided food is delivered approximately every three or four months.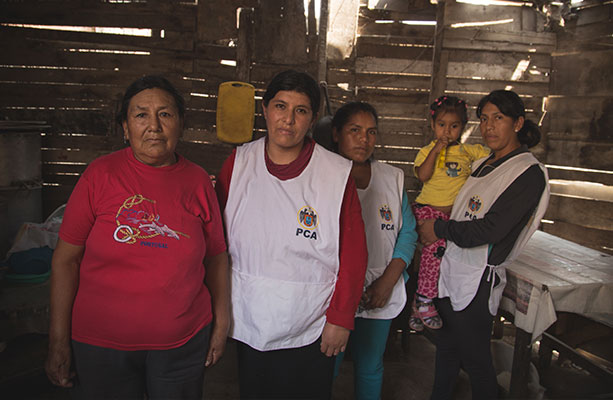 Consecutive governments have continued to support this incredible work through subsidies. All the work to keep this fantastic service running is done voluntarily by members of the community, and despite the hard work Matha still wants to do more. Lunch feeds approximately 80 people from the local area.
Martha's dedication to this service led her to participate in a government contest to create a new soup kitchen in her community. Martha's work at the comedores populares providing great food at an affordable price, was recognised by the judges as well as her friends, neighbours and acquaintances. Winning the contest was a milestone for Martha in what she considers to be the most important work in her life.
In spite of the quality and the love with which the work is done, it is undeniable that the facilities for this service are less than ideal. On arriving to the premises it is immediately obvious that there are many shortcomings. The floor is not properly paved, the walls and ceiling are a set of old, dirty timbers, and the cooking utensils are poor quality. In addition, some of the volunteer mothers have to bring their small children and, given the reduced space, children are put in contact with all areas of the kitchen, thus being exposed to potential health and safety dangers.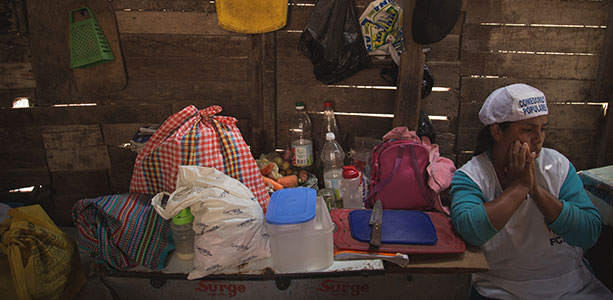 MEDLIFE, through it's network of chapters and students, is seeking to support Martha and all the volunteer mothers. Through fundraising events MEDLIFE is hoping to raise enough money to build a new cafeteria. Providing not only an improved dining room, the planned building would ensure protection against the strong summer sun and heavy rains of winter. It would provide an adequate and fitting space for the invaluable and high-quality work taking place, and would ensure the children who come with their mothers are not in any danger. We are confident that this goal will be met, but we need YOUR help to make it happen!
For more information on how to donate or raise funds for the ¨Faith and Hope¨ cafeteria, send an email to [email protected] , where one of our representatives will send you the necessary information.