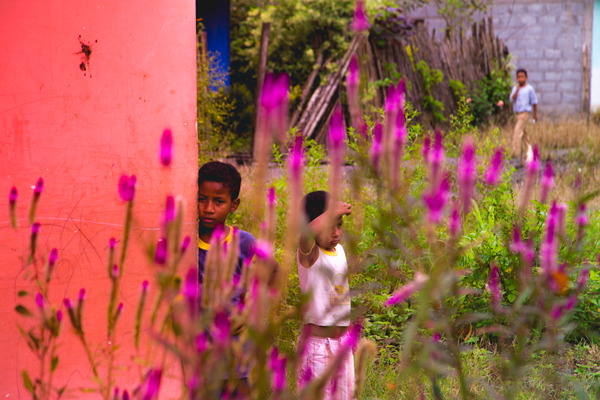 From a Mobile Clinic near Esmeraldas in March 2016 before the earthquake.
  Saturday April 16, 2016 a magnitude 7.8 earthquake struck the central coast of Ecuador near Muisne. Over 400 people have been killed and more than 2,500 people are injured or missing as of Tuesday the 19th, these numbers are expected to rise. Ecuadorian President Rafael Correa said that it was the greatest tragedy to hit the country since the 1949 earthquake in Ambato, and that the reconstruction will cost billions.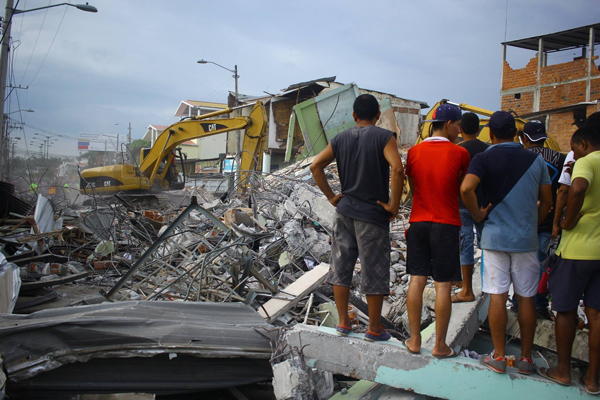 Collapsed building, from this pinterest page collecting photos of the earthquake.
This video taken on a security cam gives some idea of the intensity of the earthquake. In the main areas affected, such as Guayas, Esmeraldas and Manabi, infrastructure was devastated. According to the government, at least 370 buildings have been counted as destroyed. In the town of Pedernales, near the epicenter 80% of the town's infrastructure was demolished. Soldiers and police have begun to patrol the area in an effort to prevent looting. Many people are homeless and the police have begun setting up shelters. A soccer stadium in Perdernales has been turned into a relief centre and morgue.
Engineer Enrique Garcia told the BBC that the Ecuadorian infrastructure was not prepared for such a disaster. The municipalities did not follow regulations to make sure that buildings were constructed with materials that could withstand a disaster, and thus many collapsed during the earthquake.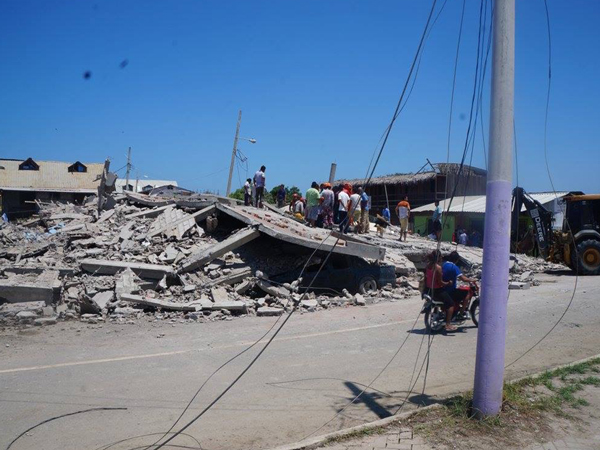 From this Pinterest page collecting photos of the earthquake.
 All six coastal provinces are in a state of emergency. However, the quake was felt all over Ecuador, Quito lost power and several bridges collapsed in Guayaquil. Atacames, Muisne and Esmeraldas were evacuated, but there was no sign of a tsunami. The tremors were felt as far away as Cali, Colombia, where a clinic was evacuated.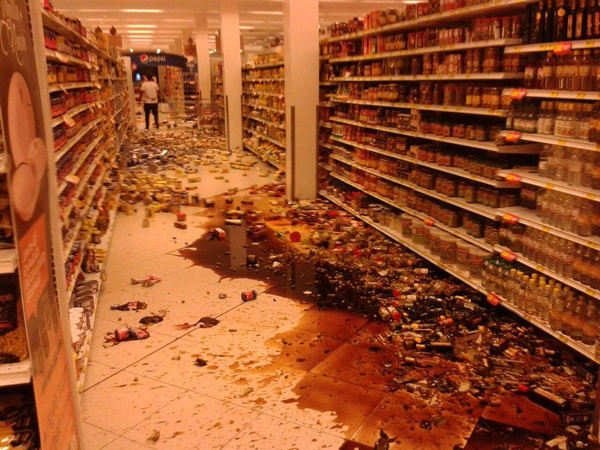 From this Pinterest page collecting photos of the earthquake.
10,000 Ecuadorian military troops and 3500 police officers were deployed to assist in rescue operations. Foreign aid has begun to pour in, the Red Cross sent over 1000 volunteers, and Mexico, Colombia, Venezuela and Peru have sent manpower.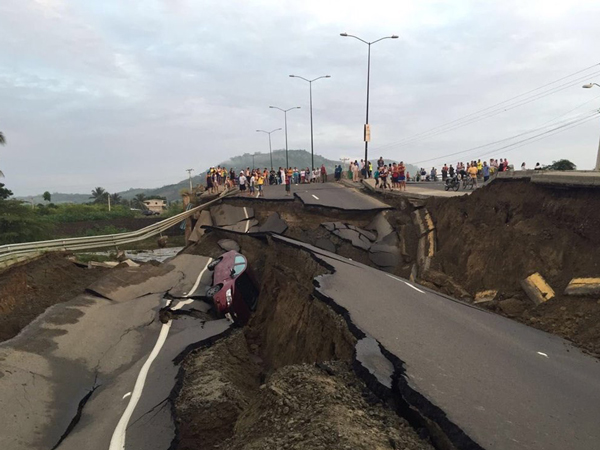 A devastated road, from this Pinterest page collecting photos of the earthquake.
Authorities told the AP that landslides, crumbling bridges and roads were making it very hard to reach the hardest hit. The hard to access rural communities that MEDLIFE works in are likely yet to be counted in the roundup of damage and casualties. In places like Carlos Concha and Tabiazo, the nearest hospital was a two hour bus ride from the town center on precarious roads, along with hours of hiking and a swim across the river for the majority of habitants who live in the dispersed settlements that have no road access.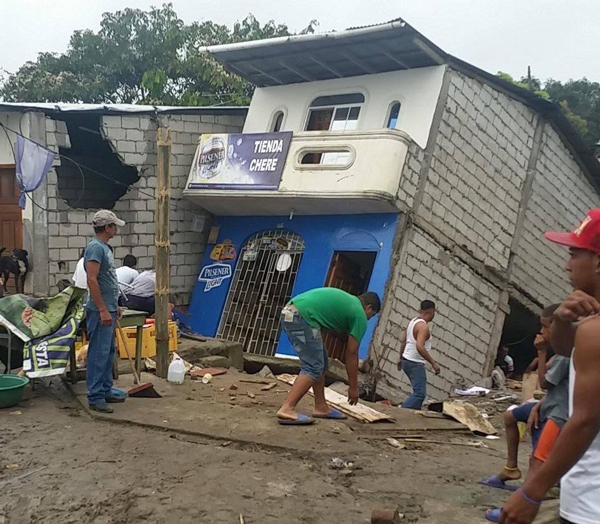 A tienda in Pumpula, next to where the bus was parked for a March Mobile Clinic, sunken into the earth.
MEDLIFE has worked extensively in the rural communities around Esmeraldas and Atacames for years, both regions were hit very hard by the earthquake. MEDLIFE is not equipped for disaster relief, but we are using our fundraising capabilities to aid in the cause. Director of MEDprograms Ecuador Martha Chicaiza is in Riobamba collecting donations to send to affected areas. She said that travel by land is extremely difficult, many roads in the area were destroyed.
If Ecuadorian infrastructure as a whole was poorly suited to withstand an earthquake, many of the homes in the communities we work in are extremely poorly prepared. Martha has heard from communuty leaders that many homes have collapsed in Pumpula and Chinca, both communities where MEDLIFE held Mobile Clinics in March 2016.
Given the widespread destruction caused to the concrete buildings in the town centers, it is hard to imagine that elevated wooden houses like those in the photos below are still standing. All photos below are from a MEDLIFE trip to Esmeraldas in March: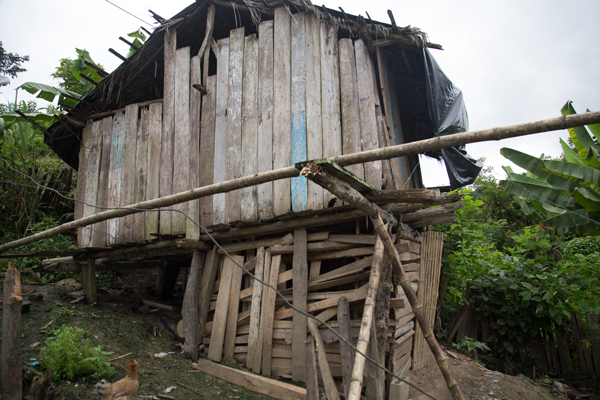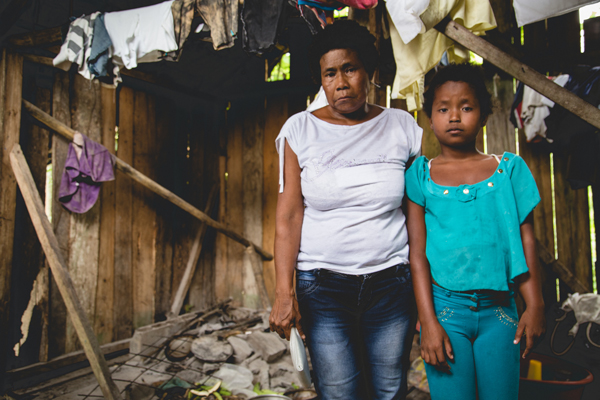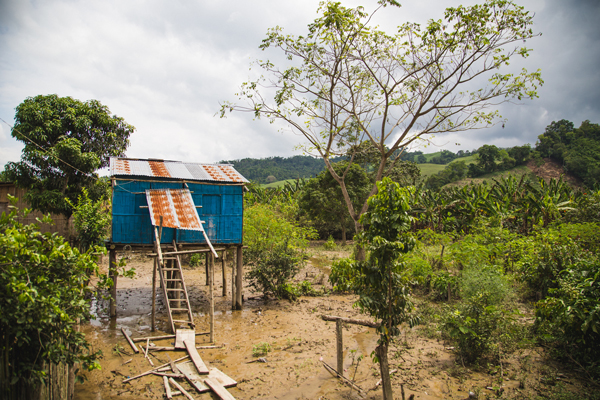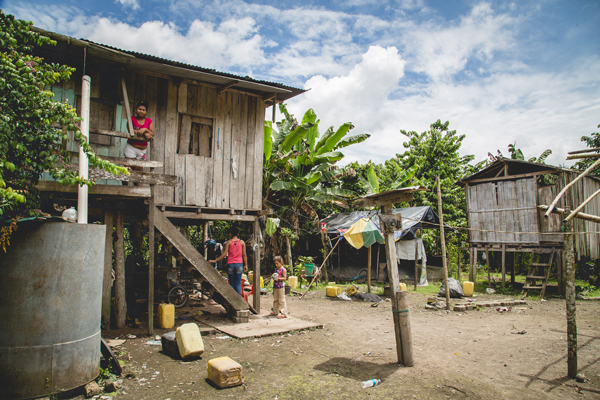 This contruction style is common in the poorest rural communities near Esmeraldas. The houses are elevated to save them from seasonal flooding. 
Martha is preparing emergency kits to send immediately to affected areas. We are collecting donations to put towards emergency relief here.   Please donate now and send help to the victims of this terrible disaster.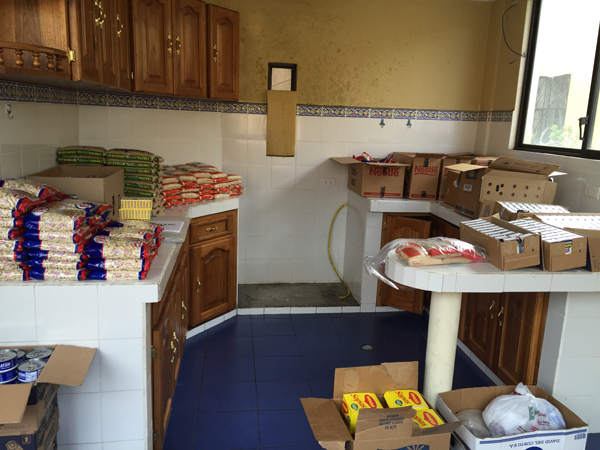 The supplies to prepare emergency ration kits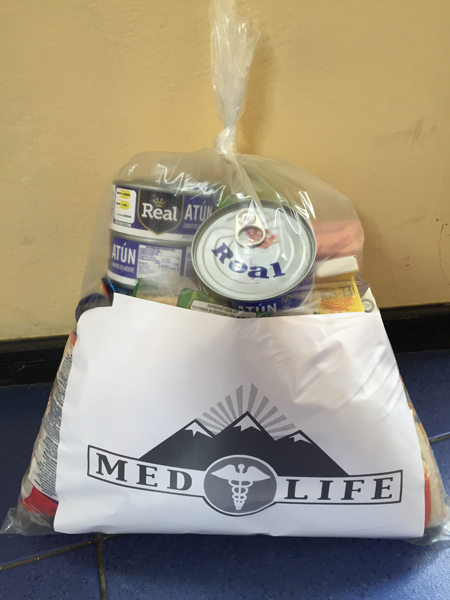 A finished kit, ready to be send to the disaster zone.
Sources and further reading: 
Follow #sismoecuador on twitter for updates. 
http://www.bbc.com/mundo/noticias/2016/04/160416_ecuador_terremoto_magnitud_colombia_peru_bm
http://www.bbc.com/mundo/noticias/2016/04/160417_ecuador_terremoto_preparacion_il
http://edition.cnn.com/2016/04/18/americas/ecuador-earthquake/index.html
http://www.theguardian.com/world/2016/apr/17/ecuador-earthquake-230-killed-magnitude-seven-point-eight
http://www.aljazeera.com/news/2016/04/ecuador-earthquake-400-dead-economy-battered-160419043007636.html
http://www.telegraph.co.uk/news/2016/04/17/tsunami-warning-as-powerful-earthquake-hits-ecuador/
http://www.reuters.com/article/us-ecuador-quake-idUSKCN0XE009
http://www.elperiodico.com/es/noticias/internacional/los-muertos-por-seismo-ascienden-246-ecuador-5062706
http://www.nytimes.com/2016/04/18/world/americas/ecuador-earthquake-deaths.html