Over the last few decades, Peru has seen mass migration into Lima which has led to huge numbers of people gaining land through squatters rights and setting up unstable, poorly built homes to enable them to live in the country's capital.  Since the 1970's, migration to urban centers has been a huge problem throughout South America and has let to the construction of Brazil's favelas, Argentina's villa's and the pueblos jóvenes that we see in Peru. MEDLIFE's architecture intern, Edinson Aliaga, explained the effect that this dramatic urbanization had on Lima: "There was an area that was created for urban expansion in Lima, but they didn't expect just how many immigrants would be coming in."  This extensive migration and the unprecedented number of people moving into the urban centre, led to people grabbing land where they could and constructing quick temporary structures to allow them to gain land titles on unstable terrain.  These badly constructed houses left the residents susceptible to illnesses and infections from the poor living conditions and other structural dangers due to the unstable nature of their homes.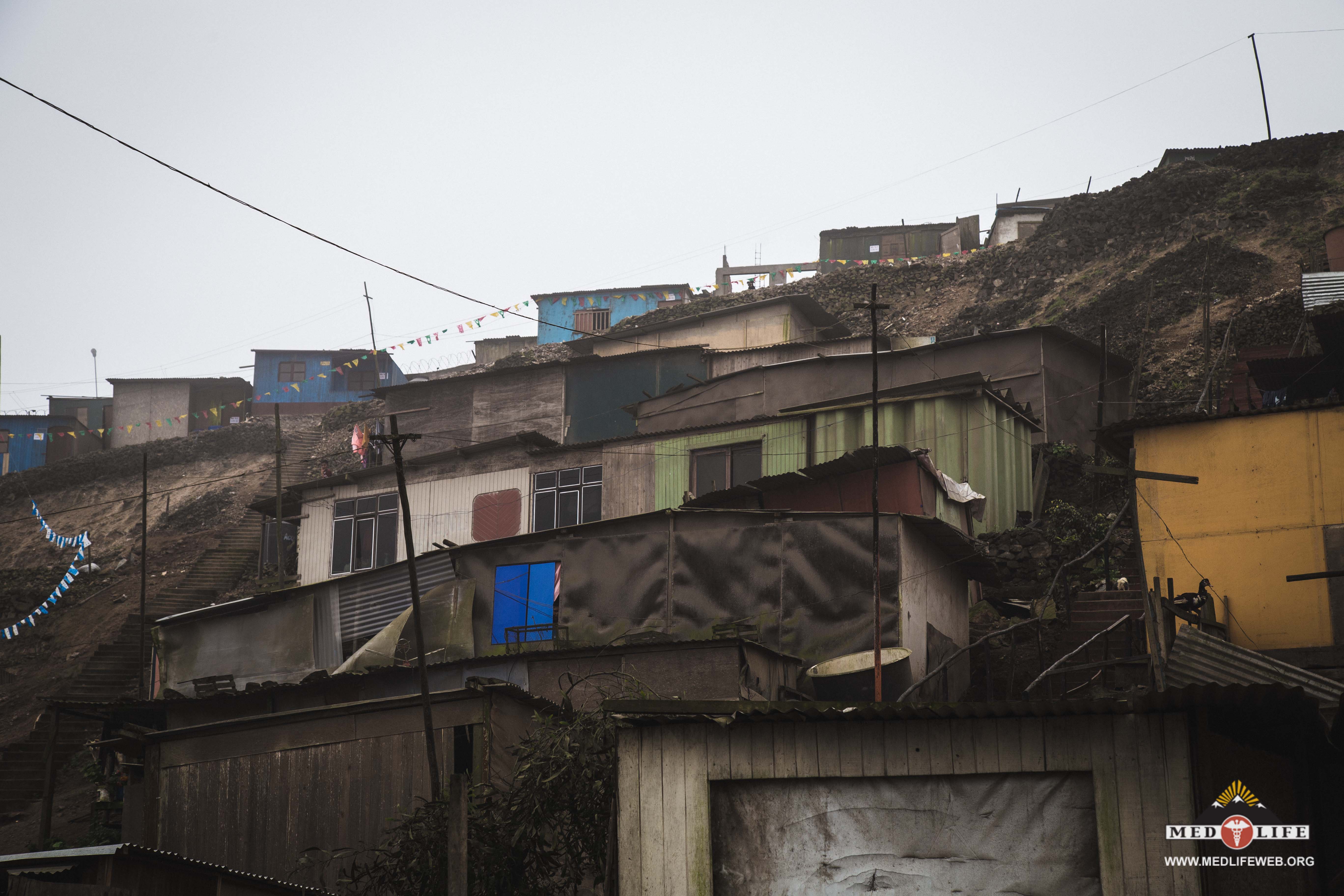 The typical style of housing found in Lima's pueblos jovenes.
In more recent years, there have been many housing projects and design programs developed across South America that attempt to deal with the growing issue of social housing in the slums. Alejandro Aravena is a Chilean architect who this year was awarded the Pritzker prize for a social housing project he developed in Iquique, Chile.  The Pritzker is the Architectural equivalent of the Nobel Prize and is generally awarded for design ingenuity and projects that are considered to be 'momentous' works.  Therefore, the seemingly unimpressive social housing project that Aravena won it for, came as a surprise to many in the Architecture community.  However, in reality, Aravena's project was more than just a social housing scheme, it was a piece of architectural innovation with Aravena's desire to tackle Chile's social housing issues at the heart of it.  
Aravena's idea to develop a sustainable housing model, shaped to the needs of the poor, is something MEDLIFE is currently investing in with its own housing projects.  MEDLIFE's new architecture and civil engineering interns, Edinson Aliaga and Raul Huapaya, have been working closely with Carlos Benavides, director of MED Programs Peru, over the last few months to expand MEDLIFE's work in the field of social housing.  Many of the illnesses and health problems we treat come as a result of the poor living conditions and lack of basic resources, caused by the structures built after migrating.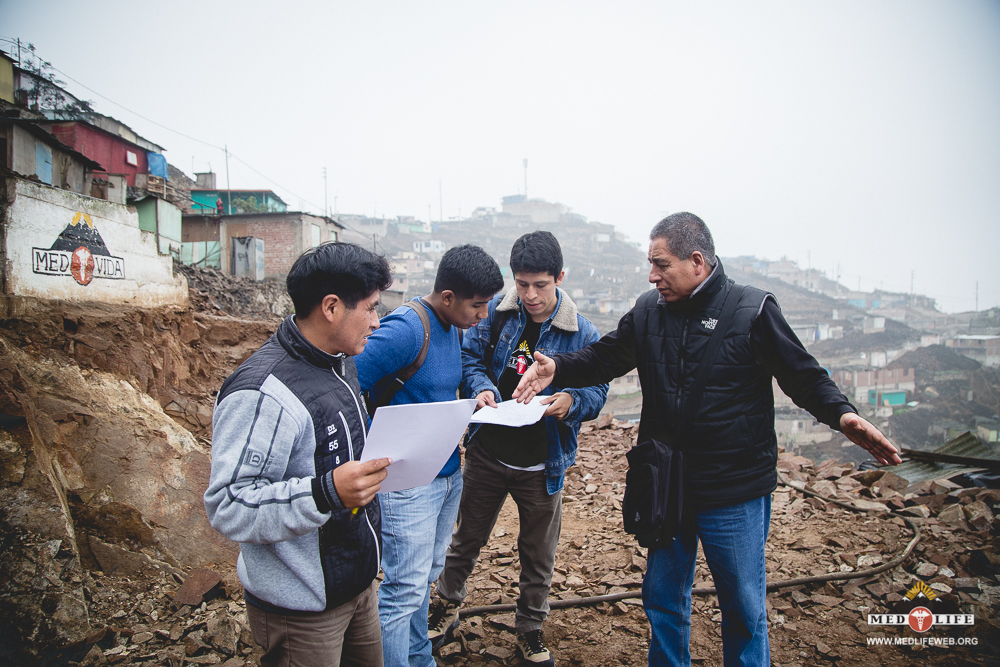 Carlos Benavides, director of MED Programs Peru discussing an upcoming project with interns Raul and Edinson and community leader Casani.
Aravena's project 'half of a good house' was developed after similar issues of migration and centralization had arisen in Chile due to sudden dramatic urbanization.  The idea behind the project was Aravena challenging the thought that the public money received to improve the living situation of many impoverished Chileans could either be used to build many low quality houses or a few high quality houses.  Aravena instead presented the idea of creating a secure, sturdy structure which could then be expanded on relatively cheaply by families in the future when the time came- essentially half a good house.  "Aravena is something of a pioneer in this field of social housing." Edinson explained, "He was one of the first people to think about social housing as a way for the poor to be able to have stable, comfortable housing at an affordable cost.  He came up with the idea of developing a house after it has been built, thus giving people a stable foundation which they can then expand on if they want to.  Essentially meaning they could put in more bedrooms, a small shop, anything they need, knowing it's on a stable structure."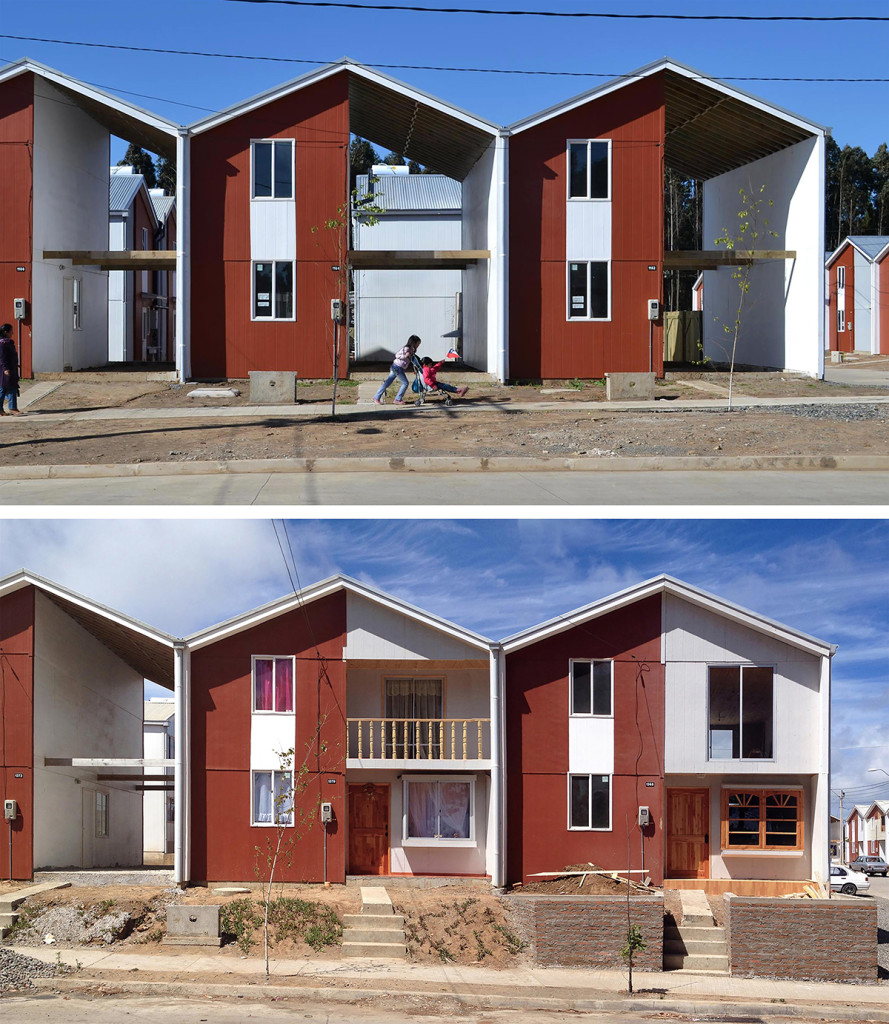 Alejandro Aravena's 'half of a good house' design.
Creating houses with stable foundations and basic commodities has been a large focus of the work of the MED Programs department over the summer.  Edinson and Raul have been working on developing plans that are similar to Aravena's in the way that they have the option to be expanded on but are also designed with the individual in mind. The department has already undertaken two housing projects for MEDLIFE patients Santusa and Soledad and are looking for ways to further incorporate Aravena's philosophy of 'half of a good house' into future projects.  "These houses can really cost anywhere between $7,000 and $10,000." Raul said when talking about how the housing projects are funded.  "So Santusa's cost one price, Soledad's will cost a different price.  Soledad's has two floors which obviously will cost a little more but it will be a smaller house."  Both these houses have been constructed with the possibility of expansion either upwards or outwards and both were designed with various structural elements taken into account including location, terrain and 'cultural elements' such as the number of people who will be living there.  "The houses we build have to be both secure and practical with everything that the person needs thought about.  That includes a bathroom, a bedroom, and a living space.  All these things have to be done within a structure that has been thought about for Peru and for Lima where we find many earthquakes and other structural issues" Raul explained.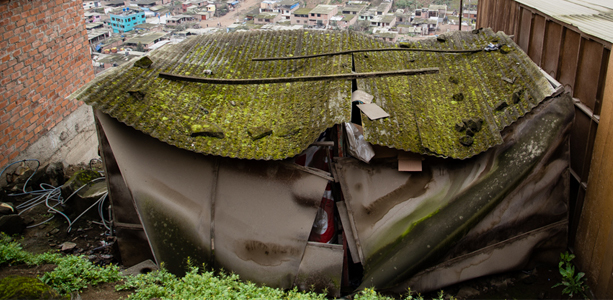 View of the back of Soledad's house before MEDLIFE started work on the new structure.
The idea of these houses being built "with everything that the person needs thought about" is the main focus of MEDLIFE's social housing project.  As with Aravena, we want to be able to provide the communities we work with with the same safe quality of housing as the rest of Lima and not just give them something cheap and comfortable because that is the easiest way.  However, we also want to make sure that these houses are suitable for the individual both in terms of space and structure, dependant on the location.  Previously, the issue of social housing has been addressed with a 'model home' approach, essentially designing one practical living space and putting that up wherever a house is needed.  However, Edinson explained how this approach is not really feasible.  "The problem there is that no one is thinking about the individual.  They're just thinking about making it simple.  20-30% of the terrain around Lima is not recommended to build on in these areas but people don't know about this.  Really, no buildings should be being constructed on this land but if they have to be built, they have to be built well.  So that's the first thing, you have to think about the foundations of the house dependant on where it's being built.  Secondly, you have to think about the actual individual.  For example, Santusa had a single floor to her house because she is living alone.  Soledad's house however, had to have two levels so there is room for her and her son.  So that's another thing to think about."  Making a blanket design of a 'model home' isn't feasible because whilst it may serve well for one individual living in one place, it will not be safe or comfortable for a different individual.  

Renders of the designs for Santusa and Soldedad's houses. The designs vary based on the needs of the individual.
Part of the MEDLIFE mission is working together with community members and patients to give them what they need and what they ask for.  We are committed to seeing this through with our housing project in constructing sustainable, stable homes for those patients in need.  Santusa and Soledad were both one off cases where the individual was in desperate need of a house which we then constructed to according to their personal needs.  However, MED Programs have more recently been talking about developing a happy medium between Aravena's 'half of a good house' theory and our own belief that the individual must be taken into account.  On a recent visit to Urucancha, a remote community in the uppermost hills, Carlos Benavides began discussing plans with the community leader of designing a 'model home' specifically for that community.  This would essentially mean that the structural elements could be taken into account as all the houses would be being constructed on the same terrain and the cultural elements could be covered by the possibility of expanding on the solid structure.  Raul explained a bit more about how this 'community model home' would work.  "We would make a plan for a 'model home' that would meet the cultural and physical requirements for that community.  We would then help with and supervise the construction of two of three homes with the help of community members.  So, everyone then knows how to build this 'model home'.  The idea is that it's an easy and repetitive way of building so we can get enough materials for however many houses the community needs and then after having help with the first few, they can build the rest by themselves.  However, this will only work for this community.  As Edinson said, when you go to a different community with a different terrain, it's a completely different world.  For example I would never design and build the same house for someone living in Surco as I would for someone in Villa Maria del Triunfo and it works the same way amongst the communities."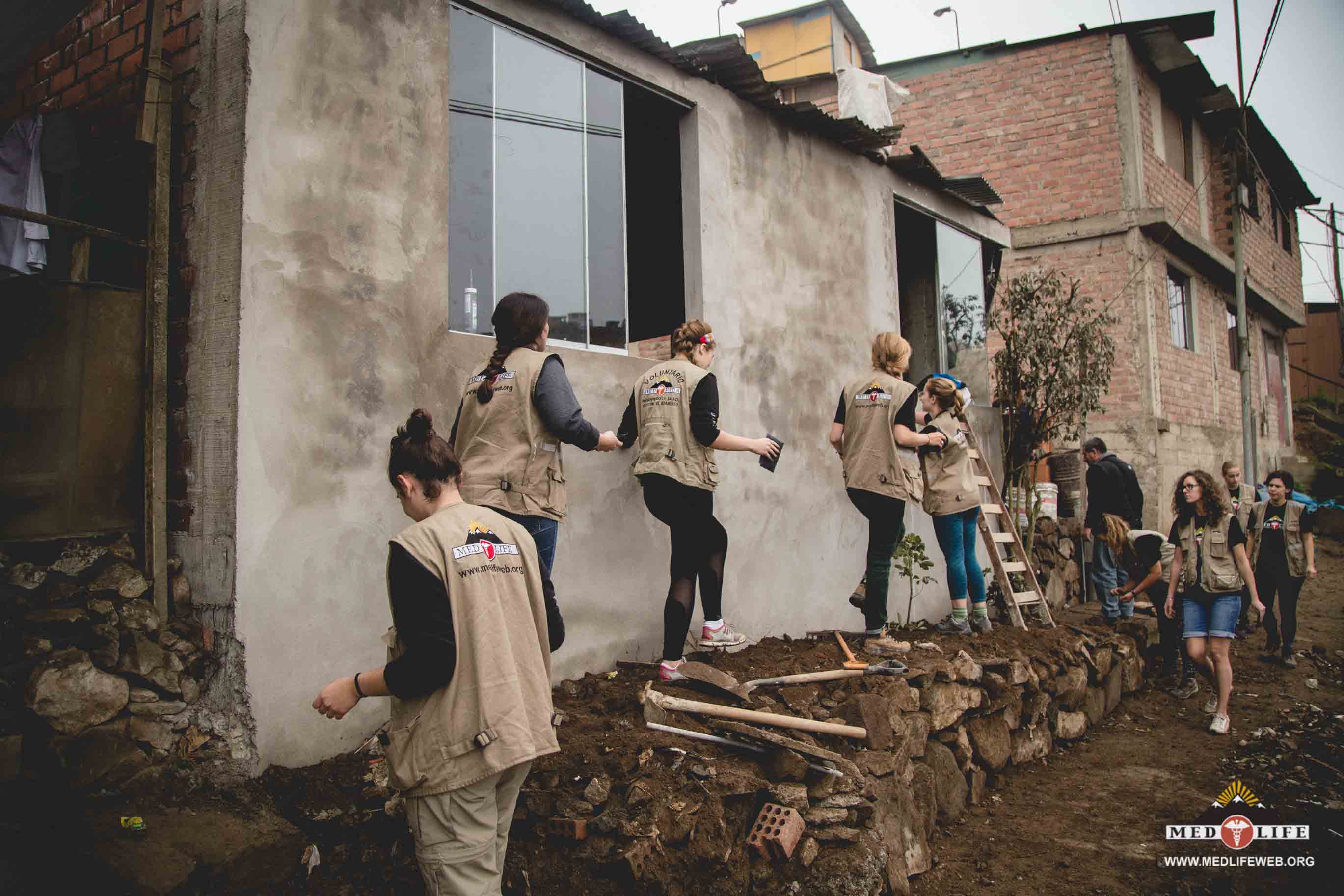 MEDLIFE interns adding some finishing touches to Santusa's house.
The possibility of creating 'model homes' for communities is still very much in the planning stages but in combining what we have learned so far with inspiration from other projects like Aravena's, the direction for the housing projects is becoming increasingly clearer.  We hope to be able to continue to work with Edinson, Raul and Carlos to develop this project even further in the future.