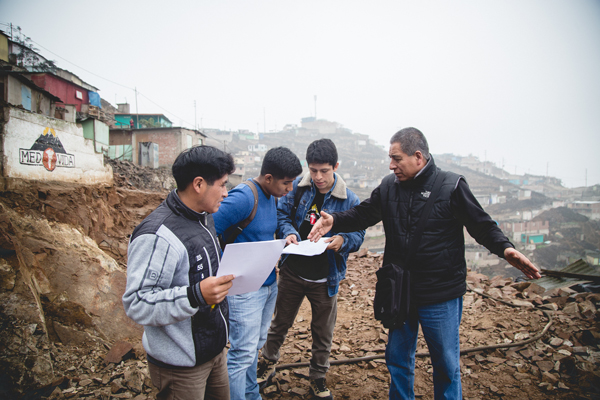 From right to left: Carlos Benavides, Edinson Aliaga, Raul Huaypaya and Casani look over designs for the new road.
 MEDLIFE was introduced to the community of Union Santa Fe in 2012 by the leader of a neighboring community, located in the heart of Pamplona Alta, one of the most impoverished areas of Lima. Union Santa Fe may not have any public spaces, road, electricity nor water access, but they did have one very important thing, the desire to work together to move forward as a community. As soon as Director of Projects Carlos Benavides saw this, he immediately began working with them on a staircase in 2012.
"Before having the staircases, pregnant women, the elderly and children of the community struggled to walk up the dusty hill which became especially dangerous in the rain," Casani said, a Union Santa Fe community leader. This first project was the beginning of a close and productive relationship between MEDLIFE and Union Santa Fe.
Four years later in September of 2016, we have completed 15 projects with them, and brought two Mobile Clinics and two educational workshops to the community. We are currently planning a project that the community has long needed; road access to the community.
 The road will take these sections of road and pathway, turn them into driveable roads, and connect them to another road that leads to the bottom of the hills.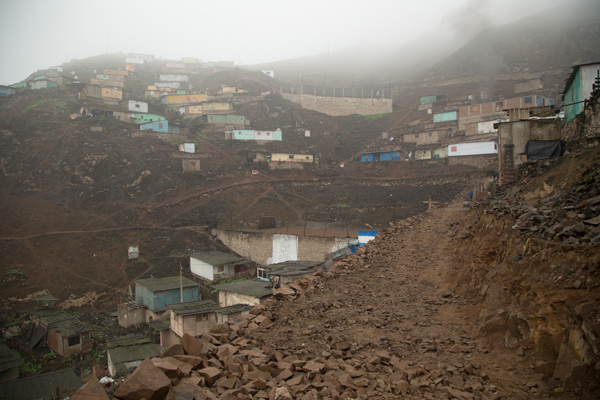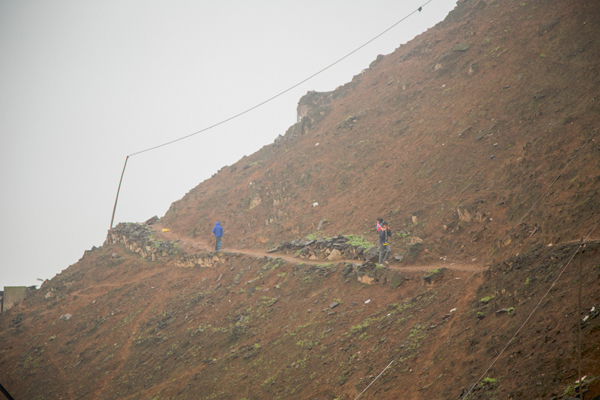 The new road will be connected to the road seen in the bottom of this photo, and allow easy access to main roads nearby.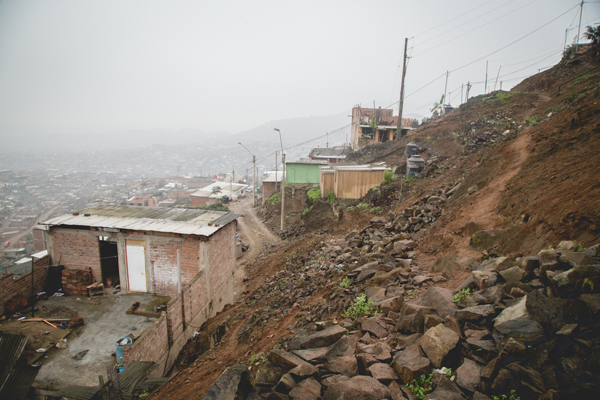 The benefits of a road go far beyond the obvious; the ability to drive or take public transit to your home. Many of the shanty towns like Union Santa Fe are not recognized as legitimate communities by the local government, and are thus cut out of access to public utilies. If the community is accessible by road, then Luz Sur, the public utility that provides electricity in that area of Lima, will be obligated to install electricity as well as public lighting in the streets of the community. This will also make the electricity in their homes cheaper. Sedepal, another public utility, will also obligated to install a drainage system that will drain excell water runoff and can be used to install plumbing.
            In this part of Lima, many communities get their water from privatized water trucks that drive around and sell water. With the new road, the trucks will drive into Union Santa Fe up in the hills, and residents will no longer have to walk down the hill and climb back up with heavy jugs of water.
            Like many of Lima's informal shantytowns, getting and keeping land titles has been extremely difficult for Union Santa Fe. "15 years ago everything was just dirt paths, a few houses and the pig farm," Carlos said. "The people here built all of this in fainas (community work days.)" As urban areas became increasingly crowded, the people who now live in Union Santa Fe and other settlements like it throughout Lima, decided to climb the hills and stake out a plot of land to build a home of their own on.
            However just because someone built a home doesn't mean they own the land its on. Entire communities sprang up on land for which they lacked land titles. There was a legal process to aquire land titles, but for that the community needed infrastructure.
The staircases had helped move Union Santa Fe closer to their goal of getting land titles, but it wasn't enough. When Casani, a community leader in Pamplona Alta, asked MEDLIFE founder and CEO Nick Ellis for a road, Ellis quickly agreed because the community signed a document promising to finish construction by the end of the month and because of the dedication and commitment he had seen from Casani and the whole community in the past.
Once the road is constructed community of Union Santa Fe will have land titles, access to electricity, plumbing, and easy access to their homes. Perhaps most importantly, all future projects will be much cheaper and easier to complete because construction materials and equipment can be easily transported to the construction site by motorized vehicles.
Casani and the people of Union Santa Fe were very grateful, " [MEDLIFE] is the only organization that we have encountered that consistently brings rapid and immediate social help," said Casani.